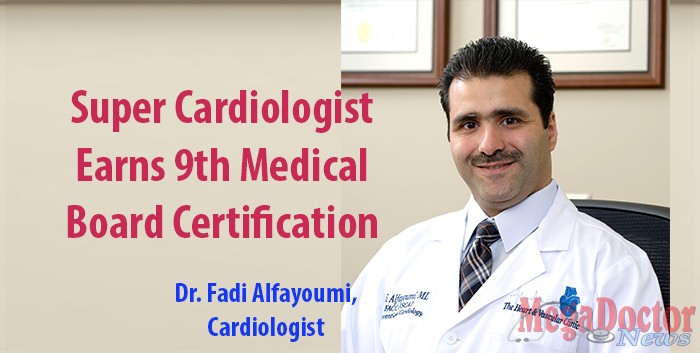 By Roberto Hugo González
- Advertisement -

As originally published by Mega Doctor News in its newsprint Edition.
The medical industry is one that is no longer stagnant and limited in the Rio Grande Valley. Today we have very talented professionals that have chosen South Texas as their home. With them, they have brought experience and innovation. In April of 2013 Mega Doctor News had the pleasure of interviewing Dr. Fadi Alfayoumi and publishing the story titled "Super Cardiologist Earns 9th Medical Board Certification".
"Dr. Fadi Alfayoumi is a board-certified Cardiologist and the Medical Director of Cardiology at Valley Baptist Medical Center at Brownsville, Texas. He earned his ninth board certification adding another milestone to his many accomplishments in various other specialties and sub-specialties of cardiology and internal medicine.  Dr. Aflayoumi received his certification in Advanced Heart Failure and Transplant Cardiology by the American Board of Internal Medicine.
The 9th certification adds to Dr. Aflayoumi's already established "super doctor" status for which Mega Doctor News has chosen to bring you his story. He is known for his hard work, dedication, and knowledge in the field of cardiology.  He also performs life-saving Cardiac Catheterization procedures in a new state-of-the-art Cardiac Catheterization Laboratory at Valley Baptist Medical Center-Brownsville.
You are probably already asking where this super doctor comes from. "I was born in Riyadh, Saudi Arabia. My mom was a teacher and my dad is the head of the endocrinology lab at the military hospital in Riyadh," he said.
He was born a Palestinian in Saudi Arabia, a fact that prohibited him from going to medical school despite the fact he scored second out of 25,000 high school graduates in the country in 1991. "I went to Jordan, got my medical degree, graduated in 1997, and again because I was Palestinian, I could not practice the profession of medicine," he told Mega Doctor News.   It was then that his dad told him to go to America. "In America everybody gets a chance," his father told him.
"So I came to the United States, started from nothing, but with a soul that was inspired to achieve the maximum no matter what it would take. I was working, studying all the time, and at that point I decided to pursue the highest level of board certification in the nation."
- Advertisement -

Dr. Alfayoumi told Mega Doctor News that his father, Mr. Mahmoud Alfayoumi had a lot to do with who he is today. "From the time when I was a little kid, my dad inspired me to go into the medical field.  He showed me that there is no other career in this life that makes you feel better than helping others. There is no greater service than saving somebody's life in the middle of the night when everybody around him or her thinks that this might be it."
Dr. Alfayoumi said that his father created an amazing feeling of hunger for knowledge – a hunger from which he is never full.
"As people in business always say the sky is the limit for their achievements for financial status, this is how I feel about myself when it comes to medical knowledge. I strive to acquire more knowledge in other fields in addition to medicine and just becoming a better human being," he added.
Mega Doctor News is proud to have selected Dr. Fadi Alfayoumi as a Mega Doctor.  "Dr. Fadi", as he is fondly called at Valley Baptist Medical Center-Brownsville, is a hardworking, dedicated, and a unique physician who cares deeply about the wellbeing of all of his patients.
Dr. Alfayoumi's clinic, the Heart and Vascular Clinic is located in the Professional Building at Valley Baptist Medical Center-Brownsville at 844 Central Boulevard, Suite 170 in Brownsville, Texas 78520. The phone number is (956) 698-5613.  People call him "Dr. Fadi," and the Rio Grande Valley is very fortunate to have him here. MDN