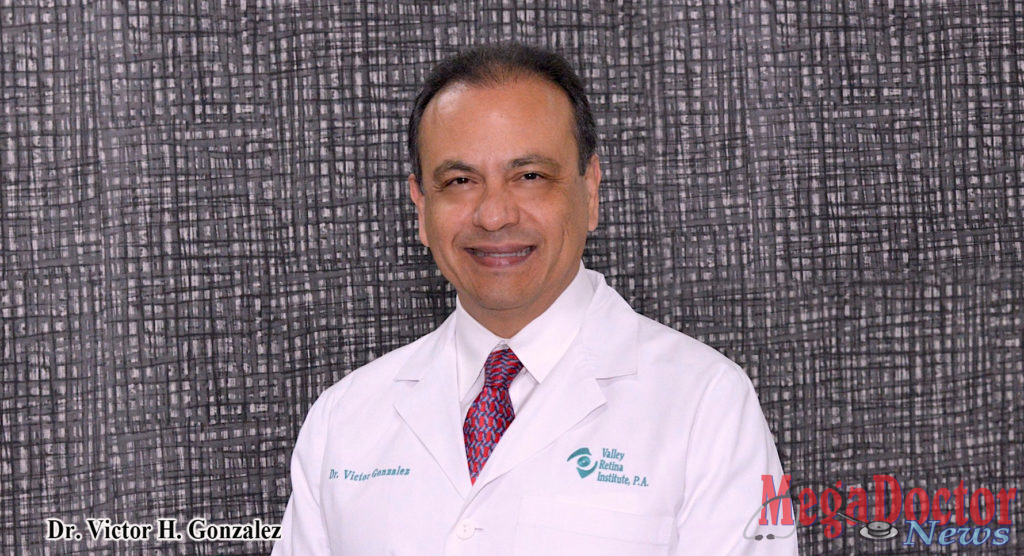 Mega Doctor NEWS
You may not even have the time to inquire about how to take care of your eyes. This could be true if we believe what they say that we take everything for granted. But the reality of things is our eyes are the body's most highly developed sensory organs. It is important that you know how to take care of them and be aware of what is coming as we are growing older.
On the cover of this issue, you'll find Dr. Victor H. Gonzalez, an ophthalmologist with a subspecialty in vitreoretinal medicine. He graduated from the best universities like Princeton and Harvard Medical School and received training at Cedar Sinai Medical Center, Los Angeles, just to name a few.
Dr. Gonzalez brings a lot to the table, he treats patients with cataract problems, glaucoma, macular degeneration, and other eye diseases. South Texas is fortunate to have him. He practices from his two offices at Gulf Coast Eye Institute and Valley Retina Institute P.A. with multiple locations in the Valley.
Now that you have this issue in your hands, read on and learn more about him as an ophthalmologist. I assure you that you will find it very informative.
On another note, Alyssa Parker spoke about overcoming her struggles and getting a second chance in her speech as a salutatorian of the Texas State Technical College Vocational Nursing class of Fall 2019. She spread her message during the program's Vocational Pinning Ceremony hosted at the TSTC Cultural Arts Center in Harlingen, Texas.
"Trust yourself, have confidence in yourself and push yourself through the bumps in the road. Because you can come back stronger," she said. "I am proof."
According to Dr. Alvaro Restrepo, an Oncologist/Hematologist in McAllen said that in the last decade, male breast cancer has increased by around 50%. He is part of a Valley research that presented their findings at the 2019 San Antonio Breast Cancer Symposium® (SABCS®), that took place this month in San Antonio, Texas. His son, Nicolas Restrepo, is also part of the research group and a UTRGV pre-medical undergraduate student.
More news: The single best way to prevent seasonal flu is to get vaccinated each year, but good health habits like covering your cough and washing your hands often can help stop the spread of germs and prevent respiratory illnesses like the flu. There also are flu antiviral drugs that can be used to treat and prevent flu. The tips and resources in this issue will help to protect yourself and others from the flu and help you stop the spread of germs.
Congratulations Dr. R. Armour Forse, M.D, Ph.D., was invited to serve as a member of the Council on Graduate Medical Education (COGME), part of the Health Resources and Services Administration (HRSA). The term is beginning on March 29, 2020, and ending March 29, 2024.  
COGME is a federal advisory committee that provides an ongoing assessment of physician workforce trends, training issues, and financing policies, and recommends appropriate federal and private sector efforts on these issues.
Congratulations! This year, the Renaissance Cancer Foundation at DHR was able to raise close to four hundred thousand dollars. Those funds are used to help cancer survivors and cancer patients in treatment. Good work!
There is more in this issue; I know you'll like it!