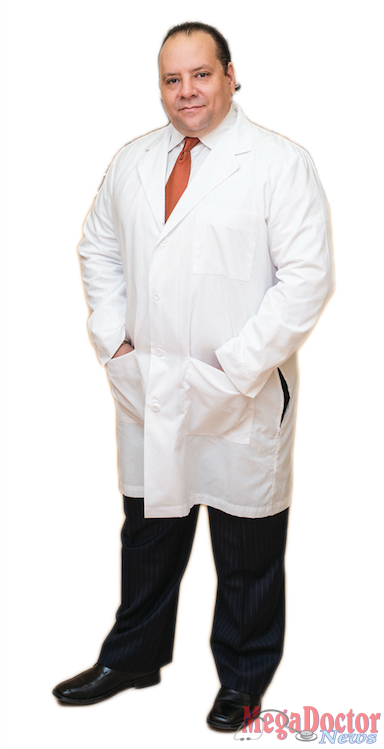 - Advertisement -

Publisher's Word, September 2013
By Roberto Hugo Gonzalez
Dr. Federico Pérez and his wife Karent were looking for a place that had fewer difficulties to operate a dental practice. New York was becoming quite difficult to practice medicine in general. For both, it was important to grow their healthcare service in an area that was friendly to business and to grow a family as well.
Since New York was no longer the place, they looked at other areas including Dubai, a city in the United Arab Emirates. They made the decision to move away from New York as it was becoming very hard to practice medicine in that state. Today, their dental practice flourishes in Mission, read the exclusive story inside.
This Mega Doctor News issue is filled with great stories about doctors that comprise the medical community of the Rio Grande Valley. This month we bring to you Dr. Wondwossen Tekle of Ethiopia, he is now the 2nd endovascular neurology specialist in the Valley and he has settled in Harlingen, Texas.  Together, Dr. Tekle and Dr. Ameer Hassan are now providing 24/7 coverage at Valley Baptist Medical Center-Harlingen for Endovascular Surgical Neurology Services.
Endovascular intervention can more than double the time window for treatment of strokes, and is an important part of the comprehensive stroke services at Valley Baptist.
On this side of the Valley, we bring to your attention once more that you no longer have to suffer because of knee pain. Dr. Manuel Sanchez of the Knee Pain Clinic at Family Practice Center has a solution.
- Advertisement -

For years, knee pain has been a frequent nightmare for people suffering with arthritis of the knee. Something as simple as getting dressed, tying shoelaces, or walking to the car might be painful and difficult when one suffers with arthritis of the knee. According to the Mayo Clinic, millions of people over the age 25 suffer from osteoarthritis.
If you notice that you often have stiffness, particularly after long periods of rest or in the morning, these are possible signs of osteoarthritis. There are other risk factors that may cause osteoarthritis; injury or overuse, muscle weakness and obesity.
On another note, what a great idea is the Mobile X-rays service. This is cutting edge technology. The on demand medical service provides physicians and patients a way to perform bedside digital x-rays on site.   Two years ago, Dago Barrera, a radiology technician with fifteen years experience and a degree in Applied Science in Radiology, saw a need and started this unique service.
In this issue meet Tara Rios, D.D.S. of Tara Rios Dental Office.  She has been practicing almost 17 years in the Brownsville area. Dr. Rios is now well recognized by her patients as a doctor that really cares for them.
Dr. Rios is a doctor trained in dental procedures. She attended the University of Texas at Austin and then continued her studies at the University of Texas Health Science Center in San Antonio, Texas to become a doctor of dental surgery.
A very important aspect of her practice is that Dr. Rios and her team understand how important is to have a great smile and looking and feeling good.
I this month's issue, you will meet Dr. Jaime Rueda who came to the Valley fresh out of medical school and was accepted to the McAllen Family Medicine Residency Program.  When he arrived he knew very little English but he studied hard to excel. "I just had to postpone many temporary gratifications," he says.
Read more interesting articles in Mega Doctor News.  I know you will enjoy them.
Until next time! MDN