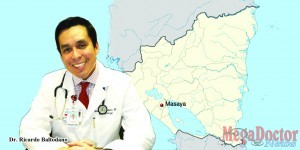 By Roberto Hugo Gonzalez
- Advertisement -

As originally published by Mega Doctor News newsprint Edition
Dr. Ricardo Baltodano recently joined Dr. Andrew Levine and Kidney Innovations, a group that specializes in kidney disorders and treatment. Kidney Innovations operates four locations in the Rio Grande Valley.  Dr. Baltodano is an internal medicine physician with specialization in nephrology; he is originally from Nicaragua in Central America. Nephrology is a specialty of medicine and pediatrics that deals with the study of normal kidney function, the treatment of kidney problems, and renal replacement therapy.
Dr. Baltodano's story is quite unique. He says that ever since he was a small child, he had already decided to be a doctor. Dr. Baltodano had an absent father that was an attorney, so his mother who was a schoolteacher took it upon herself to plan for her son's future. She was always working hard in order to help Ricardo to reach his goal. "Times were hard."
Dr. Baltodano said, "Even my mother's brother, Uncle Jorge, a 28 year-old physician helped my mom by taking care of me while she worked long hours as a schoolteacher." At the time, Dr. Baltodano was three years of age. But he remembers his Uncle Jorge mostly by stories told to him. During this interview Dr. Baltodano said that it was important to mention him because later in life, he was also an inspiration.  He is not shy to say how important his Mom has been in his life, "It's because of her that I was able to get this far."
In 2000, Dr. Baltodano graduated from the Autonomous National University in Managua Nicaragua. "During my school years, I was able to see that internal medicine was the field that I wanted, which is my primary specialty," he said.
He did his residency in internal medicine in Nicaragua and then he wanted to do something else but there were no more opportunities so he decided to move to the United States. Since the U.S. has its own stringent academic rules he had to do his studies in internal medicine again.
"I wanted to specialize in nephrology, which now is my secondary specialty, because I was inspired by my professors at Texas Tech, and the fact that I have some relatives with kidney diseases." He pointed out that when he first came to the U.S. in 2008 he attended Tech University Health Sciences Center in El Paso Texas and did a three-year residency in internal medicine and he became the chief resident in the third year.
- Advertisement -

Since Dr. Baltodano wanted to explore more, he uploaded his curriculum vitae to a website and a recruiter told him about a position available in the Valley. He went ahead and set up the interview, which went well. "I liked it from the beginning. Dr. Levine told me that he would be happy to have me here and it seemed the right place for me," he said.
Dr. Baltodano was born in 1975 in Masaya Nicaragua a small town just east of the Masaya Volcano, an active volcano from which the city takes its name. "The town is also well known because it is the Cradle of Nicaraguan Folklore so consequently there is always a fiesta and the town is also the very heart of Nicaraguan handicrafts," he said.
According to him, Masaya has many celebrations and traditions including something similar to Halloween. There are other events such as the carnivalesque "Torovenado" celebrations, which often have groups and individuals who perform satires of local and national political figures.
During the eighties there was turbulence and war in Nicaragua he said it was tough. "My mother worked very hard to help me succeed. Despite their financial limitations, she helped me to get my education. She also told me, "Learn English", and now I know why, as I am fluent in the English language. To put this in perspective she taught me to be clean and instilled in me the value of honesty, and education, and encouraged me to not be afraid to express my feelings."
Why did you stay in the Valley? "I first came to El Paso for my three years of residency and I brought my family. Afterward I trained in nephrology for two years at UTMB in Galveston, Texas. When I came to McAllen it felt like we were at home, like in El Paso."
Dr. Baltodano married Gabriela his college sweetheart, both had graduated from medical school together. "During the time I was specializing in medicine, my beautiful wife worked as a family physician long hours to help the family get ahead financially in Nicaragua. For that and the love she professes to my family I am eternally grateful," he said. They have a son Ricardo Gabriel 13, and Sofia Isabella 4 who was born in El Paso, Texas.
"I've just started this job so I don't have any plans other than my immediate plans to do the best in my field with this excellent group of specialists."
You may contact Dr. Ricardo A. Maldonado by calling 1-800-791-5976 for an appointment. They have four locations in Edinburg, Harlingen, McAllen, and Weslaco.  You can also visit the website: www.kidneyinnovations.com. They also speak Spanish at Kidney Innovations, Se Habla Español. MDN
Written by: Roberto Hugo Gonzalez is the 2009 SBA Journalist of the Year Award Winner & The 2009 and 2012 Paul Harris Award recipient