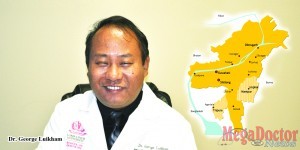 By Roberto Hugo Gonzalez
- Advertisement -

As originally published by Mega Doctor News newsprint Edition
The story that you are about to read is about someone that is extraordinary as a professional and as a human being.  He is a person that can teach anyone new levels of perseverance.
Mega Doctor News had the opportunity to meet with George Luikham, a doctor in dental surgery that has made the Rio Grande Valley his home.
He came from a faraway land with the objective to make himself better, no matter how much he had to work to reach his goal.
Dr. Luikham came to the United States when he was eighteen years of age. He had the pleasure of living and working in different parts of the country, which has added tremendously to his experience in the dental field.
Today he operates two businesses under the name of Sunshine Dentistry and Kids Dental with a passion to educate and heal his patients.
Dr. Luikham says there is nothing more satisfying than seeing his patients get well, and nothing more fulfilling than when they learn how take care of their teeth.
- Advertisement -

Dr. Luikham is a man that serves God first, and like he said, "I don't want to sound cliché, but first of all, my inspiration is Jesus, because he spent more time healing than preaching and teaching. If you can pattern your life like that then nothing can go wrong."
He was born in northeast India, which borders with Myanmar (formerly Burma) near Tibet in the foothills north of the Himalayan Mountains. That is close to ten thousand miles away.
According to him, when he first set foot in the United States he was eighteen years of age and only had five dollars in his pocket. "This was my biggest challenge," he said.
He wasted no time and immediately attended Wytheville Community College in Wytheville, Virginia. He then spent 15 years in the dental industry as a dental hygienist. Through a lot of hard work and dedication he put himself though school.
In 2011, he graduated from Loma Linda University School of Dentistry in Loma Linda, California. "I have lived and worked in Tennessee, Virginia, Arizona, and California. Now I am here in Texas," he said.
What made you come to the Valley? "When I completed my dental career I wanted to work in a place where we could reach underserved people. When I learned of the opportunity in the McAllen area which is close to the border, I felt that I needed to come and see it for myself."
"On my first visit I loved the people; they were absolutely warm and friendly so I decided to stay."
"My father was a minister. We are very strong Christians. My parents always instilled the value of hard work, dependence on yourself, and dependence on God above all. That has always played an important roll in my life. God has the ability to work with us if we submit our lives to him."  He also pointed out that his Dad is a very practical person, and he is a believer that when you work you get what you worked for.
He says that his mom is more artistic, "She taught me to play the guitar, to sing, and do other things." Dr. Luikham also plays the drums and other instruments.
"My mom is a pharmacist and she encouraged me to pursue a medical profession by telling me that in the medical field is where you can reach more people and touch more lives."  His parents now live in Canada and usually visit the Valley during the winter season.
Dr. Luikham told Mega Doctor News that dentistry is on the cutting age of technology. "We are placing implants; we are integrating the human body with machines. We are able to place titanium implants, which fuse with the body to become one and it's very exciting."
In addition he said that another field that is exciting in dentistry is the endodontic branch of dentistry. "My brother is an endodontist, and they have experimentally worked on when a nerve gets infected and goes bad, instead of having to do a root canal treatment, they can regrow a new nerve," he said with excitement.
Dentistry overall has evolved by leaps and bounds. In the past, he says, they created crowns and bridges in the lab.  Today they scan and with a computer they can make a cut with such precision that when they place the parts, they fit much better in the mouth.
Dr. Luikham said that the biggest challenges facing the dental industry in this century is the fact that food contains too much refined carbohydrates (sugars) that are added to almost everything.
"This is causing havoc not just to the dental health but also to health in general. That is on of the biggest challenges that the dental industry faces everyday."
You can contact Dr. Luikham for an appointment by calling Sunshine Dentistry, 956-583-1000 in Mission or visit his office at Kids Dental, 956-783-7070 at 1618 N. Veterans Blvd. in San Juan, Texas 78589. You can also email him at: sunshinedentistry2605@gmail.com. MDN
SERVICES: Family Dentistry, Inlays and Onlays, Dentures & Partials, Root Canal Treatment, Gum Treatment, Bleaching -Tooth Whitening, Porcelain Crowns & Bridges, Porcelain Veneers and Cosmetic Bonding
Written by: Roberto Hugo Gonzalez is the 2009 SBA Journalist of the Year Award Winner & The 2009 and 2012 Paul Harris Award recipient