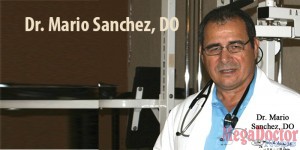 By Roy Martinez
- Advertisement -

As originally published by Mega Doctor News in its newsprint Edition
He is the epitome of the old fashion country doctor.  For Mario Sanchez, DO, there are some similarities to the doctor in the 1991 movie "Doc Hollywood".  The story line of the movie is about Benjamin Stone a young doctor on his way to work in Los Angeles as a plastic surgeon in Beverly Hills. He detours off the main highway to avoid traffic, gets lost and ends up crashing into a fence in the small town of Grady. He is sentenced to 32 hrs of community service at the local hospital. All he wants is to serve the sentence and get moving, but gradually the locals become attached to the new doctor, and he falls for the pretty ambulance driver.
In Dr. Sanchez case, he was not passing through but was originally from La Feria, "Yes basically both here and in our clinic in Raymondville, says Dr. Mario Sanchez, "That's what it is and I think if you saw that movie Doc Hollywood, where people come in, ask you to read the letters for them and that sort of thing, a similar thing happens here."  Unlike Doc Hollywood, Dr. Sanchez has never wanted or has plans to leave La Feria.  He loves his hometown, his patients and wants to give back to the community.  He practices family medicine where he treats all kinds of illnesses, diseases and injuries of patients of all ages and gender.
Having been a track star in junior and high school, he went to college on a cross country and track scholarship to North Idaho College and Pan American University.  He has an affinity for sports, he says "we do a lot of our sports medicine here, it's always nice to cover the football games every Thursdays and Fridays and see those kids that we saw when they were a month old and they are out there playing football now.  It makes you feel good."
Dr. Sanchez does not forget where he came from, he says, "we worked out in the fields, after that, I guess I was nine years old when we were doing migrant work for about five years." He adds, "once we paid our little house, we stopped going up north.  But we continued to work, my dad worked construction so that's what I continued to do, the rest of the family worked actually at a packing shed, across the street from our house where we lived at."
Dr. Sanchez earned his Doctor of Osteopathic Medicine from Texas College of Osteopathic Medicine in Fort Worth.  He credits his parents for instilling in him a strong work ethic.  He adds he never really had a symbol or a mentor but adds as far his academics he is grateful for  "the La Feria School system, teachers, coaches in Junior High and high school all of that together", he emphasizes  "it was just living here in La Feria had a lot to do with it."
Dr. Sanchez has two offices, one in Raymondville and his office where it all started at 106 N. Main Street, La Feria.  For additional information on his practice or for an appointment call his office at 956-797-2002.
- Advertisement -

On a personal note, I am thankful for his knowledge and medical skills, having once walked in with sciatic pain which had me almost incapacitated.  Within an hour, he diagnosed prescribed treatment and therapy.  I walked out almost pain free.  Finally able to rest pain free after a week of sleepless nights. MDN