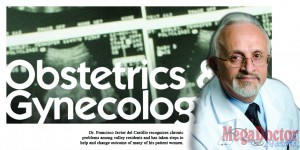 By Roberto Hugo Gonzalez
As originally published by Mega Doctor News in its print edition
Dr. Francisco Javier del Castillo is a medical doctor that practices in Brownsville, Texas with an specialty in obstetrics and gynecology. For more than 30 years he has been seeing patients and during that time he has witnessed a tremendous evolution in diseases.
His biggest concern about his patients is that they have not so much gynecological problems but chronic health problems, which he thinks is mostly weight related.
"We have an epidemic of obesity and overweight in this country and that obesity has hit hard in south Texas," the doctor said. "That epidemic is very serious and many of their chronic health problems are specifically related to weight so that is probably the biggest concern that I have for my patients that I didn't have 35 years ago."
Dr. del Castillo said that a percentage of obesity includes obese kids and obviously the most obese young adults and adults. "The real worrisome part is that the young adults and their children will become obese at an earlier age than their parents. As a consequence, they will have those chronic diseases much earlier than their parents did, and that becomes an incredible load on the healthcare system," the doctor said.
Because Dr. del Castillo wants to make a difference in the Rio Grande Valley community, he offers a Medical Weight Loss program. He told Mega Doctor News that his weight loss program is a physician-directed weight management based on medical scientific principles that target the root causes of obesity and weight gain to achieve and sustain a healthy long-term weight. He explained that the Medical weight loss program is a not surgery or diet pills.
"We're the only Center for Medical Weight Loss program in the Rio Grande Valley area, he said. "Our program offers Individual attention from the start from Dr. del Castillo, Realistic and accurate expectations, Safe and effective weight loss and Personal support before, during and after weight loss."
Dr. Francisco Javier del Castillo is originally from San Luis Potosi, but his parents sent him to the University of Wisconsin where he obtained his bachelors degree and returned to the University of Medicine of San Luis Potosi. When he finished the school of medicine in Mexico in 1978, he took advantage of the fact that he was already familiar with the United States and returned to do his residency in Danville Pennsylvania at the Geisinger Medical Center with a specialty of Obstetrics and Gynecology OB/GYN.
He has been a doctor for the last 36 years and he has had his specialty for the last 32 years.
One of the few challenges he has had was to find a community where to establish his practice, "To find a community that accepts you as a good specialist," he said. Dr. Del Castillo pointed out that being of Hispanic origin the best communities for him were those that had a large Hispanic population.
His father was a professor of physics so he was very motivated to have his children educated. "He saw the importance of a university education." Dr. del Castillo continued to say; "My mother was a housewife and was always at home for the 9 of us, so she had a lot a work to do." Dr. del Castillo is the only medical doctor in the family but all his siblings are university graduates.
He credits his parents for instilling in him that he had to be well prepared and to serve and help other people.
Dr. del Castillo is married with one son that is an urban planner, a daughter in Austin Texas with a degree in anthropology and sociology and a daughter in the Valley that together with her husband run a TAE-KWON DO school.
He loves to fish even though his time is very limited, but when he has a chance he spends time in the bay.
His short and long term plans are to continue in his practice but in some point he will only practice gynecology with an emphasis in his weight loss program that he has designed for his patients.
You can visit Dr. Francisco Javier del Castillo at 4970 North Expressway 77/83, Suites B-C in Brownsville, TX 78526 or you can make an appointment by calling at Ph. 956.350.8788. MDN