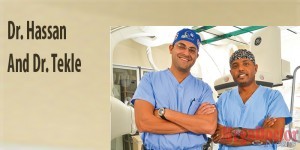 Dr. Ameer Hassan conducting trials with stroke patients at Valley Baptist Medical Center in Harlingen; Dr. Wondwossen Tekle joins Dr. Hassan as only Valley neurologists performing endovascular stroke treatments
- Advertisement -

Mega Doctor News
HARLINGEN – Medical research on stroke treatment for Valley patients was recently presented at an international conference in Philadelphia.  The research was conducted by Dr. Ameer Hassan, the Valley's first specially trained Endovascular Neurologist, whose interventional stroke treatments have given Valley patients a longer time window in which to survive strokes or "brain attacks."
Dr. Hassan performs the procedures in a specially equipped biplane lab / neurovascular angiography suite at Valley Baptist Medical Center in Harlingen.   The procedures help to clear blockages in the blood vessels leading to a patient's brain — allowing blood and oxygen to once again reach the brain.  In many cases, this can help save the patient's life and prevent or minimize disabilities from the stroke.
Recently, Dr. Wondwossen Tekle joined Dr. Hassan as the only two neurologists in the Valley performing endovascular stroke treatments.   Together, Dr. Hassan and Dr. Tekle are helping to save lives from throughout the Valley, through 24-hour endovascular stroke coverage provided by the Valley Baptist Brain and Spine Network.   Dr. Tekle also co-authored the recent research along with Dr. Hassan – and like Dr. Hassan, Dr. Tekle completed two fellowships at the University of Minnesota.
At the recent International Congress of Interventional Neurology in Philadelphia, Dr. Hassan orally presented his findings for a research trial entitled  "PLEASENoCTP: Prospective Late Endovascular Treatment in Acute Ischemic Stroke Evaluating Non-Contrast Head CT versus CT Perfusion".
Dr. Hassan said that stroke patients traditionally have been screened with "non-contrast cranial" computed tomographic (CT) scans as the most rapid method of selecting if they could potentially benefit from endovascular stroke treatments.    One advantage of this method of CT scans is that no dye or "contrast material" has to be injected into the patient — which saves time in emergency situations.
However, recently a few studies have found that "dynamic CT perfusion" images of the brain – which does require injection of a dye or contrast material — were more accurate than the non-contrast CT scans in detecting ischemic strokes when patients come to the hospital less than 12 hours after first experiencing symptoms of a possible stroke.  Many physicians, therefore, have placed new emphasis on using the CT perfusion (CTP) imaging method in selecting patients for endovascular stroke treatments.
- Advertisement -

However, Dr. Hassan's research showed there are limitations to CT perfusion imaging, relating to the acquisition and interpretation of the images produced using that method.  For one, the time involved in performing and interpreting additional imaging can delay treatment for patients when time is of the essence, to save as much brain tissue as possible.
In addition, Dr. Hassan's research showed that some of the images obtained with CT perfusion are not interpretable, thereby providing little useful information to the neurologists trying to decide whether the treatment would benefit the patient.
Dr. Hassan concluded that CT perfusion imaging did NOT increase the rate of short-term favorable outcomes among stroke patients receiving endovascular stroke treatments.
"There is considerable lack of agreement, even among stroke specialists, in selecting acute ischemic stroke patients for endovascular treatment based on CT perfusion changes," Dr. Hassan said.  "This mandates a careful evaluation of CT-P for patient selection before widespread adoption."
Dr. Hassan said that additional studies are needed to validate CT perfusion criteria and protocols.  These additional studies should be conducted using the latest medical devices for stroke treatment — such as retrievable stents and "penumbra" clot-removing devices — before incorporating CT perfusion as "a routine patient selection modality for acute ischemic stroke treatments," he added.
Dr. Hassan's research has involved 55 patients receiving stroke treatments either at Valley Baptist Medical Center in Harlingen, or at the University of Minnesota, where Dr. Hassan completed Fellowships in Stroke and Neurocritical Care and in Endovascular Surgical Neuroradiology, prior to coming to the Valley.
Another aspect of Dr. Hassan's research on stroke treatment will be featured during an upcoming  "Scientific Sessions 2013" international conference on stroke and cardiovascular disease treatment November 16-20 in Dallas.  That research — during which Dr. Hassan concluded that many patients undergoing interventional stroke procedures should be allowed to continue breathing on their own during the procedure, rather than having to be placed on a ventilator – was recently accepted as being in the top 10 percent of research in the nation by the American Heart Association.
Dr. Hassan, who serves as Clinical Director of Endovascular Surgical Neuroradiology and Neurocritical Care and Clinical Neuroscience Research at Valley Baptist, said the various research efforts are helping to put the Valley "on the map" for top-level research in stroke treatment and prevention.  Dr. Hassan also serves an Assistant Professor of Neurology and Radiology with the University of Texas School of Health Sciences-San Antonio.   He has authored or co-authored more than 50 articles in national medical journals.
Along with Dr. Hassan and Dr. Tekle, two other physicians, Dr. Victoria Parada and Dr. Felix Rivera, are serving Valley stroke patients at the Valley Baptist Brain and Spine Network. Dr. Victoria Parada is a Board-Certified Vascular Neurologist and Clinical Director of Neurosciences and the Stroke Program at Valley Baptist-Harlingen, and Dr. Felix Rivera is a Neurologist.   MDN