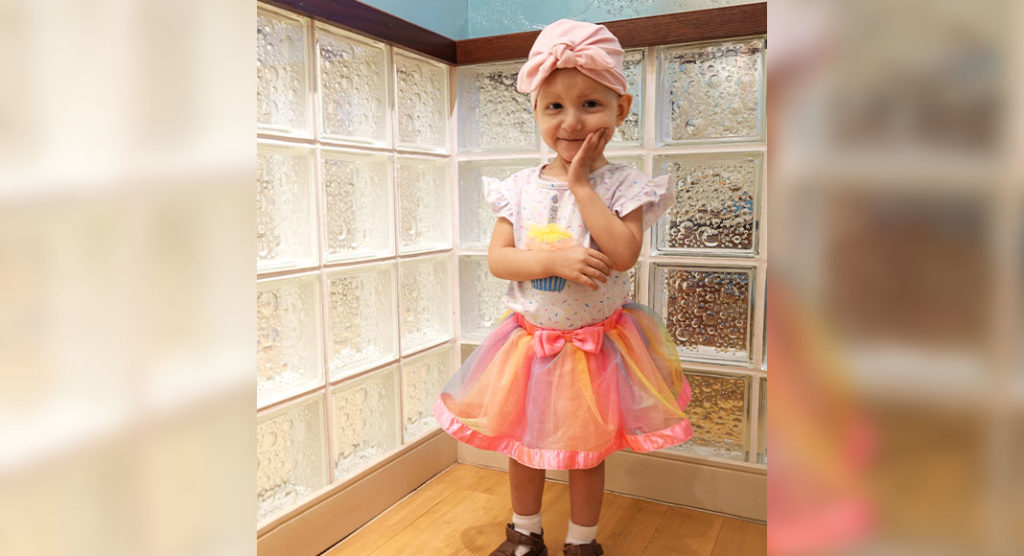 Mega Doctor NEWS
ELSA, Texas – In September 2019, toddler Kamille Fernandez of Elsa was at her daycare center when her caregiver noticed that Kamille's stomach looked larger than normal. When Kamille's mother, Daisy Gonzalez, was informed, she became concerned as she realized her daughter had recently experienced fevers and diarrhea.
Daisy brought Kamille to the local hospital, where a large mass was found in Kamille's lower abdomen. The mass was discovered to be a malignant tumor, a byproduct of Stage Four Rhabdomyosarcoma, a rare soft tissue cancer.
Kamille was flown by helicopter to Driscoll Children's Hospital in Corpus Christi, where she was prepped for surgery to remove the mass. Following recovery from surgery, Kamille began chemotherapy using a mediport on the right side of her upper chest.
She still comes to the Cancer and Blood Disorders Center at Driscoll Children's Hospital and typically receives her chemotherapy every two weeks, or when her blood counts have been met.
"Kamille lights up the clinic every visit. She is often seen 'breaking out in dance' with the clinic staff, and brings a smile to all," said Farha Sherani, MD.
"Kamille is a ray of sunshine when it's her day to come into clinic. She brightens up our day with her adorable little giggle and playful personality," said Lauren Rios, RN.
The COVID-19 pandemic began a few months into Kamille's treatment, and Daisy said her daughter was ready for the new coronavirus.
"Fortunately, Kamille, at the age of one and a half, knew how to keep her mask on. Many people don't know what cancer patients go through. They have to keep their distance to avoid any type of infection. Experiencing the COVID-19 pandemic is what cancer patients go through on a daily basis," she said.
Like many other oncology patients, Kamille has made quite an impression on Driscoll staff.
"Our precious angel puts a smile on our faces all the time. She is so brave and strong," said Nkechi Mba, MD, Medical Director, Cancer and Blood Disorders Center at Driscoll Children's Hospital.
"Her innocent giggle can light up a room or turn the gloomiest of days around," said Alexis Lemke, RN.
According to Daisy, their time at Driscoll has been memorable.
"Since our very first day at Driscoll Children's Hospital, we felt comfortable. Even though we were going through some tough times, the nurses did the best they could to make us feel welcome. We were in good hands and still are.
"All of the staff are very nice and friendly. They have become family to Kamille and myself. Being here for a year now, we've had the privilege to meet most. I would like to mention them all but there are just too many. From the security guards, the kitchen staff, custodians, patient relations, family connection, Kamille's speech therapist, (Stripes) Child Life (Program at Driscoll Children's Hospital), chaplain, our caseworker, the nurses in 4th Tower, our favorite, and the oncology clinic. We've had an awesome experience with Driscoll."
Daisy makes a special point to recognize the physicians who have treated Kamille. "I will forever be grateful to Dr. (Stephen) Almond and Dr. (Mohammad) Emran for Kamille's surgeries. Dr. (Nkechi) Mba, Dr. (Farha) Sherani, Dr. (Catherine) Boston, Dr. (Ndina) Nhlane, and Dr. Barbara (Chimbunde), since they kept Kamille well taken care of, happy and, most importantly, loved. I believe one of the residents that always made sure Kamille was happy and smiling was Dr. Peter (Meshreky). He always went far and beyond the expectations. He really was a huge blessing for us."
According to Driscoll staff, Kamille is quite a sharp dresser too.
"From her Minnie Mouse outfits and bows to her sassy attitude, Kamille is a joy to take care of," said Catherine Boston, MD.
"Two of the best sounds that I get to hear in this clinic are her laugh and her squeaky shoes," said Nicholas Loredo, RN.
"She is the cutest little thing. Love when you hear her in clinic with her squeaky shoes," said Alyson Paris, NP.
Kamille is a cancer fighter, but she is also a two-year-old who likes dogs, coloring, popping bubbles and playing with her tea party set. "I would say her favorite thing is to have all the attention she can get, especially from her four older sisters. Kamille is so cheerful, friendly and so loving, despite all she has gone through. She is just my sweet little baby," said Daisy.
Daisy describes her daughter's health situation as a learning experience. "We should never take our family for granted, our health. We greatly appreciate all our heroes at Driscoll Children's Hospital who work very hard and dedicate their lives to save children like ours."