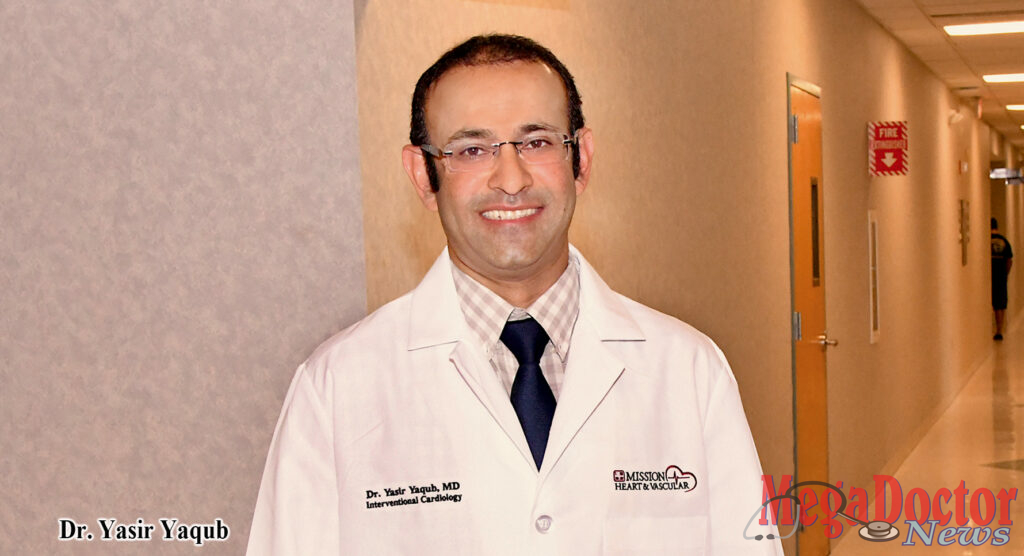 By Roberto H. Gonzalez
As originally published by Mega Doctor News newsprint edition September 2019
It's not often that we have a new interventional cardiologist moving to our area. Dr. Yasir Yaqub made the decision. He says enjoys the Hispanic culture and the friendliness of the people as he has never seen before. But what matters most are his skills as a highly trained interventional cardiologist bringing benefit to the wellbeing of our local residents.
His specialized training is to perform cardiovascular procedures, which consists of unblocking coronary arteries to help restore blood flow to patients who are having or could have a heart attack. Also, he performs complex peripheral interventions, which involve peripheral arteries. This can be a life and limb saving procedure for our diabetic population.
Interventional Services include Diagnostic Catheterizations, Angioplasty, Coronary Stenting, CTO Interventions, Impella, and IABP Placement. There is so much more about Dr. Yaqub that you can get to know in this issue.
On another note, it was nice to learn that Dr. Nancy J. Brown, a dedicated teacher, and internationally renowned investigator and clinician, has been named the next dean of Yale School of Medicine (YSM), Yale President Peter Salovey made the announcement that she starts in February 2020.
Give Cancer the Boot – Some outstanding work is being done by IBC International Bank of Commerce and The University of Texas MD Anderson Cancer Center. They have teamed up once again for the bank's 2019 "Give Cancer the Boot" campaign. IBC Bank locations across Texas and Oklahoma have been hosting special events and fundraisers since May 10, 2019, in order raise $1 million in donations from the community, friends, neighbors, and those who know the plight of cancer. The campaign will continue until September 27th and every dollar raised will be matched by IBC Bank in order to reach $2 million. Congratulations!
Many of you that want to start a business, will enjoy and get inspired by Raul and Cynthia Calera. They are the founders of RGV Mobile X-Rays company. It all began in 1995, Raul Calera had a dream of starting his own business. He was putting in many grueling hours while working 3 different jobs. He just wanted to be able to relax a little more. More in this issue.
Hidalgo County Commissioners Court declared September as National Pediatric Cancer Awareness Month honoring more than 400,000 survivors of childhood and adolescent cancers in the United States. Cancer is the leading cause of death by disease past infancy for U.S. children. About 11,060 children in the U.S. under the age of 15 will be diagnosed with cancer in 2019. Doctors Hospital at Renaissance Administrator of Corporate Affairs, Mario Lizcano was present and expressed the appreciation of the countless doctors and employees for this support. More in inside.
McAllen ISD to Host its First Dyslexia Conference. Parents can increase their knowledge about Dyslexia. They can learn strategies for home and school at the McAllen ISD inaugural Dyslexia Conference on Saturday, October 19, at McAllen High School. This is a free event; the public is invited. There is a QR for you to scan, which takes you directly to a form to register. Find more information inside.
I recommend that you read "A Fresh Start on a Path to Success". It shares a story about Rosario Gonzalez who came to this country illegally at the age of 15, not understanding a word of English. She married young, had six children, and spent 26 years in an abusive marriage. Read and learn more about her strong faith in God and her courage to survive and protect her children as she took a path to a better future. Her new path is through South Texas College. More in this issue.
Enjoy!
---
Articles mentioned in this post: