- Advertisement -

Providing Heart Disease Diagnostics and Interventional Professional Services
By Roberto Hugo Gonzalez
As originally published by Mega Doctor News newsprint edition September 2019
An interventional cardiologist is, without a doubt, an authority on cardiovascular diseases and treatments. These physicians come with an extensive education, training, and certification in conventional and minimally invasive procedures performed on the heart and arteries.
One of the new physicians now practicing in Mission, is Dr. Yasir Yaqub FACC, FCCP, FSCAI. He is just such an interventional cardiologist; he is now attending patients of the Valley area.
Dr. Yaqub comes well trained from Pakistan. Additionally, he expanded his training and knowledge in the United States. He is now practicing medicine in Mission, Texas from his office at Mission Heart & Vascular, a complete heart care doctors office, which is accepting new patients.
Becoming a doctor was an inherent dream of his since childhood. His motivation aside from his dream was the fact that all his family encouraged him to become a doctor.
According to Dr. Yaqub, his family is highly educated and were principal cheerleaders while he attended school. His father is a Ph.D. in genetic engineering of crops, and this gives you an idea that education for the Yaqub family is paramount.
"I always wanted to be a doctor since I was a kid," Dr. Yaqub told Mega Doctor News. "I have been an interventional cardiology physician for almost five years."
In 2002, he obtained his Bachelor of Medicine and Surgery (MBBS) from King Edward Medical College, in Lahore, Pakistan. His academic and training background is impressive with
Post-Doctoral Training from 2003-2007 in an Internship/Research with Central Texas Veterans Healthcare System at Texas Tech University Health Sciences Center.
From 2007-2010, he completed his Internal Medicine Residency at Texas Tech University Health Sciences Center, and from 2010-2013 he did a Cardiology Fellowship also at the Texas Tech University Health Sciences Center in Lubbock, Texas. "I was there for almost eight years and completed all my residency training," he said.
Dr. Yaqub is certified in Internal Medicine by the American Board of Internal Medicine. He is certified in Cardiovascular Disease and also certified in Interventional Cardiology by the American Board of Internal Medicine. He is licensed to practice by the State Medical Boards of Oklahoma, Texas, and New Mexico.
The field of medicine is exciting; however, it carries considerable responsibility. Dr. Yaqub sees patients that might present with symptoms that need tests called angiograms to diagnose blockages in the arteries. When such tests reveal a problem, he can perform a procedure such as angioplasty or stenting.
Dr. Yaqub said, "Mission Heart & Vascular is a state-of-the-art care facility with highly trained specialists and an experienced team of physicians, nurses, and professionals."
Their multidisciplinary approach to care is to ensure patients have access to a full range of clinical services within their specialty care facility.
Among the professional diagnostic services, they provide cardiac electrophysiology, vascular, and interventional care.
Concerning the challenges in the field of medicine, he says that it depends upon where the patients are from, what their background is, and which area of the country you are in.
He stated, "Like, here in Texas, mostly, the majority of the population do have insurance, but we do have an indigent population which does not have insurance, so that is one of the issues." He admits that it is getting a little better than before but emphasized that still, this issue is lingering on.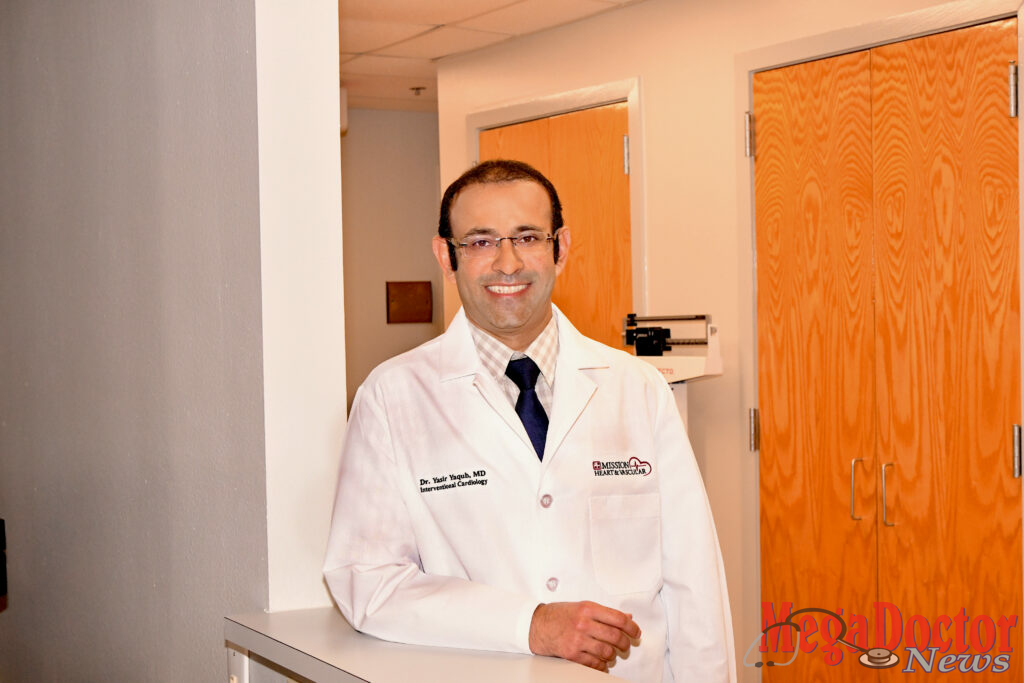 Dr. Yaqub said that in the area of patient care things have changed dramatically. "Since 2005, when I was doing my residency and fellowship, I have seen significant changes in medicine." He continued, "More of the paradigm of the procedures has shifted to what we call minimally invasive procedures, meaning that people want to do smaller procedures, versus major surgeries."
He pointed out that even if they want to have surgeries done – they want to do it with minimally invasive techniques, and with minimal scars. He explains, "In cardiology, open-heart surgery was prevalent in the 80s, then stents came along, and then with time more people opted for it. Now people are getting more stenting unless they have an excellent reason to have open-heart surgery."
The service provided by Dr. Yaqub for the residents of Mission and the Valley is priceless. An interventional cardiologist is a critical part of the care team that will be with the patient throughout diagnosis, treatment, and rehabilitation. They work closely with primary care physicians.
Many of you have heard about someone having a heart valve replacement, that was also quite popular in the 80s, today it's a different story.
Dr. Yaqub said that as recently as in the last 3 and 4 years, for a valve replacement, there was no alternative but an open-heart surgery. He said, "Now you can just go in through the artery of the leg and do the procedure. There have been many changes as a result of interventional cardiology."
"I'm amazed by the evolution taking place every day," he said. The fast pace of medicine's evolution affects patients for the better. His point of view is that in the long run, interventional cardiology benefits patients.
"They are getting minimally invasive procedures and not major surgery. Besides that, new medications have come into the marketplace, and the addition of necessary preventive measures are also vital for the patient's health. He said, "That is the focus of preventive measures, to avoid the disease."
Dr. Yaqub comes from Dallas every week to care for his patients, and Mission is the only practice that he has. He says absolutely enjoys the Valley.
"I tell you; it was a nice surprise to come over here. I initially thought it was going to be a small place, but it's not small, I just thought it was."
He lived in Oklahoma, and now he lives in Dallas and has also worked in Brownwood, a smaller community near Dallas. "I had never been to the Mission-McAllen-Edinburg metro area before. However, I went to South Padre for vacationing even before knowing about this area."
Even though Dr. Yaqub has been in Mission for a short time, he now knows that the area is predominantly Hispanic.
"I have seen some issues in the population about the affordability of medical care. nad medications especially, even if they have insurance and also, with the co-pays."
He indicated that it has to do probably with some of the patients' socioeconomic status. "If they are having problems, it is with affording their medication, affording the procedure, and affording the testing. I think those are the first couple of things that I have noticed."
Dr. Yaqub is married to Najma Yaqub and has three children, a 13-year old, an 11 and a 5-year old.
Coming from a large metropolitan area like Dallas, he was actually surprised with the warmth and friendliness of the people of the Valley. "They are generally nice, and I haven't met a mean person yet. Everybody is so very welcoming," he said.
Dr. Yasir Yaqub, Interventional Cardiologist, practices at Mission Heart & Vascular, visit them at www.missionrmc.org (956) 598-7000. It is a complete heart care medical practice with offices at 910 South Bryan Road, Suite 103 in Mission, Texas. Dr. Yaqub welcomes new patients.
- Advertisement -