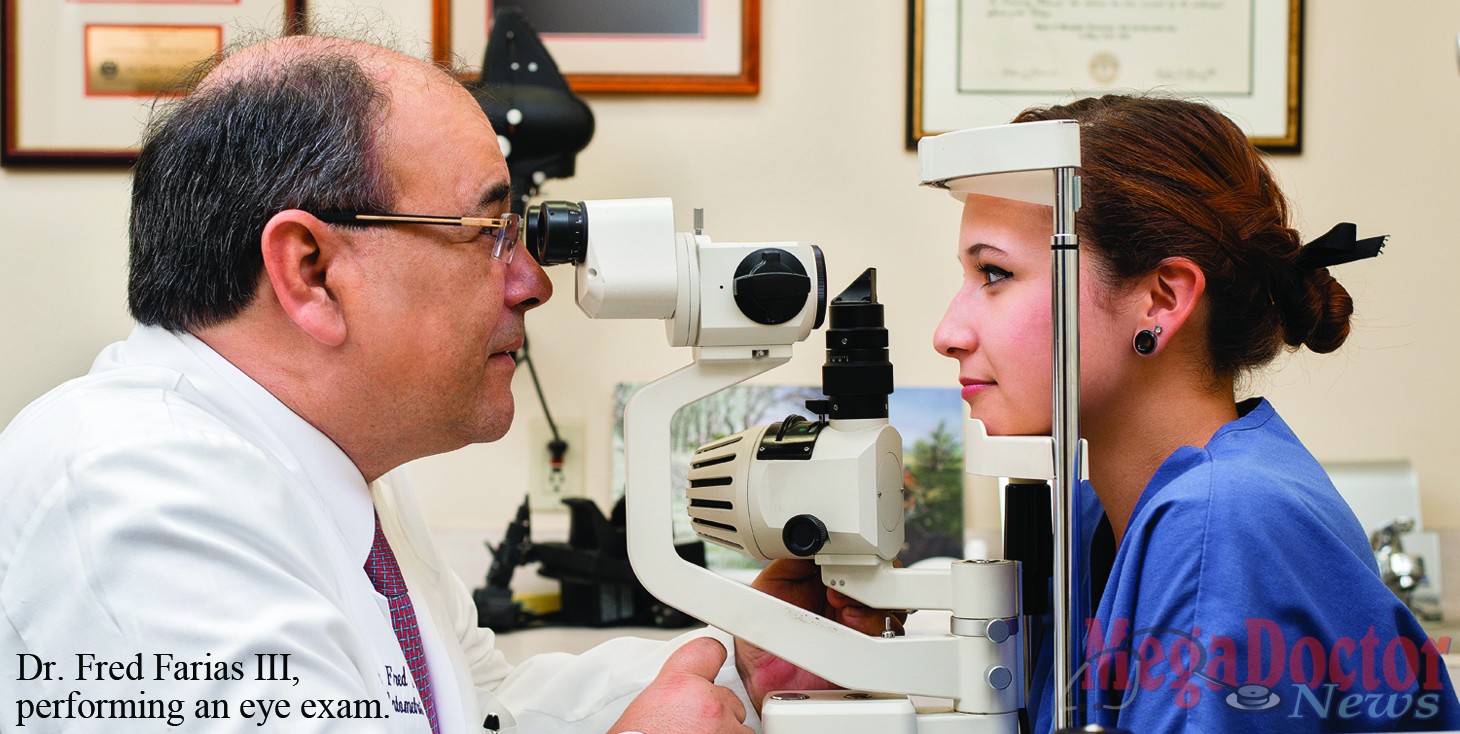 By Roberto Hugo Gonzalez
- Advertisement -

As originally published by Mega Doctor News in its newsprint Edition
Meeting and getting to know Dr. Fred Farias III proved to be a very interesting encounter. He is a down to earth professional who lives to serve his community and patients.
Fred Farias III, OD, FAAO is certified as a therapeutic optometrist and an optometric glaucoma specialist.  He has been in private practice in McAllen, Texas for over 25 years managing his own company 20/20 Vision Care.
Even though he is loaded with activities related to the work he does for our communities, there is no activity that is more important than to help his patients. "To me, it is very important to help my patients see well," he told Mega Doctor News in Exclusivity. "I also consider my staff is part of my family so that is why they have been with me for many years; that is very important to me as well."
"The most significant aspect of my life is my family and friends; and of course helping others is one of the most fulfilling things that I have wanted to do all my life."
Dr. Farias also pointed out that that is why he chose a health profession like optometry because he is giving back and helping people. "Everyday you learn not only the science of optometry and vision but you are also helping people to see better and have a better quality of life," he said.
Dr. Farias is an individual that always succeeds because of his commitment and dedication to his work, and his participation with the community that he loves. Be it as a student in high school where he was part of the top ten percent, or the university where he was one of only two Hispanics out of 100 students of optometry.
- Advertisement -

He feels blessed because all the things that he has accomplished and believes that treating people with respect is one of his best efforts. "I think that being compassionate and understanding with people is what I most enjoy doing, and helping them to see better so they can accomplish their goals as well."
Dr. Farias has a double certification in two important fields, being a therapeutic optometrist and optometric glaucoma specialist, which sets him apart from being a regular optometrist. A therapeutic optometrist treats diseases of the eyes and can prescribe medications related to the well being of your eyes.
As a therapeutic optometrist, he provides regular eye exams for eyeglasses and exams for contact lenses. He is also qualified to diagnose and treat Glaucoma, dry eye syndrome, eye allergies, and certain forms of eye trauma. He can also diagnose and treat other disorders of the visual system and structures, and is able to diagnose other systemic diseases related to the eye.
Dr. Farias earned a Fellowship in the American Academy of Optometry and is currently one of only two optometrists in the Rio Grande Valley to hold this distinction. In qualifying for and maintaining this fellowship, he has been evaluated against the highest standards of professional competence.
Dr. Farias was elected President-Elect of the Texas Optometric Association at its 114th annual convention in Austin, TX in February 2013. He is very involved in this association because he cares about his profession and his patients' access to eye care.
The efforts of the Texas Optometric Association have resulted in a long line of legislative successes that benefit the patients of optometrists and that promote eye and vision care.
He has served on the Texas State Board of Optometry as a Governor Rick Perry appointee 2001-2007 and was appointed by LT. Governor David Dewhurst to the 2011 Texas Inaugural Committee. He is currently a member of the McAllen Chamber of Commerce Board of Directors and is the chairman of the Chambers Government Affairs Council.
In this activity, he has an opportunity to meet and talk to legislators and elected officials. "It is important for them to listen to what we have to say," said Dr. Fred Farias.
He also serves on the executive committee of The University of Texas System Chancellor's Council, and the Advisory Council of the Southern College of Optometry in Memphis, TN.
In 2010, Dr. Farias became the recipient of the prestigious McAllen Chamber of Commerce Small Business of The Year Award. Every year the McAllen Chamber' panel selects five successful and community minded business people and through a rigorous process of selection and analysis.
Dr. Farias is the son of the late Fred F. Farias, a successful businessman and entrepreneur. "I am thankful to have many of his traits and talents; he was a such caring person… My father was a beer distributor in the Valley; he was a very hard worker and instilled in my two brothers and me the importance of working hard. My brother, George, is an investment banker in New York, and my brother, Matt, is an independent businessman in San Antonio."
Dr. Farias remembers that when he and his brothers were still in high school, his father taught them how a business office works from marketing, to accounting, and also working in the field.
His father, Fred F. Farias was a founder of South Texas' Anheuser-Busch distributor and active in South Texas politics and charities, especially for arthritis causes.
The elder Farias was born in Pharr in 1936 and grew up in the Valley. He founded L&F Distributors in the early 1970s with former Texas State Sen. Raul Longoria. Farias helped run the company before selling his interest to the LaMantia family in 1991.
"My father moved to San Antonio, and purchased another beer company and renamed it San Antonio Coors Distributors.
He sold the San Antonio distributor a few years later; he retired and became a private investor," Dr. Farias said. The elder Farias was also active in charities and civic affairs in the Valley and San Antonio.
Along with his wife, Mamie, Farias was a board member on the Arthritis Foundation of McAllen, where they helped raise money to fight the disease.
"My mother is Mamie Farias, she was a stay home mom, and she nurtured us and was very active in the community as a leading lady in McAllen." Dr. Farias said that his mother is still very involved with the community.
Dr. Farias was born in Alexandria, Louisiana at England Air Force Base while his father was in the service.  His dad served in the U.S. Air Force from 1954 to 1959 as a radar expert before moving back to the Valley and becoming an officer with the McAllen Police Department.
"I grew up here in McAllen, Texas and went to Jackson Elementary School; Lamar Jr. High and am a proud graduate of McAllen High School – Class of 1976," he said. While he was a student at Jackson and McAllen High School one of his good friends was and is astronaut Mike Fossum, the recipient of the NASA Exceptional Service Medal and two NASA Spaceflight Medals. "Mike and I were also Cub Scouts in elementary," Dr. Farias said.
As active as he is, Dr. Farias meets people all over the state; years ago, he met Greg Abbott who is now Attorney General and a candidate for Governor of the State of Texas. " I have known Greg Abbott for over two decades; we met thru mutual friends and I have served on his campaign finance team for over a decade," said Dr. Farias.
Dr. Farias explained what inspired him to do what he does as a medical professional  "I have always been fascinated by the human eyes because they are the windows to the world." What excites him about his field is that the technology in eye care continues to evolve and optometry is a great primary care healthcare profession. The challenge that he encounters in his profession is keeping up with the changes on insurance.
The satisfaction he gets out of his profession is giving his patients the best vision care possible. A person's vision affects how they feel so helping them to see well allows them to function to their maximum potential.
By now our readers understand that Dr. Farias is one of a kind. He told Mega Doctor News that he is very involved in civic activities because he feels the importance of giving back to the community.  He has been on the board of the directors of the Arthritis Foundation, The Vannie E. Cook Jr. Cancer Foundation, and the American Cancer Society, just to name a few.
Dr. Farias graduated from the University of Texas at Austin in 1980 with a Bachelors of Science in Communications. He attended Southern College of Optometry in Memphis Tennessee in 1985, and obtained a Bachelors of Science in Biology with a Minor in Physics. In 1987, he earned a Doctor of Optometry Degree at the Southern College of Optometry in Memphis, Tennessee. In 1988, Dr. Farias opened his 20/20 Vision Care in McAllen, Texas; that was 25 years ago.  Recently he announced, "I am proud to be the elected president elect of the Texas Optometric Association and becoming the president of the association in February 2014."
As a last comment Dr. Farias said, "I have had to work hard along the way; but my parents have instilled those very same values in my brothers and me.  I am enjoying practicing optometry and have no regrets."
Mega Doctor News is proud to bring you the story of Dr. Fred Farias III because he is a caring and giving individual who gives back to his community and helps those in need.
You can visit with Dr. Fred Farias III at 20/20 Vision Care located at 1313 South 10th Street in McAllen, Texas 78501 or you can call 956-630-2020 to make an appointment. MDN