- Advertisement -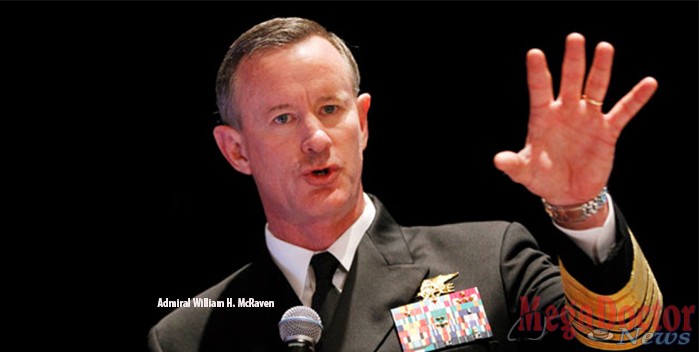 Mega Doctor News
AUSTIN – The University of Texas System Board of Regents unanimously approved the appointment of Admiral William H. McRaven, currently commander of the United States Special Operations Command, as chancellor of The University of Texas System, effective Jan. 5, 2015.
Regents named McRaven sole finalistfor the prestigious position at a meeting last month. By state law, regents must wait 21 days after naming a finalist before making an official appointment.
McRaven will succeed Chancellor Francisco G. Cigarroa, M.D., who will continue to serve as the System's chief executive officer until January 2015. Cigarroa will return to UT Health Science Center at San Antonio, where he served as president for nearly a decade, to head the institution's pediatric transplant program.
A four-star admiral, McRaven will retire from the U.S. Navy later this month, wrapping up a distinguished 37-year career. McRaven has garnered international respect for his strategic leadership, discipline, intellect and diplomacy. In his current role with U.S. Special Operations Command, he oversees a 67,000-person, $10 billion operation and plays one of the nation's premier roles in keeping the country safe.
McRaven took the opportunity to thank the regentsfor selecting him as the UT System's next chancellor during the board's open session. He also expressed his gratitude to the Texas Legislature, UT alumni and others for their support and pledged to build a strong relationship with all those who care deeply about UT institutions.
"Great universities demand the best from their students, their faculty, their researchers and their administrators. Great universities not only teach — they educate, they build leaders, they create thinkers and doers — across every aspect of life," McRaven said. "This university system should be known for producing tomorrow's leaders in every field of endeavor."
- Advertisement -

McRaven praised Cigarroa's groundbreaking Framework for Advancing Excellence and called the tenets of the document "universal and timeless." He emphasized the notion thatteaching and scholarly research go hand in hand — both demanding an unwavering pursuit of excellence. 
"He said we must never settle for mediocrity; instead we must follow a continued trajectory toward greatness," McRaven said of Cigarroa's Framework. "I like that term – greatness. When people around Texas, around the nation and around the world think of the UT System, greatness should be the first word that comes to mind."
Regents Chairman Paul Foster said he and his fellow board members are honored that McRaven has accepted the position to lead the UT System, choosing a role that continues to serve the public good after decades of service to his country. Foster and Vice Chairmen Steve Hicks and Gene Powell made up the search committee that recommended McRaven to the full board.
"We are honored that Adm. McRaven has chosen The University of Texas System as the next step in an impressive career and we are thrilled to welcome this distinguished UT alumnus back home," Foster said. "Adm. McRaven is the consummate leader, a champion of freedom and a true diplomat. I know my fellow regents share my view that the future is boundless for the UT System and we believe we have found the right person to lead us in the ambitious endeavors already under way and those yet to come."