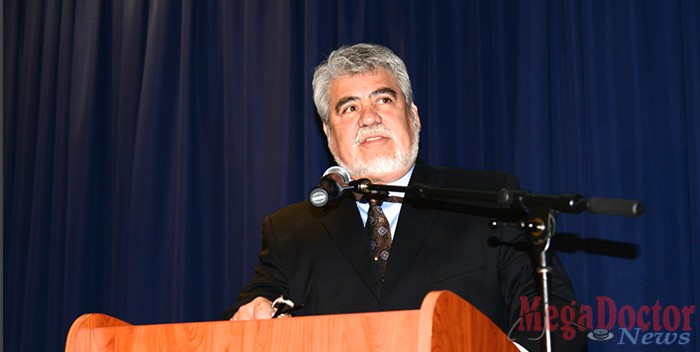 By David A. Diaz
Mega Doctor News
Health care and medical education are key anchors for impressive growth and prosperity in Edinburg, as evidenced by ongoing and planned expansions by Doctors Hospital at Renaissance, the Edinburg Economic Development Corporation has announced.
The EEDC, which is governed by a five-member Board of Directors led by Mayor Richard García (featured in this image on Thursday, April 24) as president, is the jobs-creation arm of the Edinburg City Council. With a local economic impact of $1 billion during the past three years, according to a University of Texas-Pan American analysis, hospital officials on Tuesday, August 19, successfully secured the support of the Edinburg City Council that allows DHR to apply to the governor's office for up to $2.5 million in state financial incentives.
Under DHR's vision, they are in the process of investing $206 million for expansion that will create more than 500 new fulltime jobs. The construction and jobs creation, which will cover a period between 2013 and 2015, could reach $250 million, DHR officials added.
As part of its $206 million development strategies, DHR would create 530 new full-time jobs, including 250 positions for faculty and medical residents who will be working with DHR as part of the upcoming creation of a University of Texas medical school. The 530 new jobs also will result an additional annual payroll of $125 million at DHR.
The EEDC has been working with DHR, including by supporting the hospital leadership's successful request that the city council designate DHR as a Texas Enterprise Zone Project. In nominating DHR as a Texas Enterprise Zone Project, the designation will not be at any cost to the City of Edinburg nor will the city lose sales taxes.
The city will benefit with the increase in the tax base and the retention of new jobs. The expansion also will result in new total projected salaries of $125 million at DHR, which in 2013 generated a payroll and related personnel costs of $180 million.
- Advertisement -

Israel Rocha, DHR's Chief Executive Officer, provided highlights of recent and planned growth by the hospital system during his Tuesday, August 19 presentation before the mayor and city council members. "Doctors Hospital at Renaissance has a great history in working with the city.
Together, we have built our company and have been able to grow, and are a great example of what the City of Edinburg offers to companies which are growing in the region," Rocha said. "We have been able to build a top-tier hospital thanks to your assistance.
We are moving from being a hospital to becoming a health system." García expressed the sentiments of his colleagues on the city council by emphasizing the importance of the city's network of hospitals.
In addition to DHR, South Texas Health Systems also has a major presence in Edinburg, with assets that include Edinburg Regional Medical Center and Edinburg Children's Hospital. "I say that the city of Edinburg wears a crown of excellence, and the crown jewels include the University of Texas-Rio Grande Valley, our public and private schools, Hidalgo County government, the new UT medical school in Edinburg, our retail businesses, and our health and medical care systems," the mayor said.  "Renaissance Hospital has become one of the crown jewels because it is important not only to us, but to the entire Valley and Texas."
DHR currently has 3,755 employees, and during the past three years, it has generated a $1 billion economic impact on the local economy. What is now Doctors Hospital at Renaissance opened its doors in 1997 as an ambulatory surgical center, according to its website.
Today, it is a modern, 530-bed acute care facility that provides a full range of medical services, with over 60 specialties and sub specialties. It has been ranked among the nation's 100 Top Hospitals® by Thomson Reuters and as one of the 100 Top Hospitals® for Cardiovascular Care.
Doctors Hospital at Renaissance is currently ranked number 1 in Hidalgo County and number 25 in the State of Texas by U.S. News and World Report. TBB