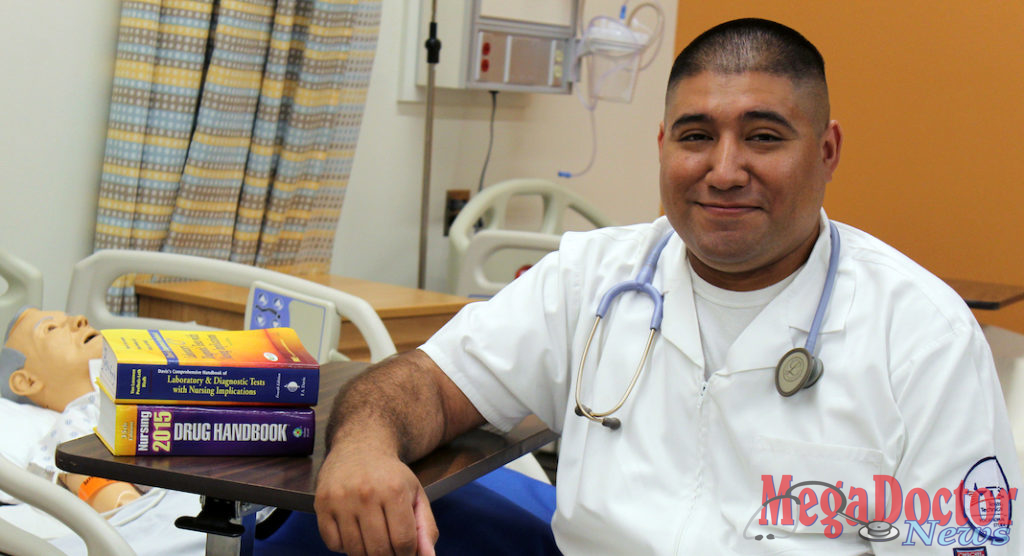 Mega Doctor NEWS
By Amanda Sotelo
Martin Velazquez put on his cap and gown Friday night and walked the stage at the Harlingen Convention Center with his family cheering him on as he received his certificate in Vocational Nursing during Texas State Technical College's 2019 commencement ceremonies.
"This was no easy journey, but it was worth it," said the 33-year-old. "After countless study hours and sleepless nights I'm finally a graduate."
The Brownsville native was not a stranger to TSTC. In 2011 he completed the Emergency Medical Services (EMS) training, which at the time was still under TSTC's Workforce Training and Continuing Education department, and worked eight years as an Emergency Medical Technician with South Texas Emergency Care (STEC) in Harlingen.
"I've always had a passion for helping people. I call this my purpose," he said. "And the medical field is the perfect way to combine a great career while doing what I love."
But after eight years in the EMS industry, Velazquez wanted more, and he felt that it was time to advance his career in the field.
Because he was already familiar with TSTC and its program offerings, he decided to enroll in the Vocational Nursing program.
"This has to be one of the most challenging things I've done," he said. "I had to stop working, my wife became the family's sole provider, which I know was stressful, and I missed so much time with my daughters."
Velazquez added that, despite the challenges, he knows this was the best decision he made for himself and for his family.
"Because of TSTC I'm ready to move on and continue growing in health care," said Velazquez. "All of my instructors were insightful and experienced and the hands-on training we received allowed us to understand processes and procedures and the foundations of nursing. I'm ready for whatever comes my way."
Velazquez hopes to work in a hospital emergency room as soon as he passes his National Council Licensure Examination (NCLEX), which he will take in the next couple of weeks.
Ultimately, Velazquez said TSTC has set him up to meet his dream goal of becoming a nurse practioner. He expects to return next year to pursue an associate degree in registered nursing.
"I have hard-working parents and their dream was to see me go to college and get a career," said Velazquez. "And that is my dream for my daughters as well; that the careers in health care my wife and I have worked toward will be a positive example for them to follow."
Velazquez said since his time in the EMS program, TSTC has changed his life and has been there to help him take big steps in his career.
"TSTC is my foundation and has given me the tools I need to be successful," he said. "I'm prepared and confident to enter the workforce again and I can't wait to return to TSTC for the next big step in my career."
Velazquez was one of more than 300 students who also earned certificates and associate degrees Friday night.