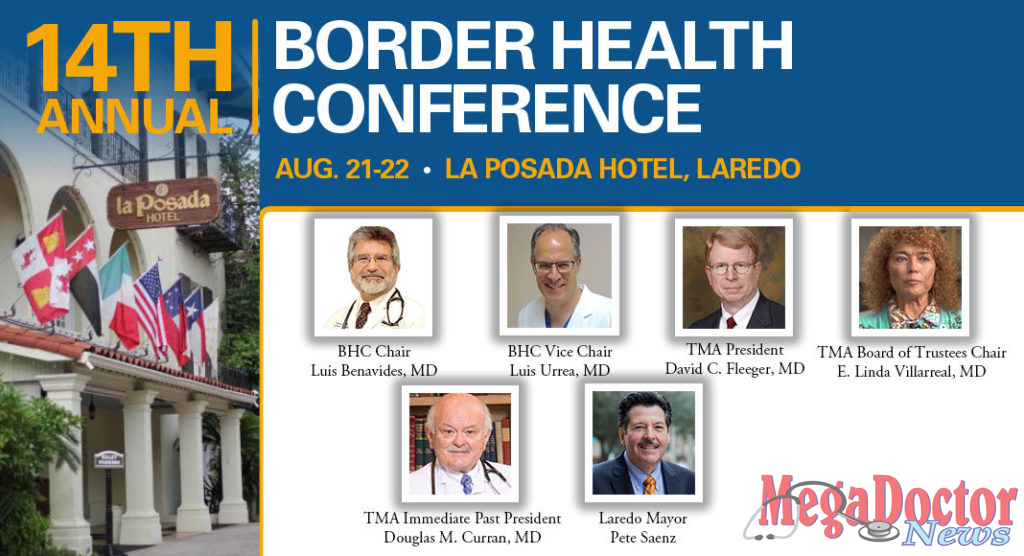 Mega Doctor NEWS
Top physicians and other health care leaders will meet in Laredo, Texas, to discuss critical health care needs and the challenges that face communities along the U.S.-Mexico border, during the 14th Annual Border Health Conference. Health care officials from Mexico will join Texas physicians and health care leaders on some of the panels, underscoring the binational nature of the issues.
The conference is sponsored by the Texas Medical Association (TMA) Border Health Caucus (BHC). The BHC's mission is to ensure access to care for all patients along the border, and this year's conference agenda addresses that while also covering top issues of national importance. (Portions of the panels will be in Spanish.)
WHEN: Thursday, Aug. 22, 8:30 am-2:30 pm (See detailed schedule below.)
WHERE: La Posada Hotel, 1000 Zaragoza St., Laredo
This marks the 14th year physicians have assembled with other health care and government experts to discuss health care problems facing border patients and their physicians. Organizers have rotated the conference between Texas and Washington, D.C., and often featured members of Congress. Many of the health care issues to be discussed affect all Texans and Americans. Specific issues this conference will address: Access to care; Public health on the border; and Cross-border health issues.
•WHO: Top physician, health care, academic, and government leaders, led by BHC Chair Luis Benavides, MD; BHC Vice Chair Luis Urrea, MD; TMA President David C. Fleeger, MD; TMA Board of Trustees Chair E. Linda Villarreal, MD; and TMA Immediate Past President Douglas M. Curran, MD. Laredo Mayor Pete Saenz also will speak, as will U.S. and Mexican government health officials, public health experts, and academic physicians.
Border Health Conference Panels and Participants
8:30 am – Opening Remarks
E. Linda Villarreal, MD, chair, TMA Board of Trustees
Luis Benavides, MD, chair, Border Health Caucus
Luis Urrea, MD, vice chair, Border Health Caucus
David Fleeger, MD, president, Texas Medical Association
The Honorable Pete Saenz, Mayor, City of Laredo
9 am – Panel No. 1: Access to Care
Evelyn Delgado, president, Healthy Futures Texas
Gilbert Handal, MD, professor of pediatrics, Texas Tech University Health Sciences Center-El Paso
Rebecca Sorensen, director, Office of Women's Preventative Care, Texas Health and Human Services Commission
John Hawkins, vice president of advocacy and public policy, Texas Hospital Association
10:30 am – Panel No. 2: Public Health on the Border
Joseph McCormick, MD, regional dean, The University of Texas Health Science Center Houston School of Public Health-Brownsville
María José Reyes Fentanes, MD, infectious disease specialist, Pan Am Clinical Research
Kathy Lenhard, president, Pan Am Clinical Research
Robert Resendes, director, City of El Paso Health Department
12:30 pm – Panel No. 3: Cross Border Health Care Issues
Gloria De Jesus Molina Gamboa, MD, secretaria de salud y direccion general del OPD servicios de salud de Tamaulipas (Mexico)
Eddie Olivarez, chief administrative officer, Hidalgo County Health and Human Services
Omar Nelson González Cepeda, MD, jefe de la Jurisdiccion IV de Reynosa (Mexico)
Hector Gonzalez, MD, director, City of Laredo Health Department
Oscar Gerardo González Arrambide, MD, jefe de la Jurisdiccion V de Nuevo Laredo (Mexico)
2 pm – Closing Remarks
Doug Curran, MD, TMA immediate past president