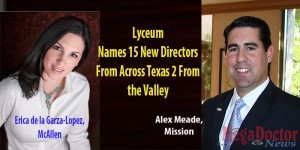 Texas Border Business
- Advertisement -

(AUSTIN)  Officials with The Texas Lyceum will swear in Houston Methodist Hospital Executive Vice President Ms. Roberta Levy Schwartz as its President on Friday, January 10, 2014. In addition, 15 new Lyceum Directors have been selected (list below) to join the organization aimed at shaping the next generation of Texas leaders.  State Representative Trent Ashby (Lyceum Class of 2008) will deliver the oath in the Houston Chamber of the Texas State Capitol.
Before joining Houston Methodist Hospital in 2001, Mrs. Schwartz served as Director of Business Development for Mount Sinai School of Medicine and as a consultant and project manager to a number of academic medical centers through APM/Computer Sciences Corporation.  She has a Masters in Health Science from Johns Hopkins University and an honors undergraduate degree from Barnard College at Columbia University.   Roberta cofounded the Young Survivor's Coalition as a resource for young women with breast cancer.   Roberta has received many honors and awards, including the national Susan G. Komen Foundation's Jill Ireland Award for Voluntarism, Houston Hadassah "Women of Courage" and Houston's Top 50 women.
Ms. Schwartz leads The Texas Lyceum into its 34th year with an exciting line-up of conferences addressing Texas' most important conversations in order to shape its future leadership. The Lyceum's gatherings are held across the state. The first conference in 2014 begins on January 31 in Houston and is focused on food production, safety and sales.  Later this year, Lyceum members will convene in Fredericksburg for "The Tribalization of Politics", in McAllen for "Education of the Hispanic Community" and in October at the Lyceum's 28th public conference in Dallas for "Banking – Too Big to Fail."  Other 2014 events include the Lyceum's annual statewide independent poll and its annual leadership scholarships awards to graduating Texas high school seniors.
"The Texas Lyceum is poised for a robust year that I am honored to lead. Each year the Texas Lyceum purposefully and agilely equips 96 influential leaders across the state with insights to deeply understand the most important issues facing Texas today and into the future," said Ms. Schwartz.
The Texas Lyceum also announces Ms. Jane Cummins of Houston, the Founder and Executive Director of The H.E.A.R.T. Program, a non-profit organization dedicated to serving adults with developmental disabilities, will serve as the Texas Lyceum 2014 President-Elect. In addition, The Texas Lyceum has named the following outstanding Texans to serve as Directors in the 2014 incoming class:
Austin
Jennifer Ransom Rice, Executive Director, Texas Cultural Trust
- Advertisement -

Jenifer Sarver, Chief of Staff, Burson-Marsteller
Joshua Treviño, Vice President for Communications, Texas Public Policy Foundation
 Dallas /Fort Worth
Ron Davis Jr., Senior Vice President, First Southwest Company
Susan Wells Jenevein, Executive Director, Genesis Women's Shelter  
Rebekah Kay, Director, Political Affairs, Energy Future Holdings
Sharon Lyle, Co-Founder, Public City
Kirk Pittard, Partner, Kelly, Durham & Pittard
Houston
Amanda Edwards, Associate, Bracewell & Giuliani LLP
McAllen resident Erica de la Garza-Lopez, Sr. Territory Business Manger, Mead Johnson Nutrition
Lubbock
Gregory Durbin, President & CEO, Sandia Construction
McAllen
Erica de la Garza-Lopez, Sr. Territory Business Manger, Mead Johnson Nutrition
Meridien
Natalie Cobb Koehler, Bosque County Attorney
Midland
Laura Roman, Partner-in-Charge Tax and Strategic Business Services, Weaver
Mission
Alejandro "Alex" Meade, CEO, Mission Economic Development Corporation
Waco
Beth Olson Drew, Executive Director, Texas Campaign to Prevent Teen Pregnancy
About The Texas Lyceum The Texas Lyceum, a non-profit, non-partisan group is the premier statewide leadership organization focused on identifying the next generation of top Texas leaders. The Lyceum consists of 96 men and women from throughout the state who begin their six-year term while under the age of 46, and have demonstrated leadership in their community and profession, together with a deep commitment to Texas. For more information, please visit www.texaslyceum.org. Texas Lyceum is on Facebook at httpss://www.facebook.com/texaslyceum and on Twitter @TexasLyceum https://twitter.com/texaslyceum