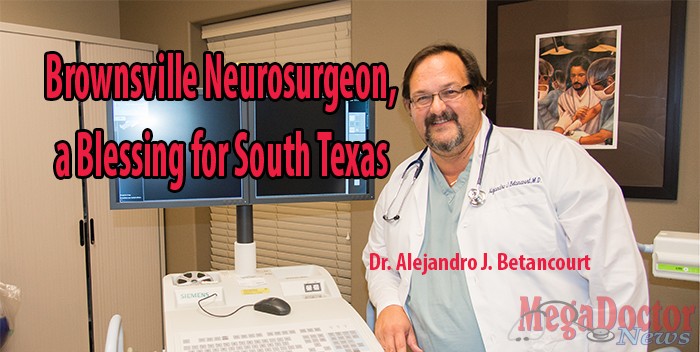 By Roberto Hugo Gonzalez
As originally published by Mega Doctor News newsprint Edition
It was 2001 when Dr. Alejandro J. Betancourt, a neurosurgeon, came to the Valley. He and Dr. Jose Dones with the Harlingen Spine Neurosurgical Institute provided a service that no one in the Rio Grande Valley was able to provide. Both are neurosurgeons and together have saved many lives. Their expertise helped families avoid having to travel up north, which often is devastating and expensive for Valley families.
Dr. Betancourt said, "At that time, the Valley was in a crisis, there were other neurosurgeons in the area but they were not taking emergency calls, so consequently both of us had a heavy surgery schedule. My partner Dr. Dones and I would take every patient with neurological conditions in Brownsville for several years until McAllen started bringing neurosurgeons and providing the valuable service. We would have patients with different conditions from all over the Valley including outside the area like Rio Grande City and Laredo, Texas," he said.
It is important to understand that a neurosurgeon is a physician who specializes in the diagnosis and surgical treatment of disorders of the central and peripheral nervous system including congenital anomalies, trauma, tumors, vascular disorders, infections of the brain or spine, stroke, or degenerative diseases of the spine.
The education and training to become a neurosurgeon is rigorous and extensive and includes the completion of four years of pre-medical education at a college or university; four years of medical school resulting in an M.D. or D.O. degree; one year internship in general surgery; five to seven years in a neurosurgery residency program and on top of all that some neurosurgeons complete a fellowship after residency to specialize in a particular area. But it doesn't stop there. Their continuing education and annual meetings, conferences, scientific journals, and research are part of the commitment to keep up with advances made in the complex field of neurosurgery. Dr. Betancourt graduated in 1992 from the Ponce School of Medicine in Puerto Rico; his specialty is neurosurgery.
It is obvious that there is a need of professionals of his caliber who are in great demand. However, after reading what you have to do to become a neurosurgeon you have an idea that it is not as easy to make one neurosurgeon because on top of all those demands, the aspiring person has to have a passion and a real dedication to his patients and to save lives.
Blessings come in every form, in this case in the form of Dr. Betancourt and his partner Dr. Dones. The two physicians performed hundreds of neurosurgeries while no one else in the area could do it, today they continue with a heavy schedule and with an experience that is difficult to parallel.
Dr. Betancourt was born in La Habana, Cuba in 1964 and was raised in Puerto Rico. His Dad is Oscar E. Betancourt, a retired CPA, and his mother is Gladis E. Betancourt. "My parents always instilled in me to respect the elderly and to always say the truth," he told Mega Doctor News. Adding that, "They also taught me to be a family person, to live with my convictions and to always reach my goals."
When Dr. Betancourt was doing his residency, a former associate told him about the Rio Grande Valley, that it was a good place to practice medicine but at the same time that it was a challenge because of the high prevalence of aneurisms and spine related surgeries. He decided to visit and the first thing he liked was the weather, and the people because like he says, "People here are very friendly and that is the reason I decided to stay."
He did his residency in the University of Puerto Rico in San Juan at the Veterans Hospital Administration where he also became the chief residency officer for the hospital.
His father inspired him to become a doctor, "At the beginning I had the influence of my Dad and mainly because that was his dream for him. He started a medical career and was not able to finish because of financial issues."
When Dr. Betancourt was in high school, he became a volunteer at the emergency room in the local hospital in Puerto Rico. "I was fascinated with the work being done in the emergency room and how the doctors had the power to heal."
"Today's technology is amazing, now you can identify and perform surgery in the brain, which is a very complex structure, and it's easier using technology. The technology simplifies surgeries and it is very important in our lives."
He says that it is also important to be up to date on the latest advances of technology in every aspect and he gave an example of the surgeries to the spine, which now can be performed with a wound of only one centimeter and a half.
"I encountered many challenges because you have to go through a residency program that is highly demanding; you have to be at the top of your class," he said.
His main concern about your patients is, "My concern is to find out what is aggravating their condition and try to find a solution to the problem. Sometimes it's not possible to find a solution right away but in the process of trying to find it, I try to help them overcome that condition."
Because his profession is very demanding and takes time away from his family time, he said, "I couldn't find a better woman to be my wife.  I believe that she is an excellent mother, her name is Aracelis," he said emphatically.
Dr. Betancourt pointed out that his wife, Aracelis was with him while he was doing his residency program, "She was able to handle me through this program, so I know that she can handle everything."
He has great regard for his wife because during medical school, she became a bank teller and with her earnings they were able to cover expenses like sending their kids to good schools.  They have a son, Alejandro Andres, 12; and daughters, Sophia, 14, who wants to be a crime scene investigator and Gabriella, 18, who is getting ready to go to college with plans of becoming a psychologist.
Even though his has a heavy schedule in his practice, he gives back to his community; Dr. Betancourt recently formed a baseball academy, a non-for profit organization. "The idea is to enroll kids of the community because that is something that I like to do as part as my work with my community." He continued, "I am also involved with church and I participate in fund raising activities for different organizations as well."
He also said that together with his partner Dr. Dones, they bring kids from other places and perform free surgeries at Valley Baptist Medical Center. "About 2 years ago, we brought a child from Nicaragua and we performed surgery, she had a brain tumor," he said.
"I am a professor for the University of San Antonio; I am a clinical assistant professor and I teach students as well."
Dr. Betancourt says he deals with stress by, "Well, I go back to my family, I love to see my kids play baseball and I like to do fishing and hunting when possible."
He says that the satisfaction he gets from his job is to save lives. He recognizes the uniqueness about his practice that one day he can see someone close to dying from a gunshot wound and when surgery is performed it can help bring him back to life.
Dr. Alejandro J. Betancourt is a partner at the Harlingen Spine Neurosurgical Institute with offices in Harlingen, Edinburg, and Brownsville. He has been selected to become Mega Doctor for the work he does and the time he gives to our communities. MDN