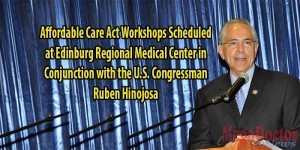 Mega Doctor News
South Texas Health System in conjunction with the Office of U.S. Congressman Ruben Hinojosa is hosting an Affordable Care Act Information Seminar on Wednesday, Jan. 15, 2014 at 5:30 p.m. in the Texas Room at Edinburg Regional Medical Center, 1102 West Trenton in Edinburg.  This seminar will raise awareness and understanding about the Affordable Care Act (a.k.a. Obamacare).  Bilingual staff will be available to answer questions and assist consumers with scheduling appointments for assistance in the enrollment process.
Uninsured consumers or those with healthcare coverage that does not meet the minimum requirements should enroll by March 31. Over the course of the next three months, South Texas Health System and Congressman Hinojosa want to make sure the public has many opportunities to learn about the new healthcare law. STHS is one of several Counselor Designated Organizations in the Valley. Our hospitals have 20 Certified Application Counselors (CAC) to assist consumers with the enrollment applications process at each of our facilities – McAllen Medical Center, McAllen Heart Hospital, Edinburg Regional Medical Center and Edinburg Children's Hospital.
At the seminar, you will get more information about what is covered under the insurance plans, and you can pick up literature and make an appointment with a CAC. We will talk to about the items you need to register (i.e. email addresses, Social Security Numbers or document numbers for legal immigrants), Employer and income information for every member of your household who needs coverage such as pay stub or W2 form, along with other required information.
For more information about the seminar or to make an appointment with a CAC, call 956-383-2151. More seminars will be held on Feb. 5, March 5 and March 26.