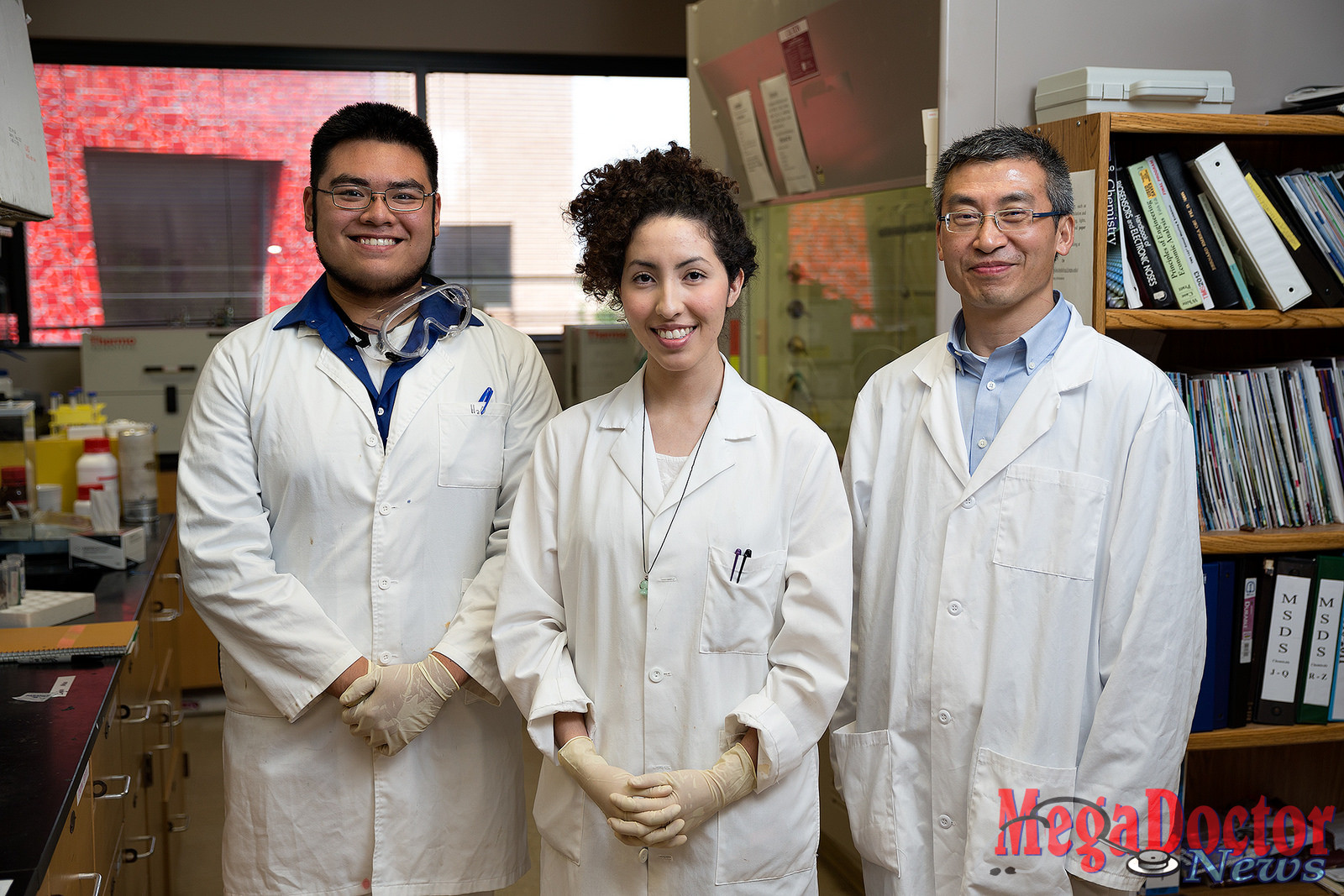 Mega Doctor News – 
By Vicky Brito,
EDINBURG, TEXAS – MAY 27, 2016 – The University of Texas Rio Grande Valley Chemistry Department is now part of the Integrating Food Science/Engineering and Education Network, known as IFSEEN, a collaborative program sponsored by the U.S. Department of Agriculture.
Together with fellow Hispanic Serving Institutions (HSIs) UT San Antonio, New Mexico State University and University of New Mexico, IFSEEN is an effort to increase the number of Hispanics in the food science industry.
According to the IFT.org website, food science is the study of the physical, biological and chemical makeup of food, and also the concept underlying food processing.
Funded by the USDA, UTRGV is working with a $2 million grant – $500,000 a year distributed over four years ending in 2019.
The goals of the collaborative initiative include:
•Outreach to local high schools.
•Development of new course materials.
•Targeting incoming students.
•Training students as cohorts as they matriculate through their undergraduate education.
•Conducting cross-disciplinary food science research.
•Partnering with USDA agencies and Tier 1 agricultural institutions nationwide.
Led by Dr. Yuanbing Mao, program director of IFSEEN, the group hopes to expand the program's outreach.
Agriculture already has a large minority representation, Mao said, but the science aspect is lacking.
"What we plan to achieve is develop new course material and target the incoming students to become new cohorts," he said.
UTRGV professors involved are Dr. Karen Lozano, professor of mechanical engineering; Dr.  Mataz Alcoutlabi, assistant professor of mechanical engineering; Dr. Luis Materón, professor of biology; and Dr. Jason Parsons, associate professor of chemistry.
They are joined by Dr. Liang Tang, associate professor of biomedical engineering at UTSA; Nancy Flores, extension food technology specialist at New Mexico State University; Dr. Jessica Houston, associate professor of biomedical sciences at New Mexico State University, and Hongmei Luo, associate professor of chemical engineering at New Mexico State University; Peter Pribis, assistant professor of nutrition and dietetics at University of New Mexico, and Yang Qin, assistant professor of organic chemistry at University of New Mexico.
"Eventually, we want to prepare the students who conducted research with us for higher education degrees, or find a job at USDA agencies," Mao said.
UTRGV currently does not have a food science major, but courses will be offered within the chemistry department. Mao hopes one day to offer food science as a degree at UTRGV.
"We have been trying to actually work with our department and the college to have classes related to food science, and our faculty members already are developing course modules for that purpose," Mao said.
STUDENT PARTICIPATION
Itzel Lopez is a senior chemistry major who participates in IFSEEN.
"What drew me to apply to this program was the fact that it offers the opportunity to work with the USDA and other agricultural institutions from around the country," Lopez said. "I also knew that having this incentive would allow me to work harder in my research."
Lopez said the program will help her become a more competitive applicant for a food and agricultural science doctoral program.
"Some of the advantages that the IFSEEN program offers are the ability to work with students from other universities like UTSA, University of New Mexico and New Mexico State University, as well as learn about the research they are conducting," she said.
"As students, we get to practice our research techniques and learn new ones from our peers. We gain presentation skills when sharing our projects with other students and professors. And we gain knowledge in food/science research. We have the opportunity to attend conferences, apply to summer internships, and are funded to conduct research," Lopez said.
Andy Nguyen is a junior biology major who joined the program to gain research experience in collaboration with other universities.
"There is a myriad of advantages here in IFSEEN. One of the most impactful ones is learning," Nguyen said. "Simply learning about time management, taking initiative, cooperation, being able to balance life. You learn a lot of science material you cannot get anywhere else. We experience real-life problems in the lab regarding experiments, and it's all extremely beneficial to not just your near future, but for life. IFSEEN offers summer internships, scholarships, and much more."
For more information on IFSEEN, contact Mao at Yuangbing.Mao@utrgv.edu or (956) 665-2063.