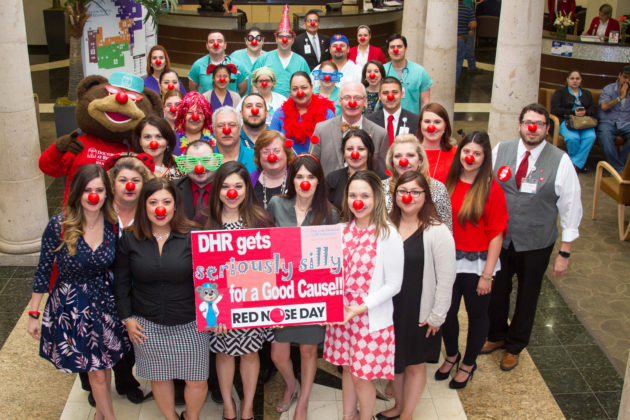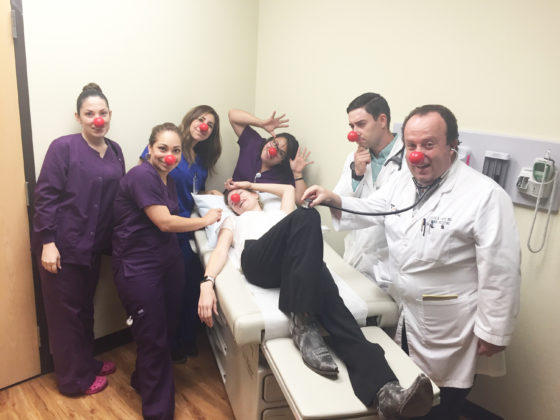 Mega Doctor News – 
Edinburg, TX–– Doctors Hospital at Renaissance donned red noses on Thursday, May 26, 2016 as part of Red Nose Day. The nationwide campaign encourages individuals to "get seriously silly" and "fun-raise" for kids who need it the most, both at home and around the world.
Red Nose Day was created first in the United Kingdom 25 years ago when a non-profit called Comic Relief Inc. was established. They use comedy and laughter to get across messages about issues and problems that affect the lives of many people world-wide. Comic Relief spearheads Red Nose Day and has raised more than $1 billion for kids in the poorest areas of the world since inception.
Red Nose Day launched in the United States in 2015. Last year alone, Red Nose Day raised $23 million to provide for children in the United States and 15 other countries. The funds have provided over 7.8 million meals for kids in the U.S., 50,000 kids and families now have access medical services, 170,000 vaccines were provided for children in Africa, and 200,000 more children in the United States can access the educational resources they need to learn and read.
Patients at The Children's Hospital at Renaissance received a surprise visit from Dr. Ted E. Bear during Red Nose Day. Dr. Bear distributed red noses to all patients and took "seriously silly photos" to raise awareness about the impact "fun-raising" can have on the lives of children all over the world.
Proceeds from this year's campaign will benefit the Red Nose Day Fund, which supports charities with domestic and international reach aimed at fighting childhood poverty, including Boys & Girls Clubs of America, charity:water, Children's Health Fund, Covenant House, Feeding America, Gavi The Vaccine Alliance, National Council of La Raza, National Urban League, Oxfam America, Save the Children, and The Global Fund.
About Red Nose Day
Red Nose Day is a fundraising campaign run by the non-profit organization Comic Relief Inc., a registered 501(c)(3) American public charity. Funds raised go to the Red Nose Day Fund and last year benefited children in all 50 states and 15 countries internationally through programs to keep children and young people safe, healthy and educated. Comic Relief Inc. in the US and Comic Relief UK are independent sister organizations that are joined by their shared vision of a just world, free from poverty and the mission to drive positive change through the power of entertainment.