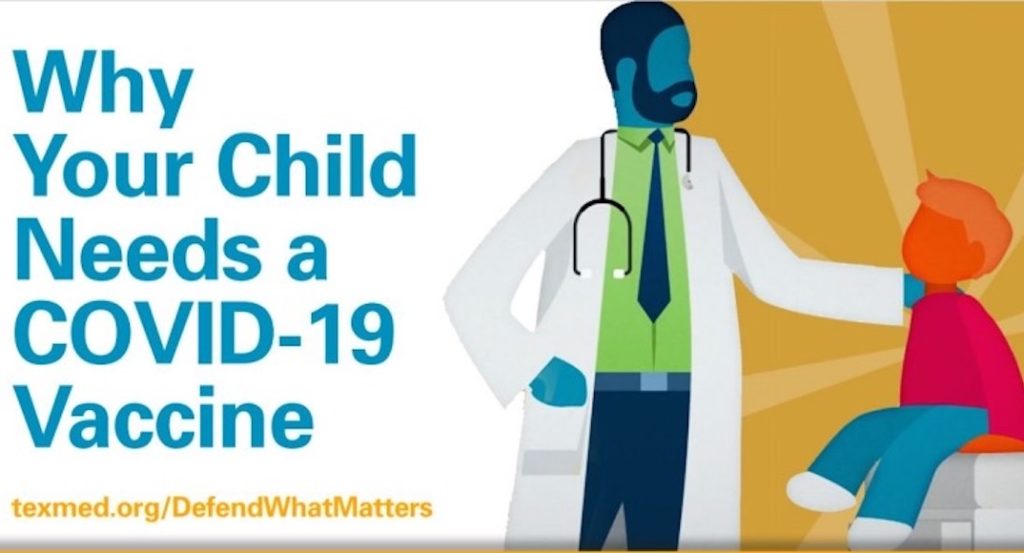 Mega Doctor NEWS
As Texans return to work, school, and play thanks to more people getting the COVID-19 vaccine, physicians are now urging vaccination for children 12 years old and older.
Texas Medical Association (TMA) COVID-19 Outpatient Workgroup physicians created a new infographic flyer urging parents to protect their adolescents and children against a disease that's killed hundreds of thousands of Americans and millions of people worldwide.
"Vaccinating against COVID-19 helps children and adolescents safely return to pre-COVID activities, including summer camps, vacations, and visiting family members," said Emily Briggs, MD, chair of the TMA workgroup. "They can then help protect family and friends by reducing the chance of spreading the virus." Dr. Briggs is a New Braunfels family physician who cares for children in her practice, including some whose post-COVID inflammation limited their ability to play sports.
The TMA flyer notes some children can get seriously ill from COVID-19. Others with mild cases can suffer long-term inflammation in their lungs and heart.
The Centers for Disease Control and Prevention (CDC) now recommends vaccination for everyone 12 years and older to help protect against COVID-19. Previous clinical trials studied only adults, but researchers recently have been able to test the vaccine on adolescents. In the clinical trial for children 12 through 15 years old, no safety concerns were identified with the Pfizer COVID-19 vaccine, and the vaccine was 100% effective at preventing the tested group from experiencing coronavirus with symptoms. CDC says the vaccine is safe, and the American Academy of Pediatrics joins CDC in noting vaccines do not affect fertility, puberty, or menstruation.
Nearly 51,000 Texans have died of COVID-19, including some children. As of June 14, about 46% of Texans are fully vaccinated against COVID-19, and just more than 55% have received at least one shot of the two-dose series. One reason the numbers are not higher is adolescents and children were only recently approved for the shots. The more people vaccinated the closer Texas gets to achieving widespread community immunity, or herd immunity.
"[Adolescents] will not be protected fully until two weeks after their second dose of the Pfizer vaccine, so consider getting your child the first dose as soon as possible," the flyer reads.
"Unvaccinated children and adults remain the reservoir for mutations of the virus to develop," said Dr. Briggs. "For these reasons and many others, let's get our kids vaccinated!"
This push to protect adolescents and kids with the shot is the latest effort of TMA's Vaccines Defend What Matters initiative to promote vaccines as the best tool to prevent illness and potential death.