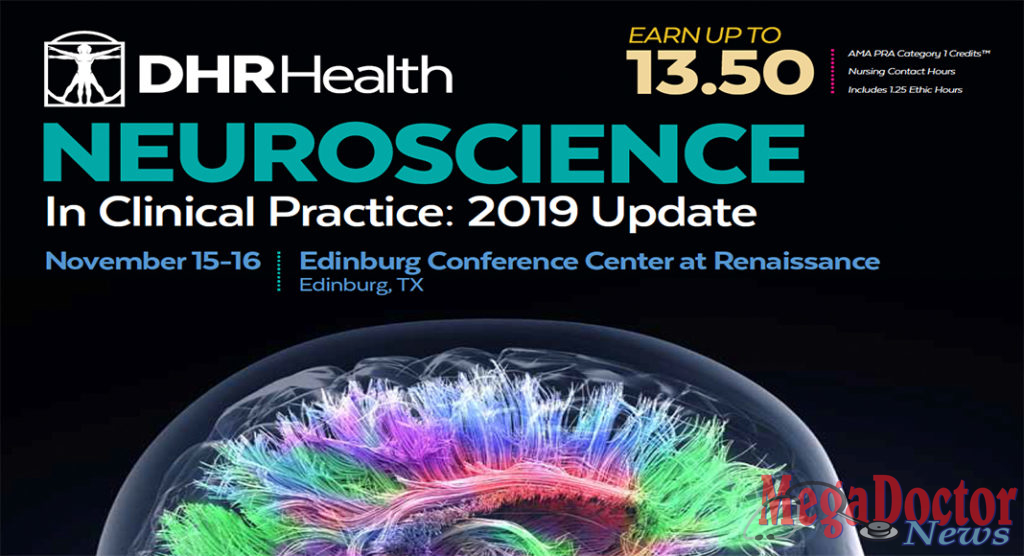 Mega Doctor News
- Advertisement -

Edinburg, TX — The Continuing Medical Education Department at DHR Health is proud to present the Inaugural Neuroscience Conference.  The conference will convey best practices and provide practitioners with the knowledge to be able to recognize, diagnose and manage common neurological problems.  Speakers at the event will present and asses recent advancements and updates in Neuroscience.  The goal is to enhance the knowledge-base and core competence of all who attend. 
The Edinburg Conference Center at Renaissance will hold the event designed to educate physicians, advanced healthcare providers, nurses, EMS and those who have direct patient care.   Course registration will begin at 1:00 pm on Friday, November 15, 2019, and will conclude at 5:40 pm on Saturday, November 16, 2019.  This will be an informative event for practitioners who see patients with neurological disorders and who intend to provide a practical review with an emphasis in recent advances and current neuroscience guidelines. 
Attendees will hear from distinguished Neurology faculty speakers from John Hopkins University School of Medicine, Vanderbilt University Medical Center, Baylor College of Medicine, University of Illinois Department of Neurology and from DHR distinguished faculty of Neurology, Neurosurgery, Neurointerventional Radiology, Pediatric Neurology, Physical Medicine & Rehabilitation, and Palliative Medicine.  
Speakers will discuss the following topics:
Diagnosing and managing common neurological problems
Evaluating and treating patients with various types of dementia, tremor and Parkinson's disease
Evaluating and treating patients with Multiple sclerosis
Management of patients with strokes and implementing secondary prevention strategies
Identify and differentiate types of seizures and develop a management plan
Describe and Formulate an approach to diagnosis and management of peripheral neuropathies.
Inaugural Neuroscience Conference
Friday, November 15th– Saturday, November 16th, 2019 /  7:00 AM registration, 2-Day conference
Edinburg Conference Center at Renaissance
- Advertisement -

118 Paseo Del Prado, Edinburg, TX 78539
Breakfast & Lunch will be provided on Saturday
Register by phone at (956) 362-3242
Earn up to 13.50 Credits:
12.75 CME PRA Category 1 Credits™
AMA PRA Category 1 Credits™
Nursing Contact Hours
Includes, 1.25 Ethic Hours
For more information about the Neuroscience Conference, please call the DHR Health Continuing Medical Education Department at (956) 362-3242 or email a.badillo@dhr-rgv.com.