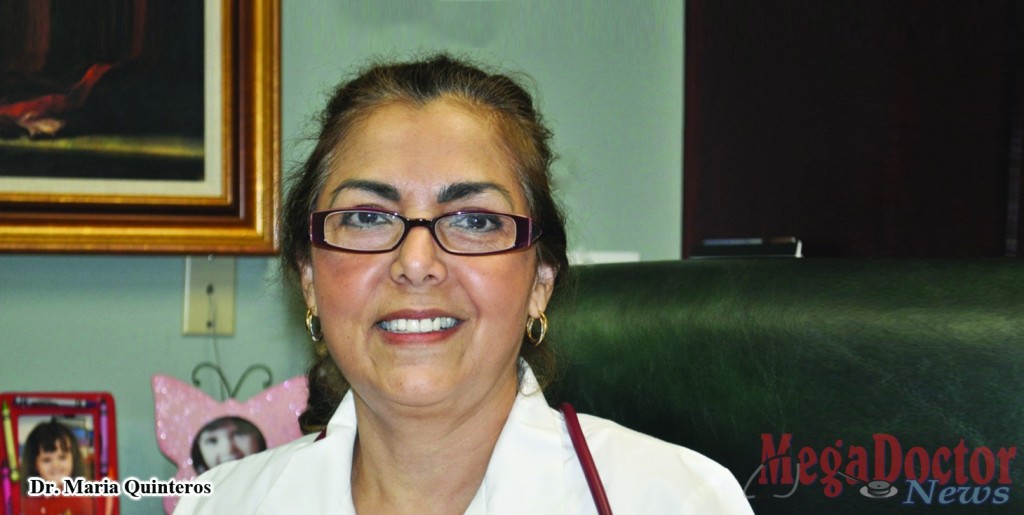 Mega Doctor News – 
By Roberto Hugo Gonzalez,
Dr. Maria Quinteros is board certified in Pediatrics. She focuses on early and preventive treatment of babies starting at birth. Dr. Quinteros can diagnose infections, diseases, malignancies, injuries, and genetic defects. She provides preventive maintenance for healthy children and medical care for children who are ill. Her goals are to promote a healthy childhood, control the spread of infectious diseases, alleviate the conditions of chronically ill children and adolescents, and to reduce the mortality of infants and children.
Dr. Maria Quinteros graduated in 1983 from Universidad de El Salvador, San Salvador in Central America. During the time she went to school it was more complicated to get admitted, because there was only one university offering medical studies in El Salvador. Dr. Quinteros has been very passionate about her profession, which propelled her to finish in her native country and then continue her education in the United States. "From 1993 to 1996 I did my residency training in Chicago Christ Hospital in Chicago, Illinois."
She ended up in the Rio Grande Valley because of friends, the vast Latino population in the Rio Grande Valley, and the beautiful weather. "I just didn't want the cold weather anymore; the windy city is beautiful but too cold for me. Besides I have many friends here in the Valley."
It's easy to say it, but she has been servicing communities all over for the last twenty years and a doctor twenty-three years. Dr. Quinteros and her partner Dr. Ernesto Ramirez acquired the Felici Pediatric Clinic that was originally founded forty years ago. Dr. Felici built a phenomenal reputation that Dr. Quinteros and Dr. Ramirez were very much a part of building.
Dr. Quinteros loves her profession and admits that she does not remember who inspired her, "Since I have memory I remember that I wanted to become a doctor. I don't know who really inspired me, but my mom told me that I used to play a doctor with my doll. I was pretending to be a doctor so I don't know who inspired it but I knew that I wanted to become a doctor."
- Advertisement -

Casto and Paula Ramirez, her parents had a lot to do with how she grew up to be, both personally and professionally. She remembers how hard her dad worked but one thing she will never forget how disciplined he was with all his children. She said, "He was actually teaching us to save our money, be disciplined, and that's probably why I am disciplined and constant in my life."
Her father was a businessman selling cereals like corn, rice, and beans throughout all Central America. "My mom was a housewife." She said, "My mother was a lovely person, very dedicated to the children, and probably the passion, the compassion in us was learned from her."
Dr. Quinteros is married to Dr. Francisco Quinteros, a psychiatrist, retired. "We were neighbors and used to play together. We went to the same medical school," she said. They have a son, Francisco Quinteros, Jr. "He is a doctor, a surgeon practicing in Chicago," she said proudly.
Her concerns about the healthcare industry are many but one of them that she brings to light is the fact that there are less medical students attending medical school. She said that the reason is because it is very expensive.
She said, "I think that we are going to have more physician assistants, and nurse practitioners taking care of the patients. I probably think helping them with the scholarships or making the medical schools will help because they actually start with a loan already when they start practicing. I'm telling you because my son is a doctor. He has a big loan to pay."
Her plans concerning the future are currently in discussion she said, "It was the last thing I was discussing with Dr. Ramirez. We know we need to do some changes and expand but we are not really sure what we want to do right now." She said, "We are going to keep this area but we are planning to expand, a decision will probably come by the end of the year."
You can call for an appointment at (956) 686-2229 or visit Felici Pediatric Clinic at 6900 N. 10th St. Suite 1, in McAllen, Texas. MDN