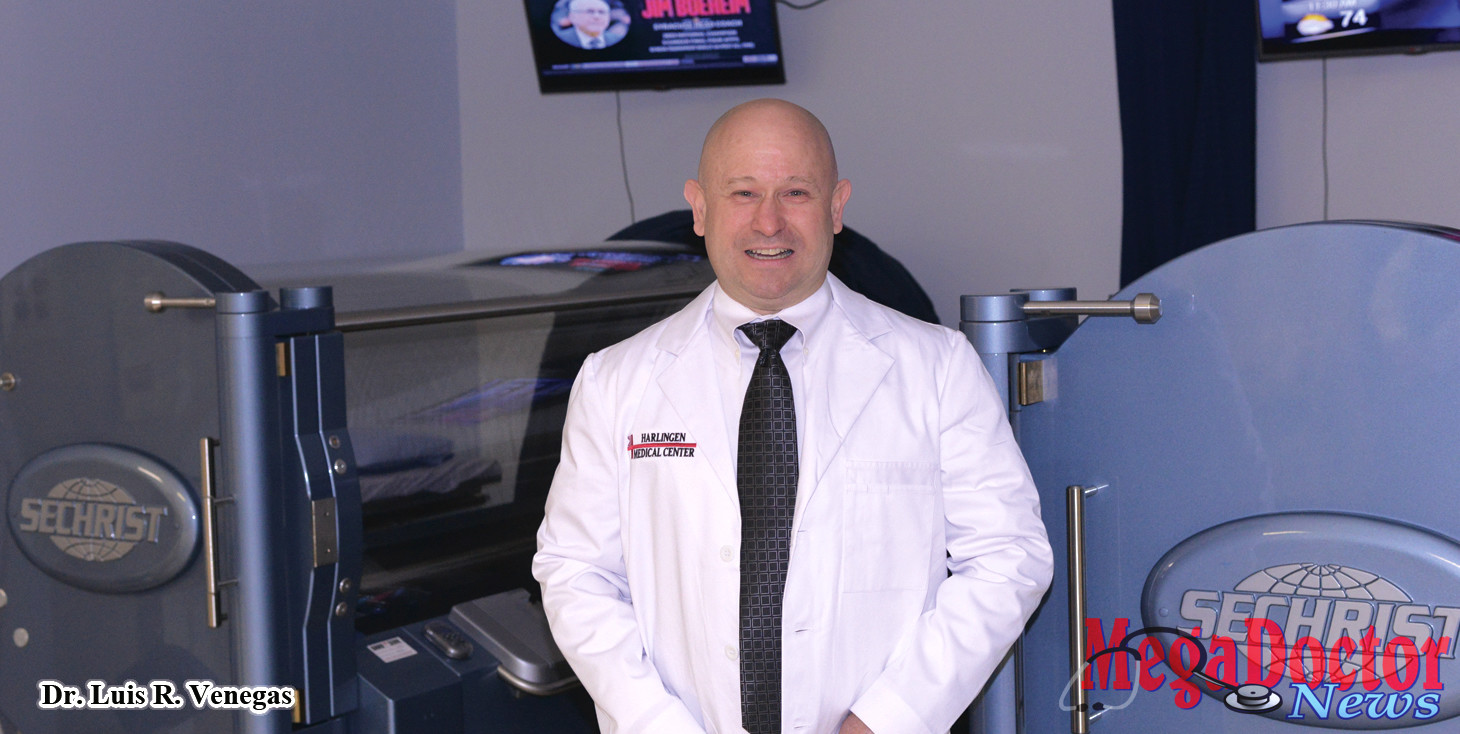 - Advertisement -

By Roberto Hugo Gonzalez, Publisher
In Harlingen, you will find a familiar face on the front lines combatting and preventing the devastating consequences of Diabetes.
Dr. Luis R. Venegas said he has been seeing more young patients in the Valley, including those in their 30's and 40's, developing foot wounds related to diabetes. He has been treating wounds in the Brownsville area for the past 17 years, as well as for the past 7 years at Harlingen Medical Center.
Dr. Venegas, who currently serves as Medical Director for the Wound Healing Center at Harlingen Medical Center, previously practiced podiatry and wound care in Miami, Florida, for four years.  He is board certified by the American Board of Podiatry, and is a Fellow of the American Professional Wound Care Association.
He completed a residency at the Franklin Delano Roosevelt Hospital; it is a U.S. Veteran's Administration hospital in New York. He also completed a fellowship in foot care and surgery at New York Downtown Hospital, and at foot clinics in New York. He graduated from the Ohio College of Podiatric Medicine in Cleveland.  Fluent in Spanish and English, he also attended Pontificia Universidad Católica de Puerto Rico.
In this issue, learn more about Dr. Venegas and his fight against Diabetes.
This past week, Doctors Hospital At Renaissance made an announcement of epic proportions for the residents of South Texas. During a ceremony that took place at the Edinburg Renaissance Center the grand opening of the Renaissance Transplant Institute was celebrated with the presence and participation of DHR's Transplant Team while also celebrating the Donate Life month.
- Advertisement -

Renaissance Transplant Institute as the only center to provide kidney transplant services in the Rio Grande Valley, the Renaissance Transplant Institute is also raising awareness about this life saving initiative.
Dr. Carlos Cardenas, Gastroenterologist and DHR Chairman of the Board was also present.
Under the direction of Dr. Mourad Alsabbagh and Dr. Jose Almeda, the Renaissance Transplant Institute at Doctors Hospital at Renaissance is the only facility in the Rio Grande Valley that currently offers kidney transplant services. More in this issue.
The University of Texas Rio Grande Valley School of Medicine and UTRGV Continuing Education are hosting a two-day conference that will address the needs of people who suffer from mental illness, addictions and HIV/AIDS. Mental health, HIV, addictions will be the focus of the conference on May 13-14, 2016.
Advancement in Medicine. In this issue learn about tech philanthropist and Facebook co-founder Sean Parker who is donating $250 million to cancer immunotherapy research. In this same issue meet medical oncologist Jedd Wolchok who pioneered a combination of immunotherapy treatment for patients with advanced melanoma that has been approved by the FDA in October of 2015.
There are two great events that Mega Doctor News is proud to announce. The first is the Relay for Life of Mid Valley 2016 at 12 pm on Saturday, April 30, 2016 at the Rio Grande Valley Livestock Show Grounds, 1000 North Texas Avenue in Mercedes, Texas.
The second event takes place every day when people make the important decision to donate blood; when you do that, you find the hero in you.
Frank Esparza, the Regional Director of Field Operations for United Blood Services told Mega Doctor News that a Hero status isn't reserved only for those brave men and women who rush into burning buildings or step into the front lines of war. In this issue learn more about the daily efforts to meet the demand for blood.
Find more interesting stories. Enjoy! MDN