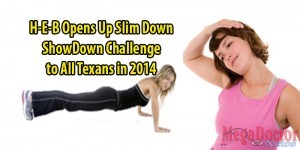 Mega Doctor News
- Advertisement -

Texans invited to take wellness journey alongside official contestants with online program
(SAN ANTONIO) — H-E-B is inviting Texans to act on those resolutions to get healthy in 2014 by joining the Slim Down Showdown Challenge, a 10-week, online healthy living course developed for H-E-B's annual Slim Down Showdown competition.
Since 2010, the competition has helped customers and H-E-B Partners (employees) lose a stunning 60,000 pounds — offering the tools free of charge is H-E-B's way of scaling up the project to create a broader impact. The course includes recipes, workouts, summaries, videos, and a mobile tracker for weight. It's great for individuals and workplaces looking to inspire a little "healthy" competition among employees to get fit in the New Year.
"Each year, our Slim Down Showdown contestants make stunning and dramatic progress and it is amazing to watch how their lives change," said Kate Rogers, H-E-B vice president for communication and engagement. "But we are not satisfied with helping only a handful of people every year, we want to help millions."
To help motivate customers, H-E-B will kick off the year with a two-week, in-store Start Fresh Fest featuring samples, cooking demonstrations and savings on healthy items. The Start Fresh Tour, a 12-week mobile tour, will travel around the state creating healthy pop-up festivals in the parking lots of 48 H-E-B stores.
"This year, H-E-B is doing more than ever to push the message of healthy living and to follow through with the tools needed to put good intentions into practice," Rogers said.
Registration for the Slim Down Showdown Challenge is open now through Jan. 17 online at Heb.com/slimdown. Logging eight weeks of continuous activity will enter contestants in a random drawing to win up to $1,000 in H-E-B gift cards.
- Advertisement -

Though the Slim Down Showdown Challenge runs from Jan. 6 through March 30, the online course is available to anyone, any time of the year. It's never too late to get started.
Participants will take their own wellness journey alongside contestants in the official 2014 H-E-B Slim Down Showdown presented by Dole, Nestle and Yoplait. A combination of 30 H-E-B Partners (employees) and customers have been selected from a pool of hundreds of applicants to compete for a $10,000 grand prize and a $5,000 healthy hero prize.
This year's contestants hail from all over Texas and range from a classically-trained chef to a rock musician to an award-winning actress. Find a full listing of names at Heb.com/slimdown.
From Jan. 5-10, all contestants travel to San Antonio to participate in an intensive wellness program with experts from H-E-B, Methodist Healthcare and the Cooper Aerobics Center. Upon returning home, contestants receive weekly coaching and a 1-year gym membership, courtesy of Gold's Gym. Additional sponsors include La Cantera Hill Country Resort, Jimmy Dean Delights, NadaMoo, Uncle Sam cereal, watermelon.org, Eggland's Best, Asus, Trestle Tree, Organix, Fleet Feet and the Union Bikram Yoga Studio.
Overall winners will be announced on April 12 at a ceremony at the Henry B. Gonzales Convention Center in conjunction with the Healthy at H-E-B Family Expo.
Throughout their wellness journey, contestants will post blogs and videos chronicling their ups and downs, recipes, and tips about what's working for them. Everyone — including those in the Slim Down Showdown Challenge — can follow their journey at Heb.com/slimdown.
In addition to the free online course, H-E-B is offering low-cost packages for employers to host a weight loss challenge in their workplace. Options include classes facilitated by a registered dietitian, aggregate reporting to track collective progress and "train-the-trainer" sessions that teach companies how to run the program in-house.
"Many small businesses are motivated to make healthy changes, but don't have the resources to put together their own program," Rogers said. "We think there is demand for a structured course like this, and we are hoping it will catch on in a big way."
As mentioned above, H-E-B will kick off the year with a two-week, in-store Start Fresh Fest and a 48-stop mobile tour that includes sampling and discounts on healthy products, free health screenings, cooking demonstrations and a health-focused newsletter. Recipes during Start Fresh Fest will focus on healthy meals that can be prepared in 15 minutes or less, and demos will be available at Heb.com.
"Learning to prepare fresh produce and lean protein in a healthy way that tastes great is often the biggest roadblock to making a lifestyle change," said Lorena Kaplen, an H-E-B registered dietitian. "Some people don't enjoy cooking, others find it hard to be creative. Our goal is to make it so easy and tasty that there are no excuses not to try something new."
As H-E-B does every second Saturday, stores with a pharmacy will offer free health screenings on January 11 from 9 a.m. – 2 p.m. On Jan. 11-12, all products in H-E-B Healthy Living sections will be offered at a 20 percent discount.
When shopping, customers can refer to icons on the shelf for a wide variety of products that call out common nutrition attributes such as Fiber Source, Gluten Free, Organic, Heart Healthy, Sugar Free, Low Saturated Fat, Low Sodium, Carb Aware, Vegetarian, and Vegan.
"From the basket to the table, our goal is to make it easy for people to make healthy choices," Rogers said. "At H-E-B, we're not just selling food. We're in the business of changing lives."