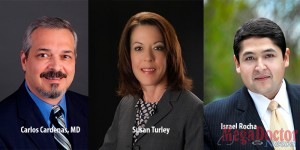 Mega Doctor News
- Advertisement -

EDINBURG, TX—1/2/14—The Board of Managers for Doctors Hospital at Renaissance (DHR) today announced the restructuring of its senior leadership team as it prepares to transform from a hospital into a healthcare system. "Doctors Hospital at Renaissance has developed an executive leadership restructuring plan that is aimed at improving patient care, innovating healthcare delivery systems and building a new organizational infrastructure," said Dr. Carlos Cardenas, Chairman of the Board. DHR is reorganizing its top tier management structure with the goal of establishing a leading national health system through the clinical integration of its hospital, ambulatory, and research service lines and facilities.
Since its creation in 1997, Doctors Hospital at Renaissance has developed into a 530-bed comprehensive health center comprised of a general acute care hospital, a women's hospital, cancer center, behavioral hospital, rehabilitation hospital, and children's center. The Renaissance Campus is now home to more than 12 facilities dedicated to specialty services, including the Joslin Diabetes Center at Renaissance, the Urology Institute at Renaissance, the Bariatric and Metabolic Institute at Renaissance, and the Renaissance Gastroenterology Institute. Earlier this year, DHR also announced its intent to transform into a major teaching hospital by developing 100 new residency slots and launching a medical research institute and clinical trial center that aims to host over 1,000 clinical trials over a 5-year period.
"Given the growing complexity of our institution and the healthcare industry overall, we are restructuring our hospital's leadership team and corporate structure in a manner that will enable us to improve focus on all aspects of patient care, service and collaboration – now and into the future – while allowing for continuous innovation and enhancement," Cardenas said.  "The new model is consistent with that of similar world-class health systems, leveraging the core strengths of leadership and clinical service. I am confident in our new leadership and corporate structure and enthusiastic about the future of the entire DHR team," Cardenas added.
Under the new leadership structure, Dr. Carlos Cardenas will continue to serve as Chairman of the Board and a member of the Executive Management Committee.  Israel Rocha will assume the role of Chief Executive Officer for the new integrated healthcare system. Rocha previously served as the Government, Public, and Corporate Affairs Officer and a member of the senior management team at Doctors Hospital at Renaissance since 2009. "During his tenure at DHR, Israel has proved himself as an outstanding leader with a keen ability to resolves challenges through the development of innovative solutions.  His extensive experience in healthcare policy development, hospital operations, and business development will serve our institution well," Cardenas said.
The new healthcare system will be comprised of three key divisions: Business Operations, Hospital and Clinical Operations, and System Innovation Operations. Susan Turley will assume the role of President of the new health system and will lead the Business Operations division. Turley previously served as the Chief Financial Officer of Doctors Hospital at Renaissance.  She joined Doctors Hospital at Renaissance in 2003, mere months after the facility became a licensed hospital.
"Doctors Hospital at Renaissance has continually aimed to create a new standard of care in our community. We have actively sought ways to focus on our patients and their care through the utilization of best practices that reduce operational inefficiencies. The creation of an integrated healthcare system is another tool that will help further our goal," said Turley.
Dr. Lawrence Gelman will serve as the Chief Hospital Executive, responsible for the oversight of Hospital and Clinical Operations. Gelman previously served as the Doctors Hospital at Renaissance Chief Executive Officer and is one of the founding physicians of the hospital. Dr. Gelman is an anesthesiologist and currently practices at McAllen Anesthesia Consultants, P.A.
- Advertisement -

"Doctors Hospital at Renaissance is honored serve as a healthcare partner for our South Texas community. The creation of an integrated care system will allow us to offer new services that will streamline healthcare access, remove barriers to care and continue to put patients first. Through the creation of a new innovation division at Renaissance, we hope to increase healthcare literacy, enhance quality, and reduce obstacles to care. Together, patients and care providers can chart a new path for South Texas that resolves health challenges and ends health disparities for our community," said Israel Rocha.