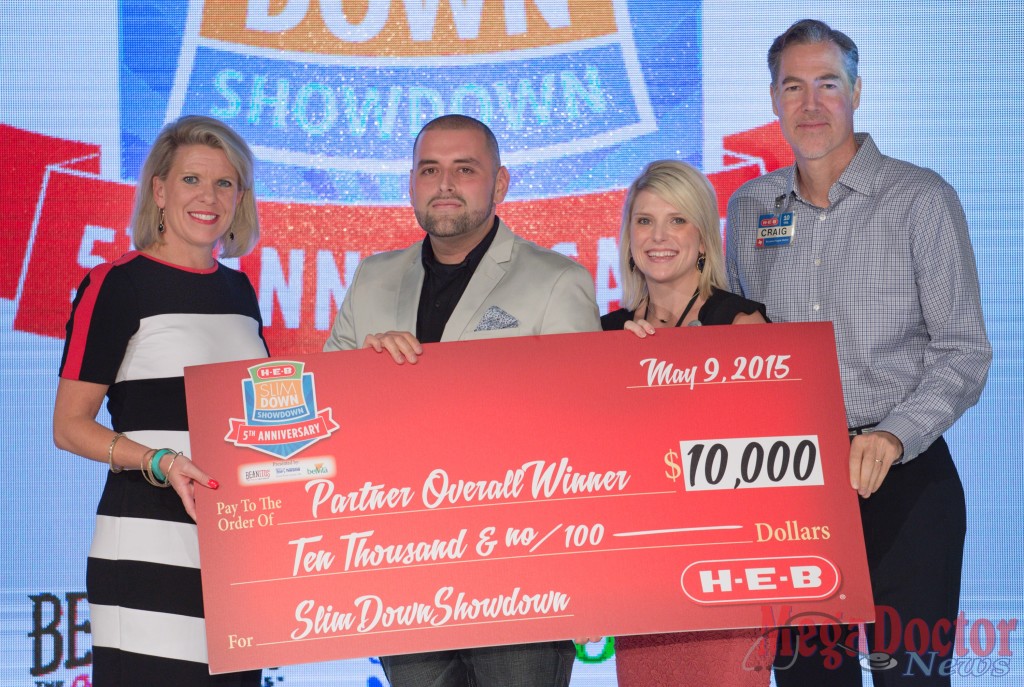 Mega Doctor News
- Advertisement -

(SAN ANTONIO) — On Saturday, the H-E-B Slim Down Showdown awarded $32,500 to two community and three H-E-B Partner (employee) contestants who made the greatest gains in health improvement and fan engagement over a 16-week period. Prior to the announcement, the 34 contestants strutted down the runway in a dramatic makeover reveal to show off their hard work.
The finale event was held in conjunction with the annual H-E-B Health & Wellness Family Expo, which featured free health screenings, free product samples, fitness ideas and cooking demonstrations. During the event more than $20,000 worth of prizes and giveaways were offered to attendees. Families were treated to a Youth Zone that helped emphasize the importance of daily activity and exercise, and throughout the day enjoyed special appearances by former Spur Bruce Bowen, the Spurs Silver Dancers, Spurs Coyote and H-E-Buddy.
In partnership with IT'S TIME TEXAS, H-E-B also recognized the 15 top participating Texas cities and towns in the H-E-B Community Challenge and awarded $7,500 in grants to schools representing those communities. This one-of-a-kind competition challenges communities across the state to compete to see which can demonstrate the greatest commitment to healthy living. The Challenge unites and mobilizes schools, businesses, organizations, community members, and leaders toward the common goal of transforming their community's health.
The 2015 H-E-B Slim Down Showdown winners are as follows:
David Nungaray (San Antonio) – Community Slim Down Showdown Winner ($10,000 prize)
Jose "Fred" Trevino (Mission) – Partner Slim Down Showdown Winner ($10,000 prize)
Nathan Dennis (College Station) – Community Healthy Hero Winner ($5,000 prize)
James Griffith (San Antonio) – Partner Healthy Hero Winner ($5,000 prize)
Albert Moreno (Weslaco)– Partner Second Chance Winner ($2,500 prize)
Hailing from all over Texas, the 34 contestants in this year's showdown lost more than 1,123 pounds, improved their cholesterol by an average 37 percent and their visceral body fat by 25 percent, and strutted down the runway to deafening cheers from supporters at Saturday's makeover reveal ceremony at the Henry B. Gonzalez Convention Center.
"At H-E-B, our goal is to change lives by giving Texans the tools and skills they need to get healthy and stay healthy," said Craig Boyan, president and COO of H-E-B. "I am tremendously proud of our Slim Down Showdown contestants, who not only transform their own lives but impact their communities by inspiring others to follow their lead."
H-E-B, in partnership with Methodist Healthcare, determined the two $10,000 grand prize winners using three metrics – overall health improvement, participation and fan engagement. In addition, H-E-B awarded a $5,000 healthy hero prize to one H-E-B Partner and one community member who demonstrated the most progress on health markers such as body mass index and cholesterol levels.
- Advertisement -

To celebrate the 5th anniversary of the program, H-E-B also brought back five Partners who had previously competed for a chance to win a $2,500 "second chance" prize.
 David Nungaray, an assistant principal at Alamo Heights Junior High School, lost 53 pounds, dropped eight sizes and received more than 8,000 comments and shares on his blog.

"My grandmother passed away from complications related to diabetes and I knew that was not my destiny. My destiny is to be a healthy person who is making a difference in my community," Nungaray said. "The $10,000 is awesome, but I am not stopping here.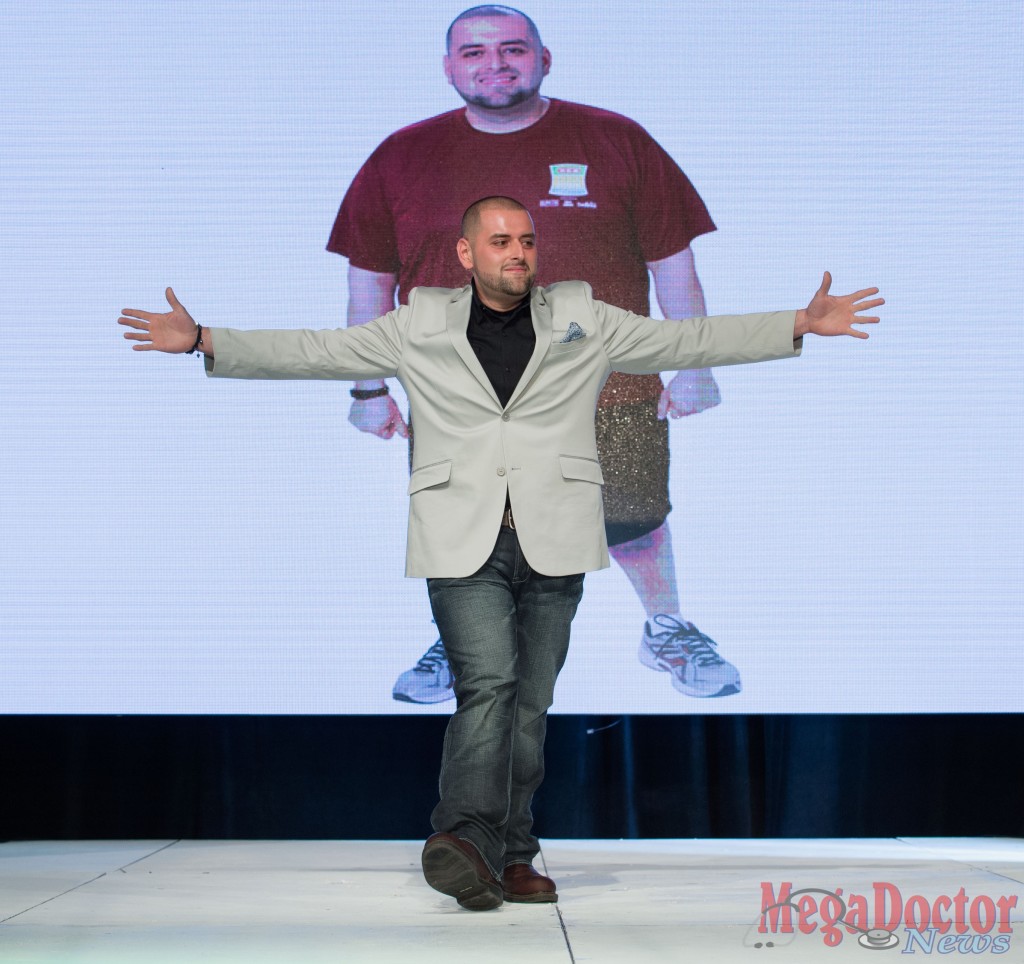 I am going to keep rallying the community and making sure that San Antonio knows health and wellness is the way to go." Jose "Fred" Treviño, an H-E-B Entertainment Department Manager from Mission, lost 53 pounds and improved his visceral body fat by 40 percent. A few years ago, Treviño went through the loss of a child and a divorce but has emerged from the competition feeling good and supported by his family and friends. 
"When they called my name, I had to put my head down. It was a surreal feeling," Treviño said. "I want to be ready if I have the opportunity to have a child again."
Nathan Dennis from College Station won the $5,000 Community Healthy Hero prize for improving his cholesterol by 28 percent, decreasing his body fat by 34 percent, losing almost 40 pounds and gaining muscle. 
 
"I don't want to die young," said Dennis, a patrol deputy for the Brazos County Sheriff's Department. "Being a police officer, any incident can turn into a life or death situation. I have to be at my top physical condition to fight through it and stay alive."
James Griffith of San Antonio claimed the $5,000 Partner Healthy Hero prize by decreasing his body fat by 35 percent and dropping 53 pounds, nearly 20 percent of his starting weight. Griffith said his new healthy lifestyle made him "feel alive." 
 
Albert Moreno won the $2,500 Second Chance prize by decreasing body fat by 45 percent, dropping 51 total pounds and receiving 2,000 likes and shares on his blog. 

"This was a chance at redemption. I really needed to come back and say 'I can do this,'" Moreno said.
H-E-B allowed people to follow along from work and at home with the "Slim Down Showdown Challenge," a 10-week, online healthy living course with recipes, workouts, summaries, videos, and a mobile tracker for weight. More than 10,000 people signed up for the online challenge and lost more than 28,000 pounds.
The 34 contestants were selected from hundreds of applicants based on their willingness and ability to publicly share the ups and downs of their journey and the resulting lifestyle changes through blogs and vlogs.
Beanitos, Nestle and BelVita are the presenting sponsors for the 2015 Slim Down Showdown; additional sponsors include Hilton Hill Country Hotel and Spa,  J&J, Unilever, Taco Cabaña, NadaMoo, Hilshire Farms, Eggland's Best, Trestle Tree, Organix, Fleet Feet, Sundown Natural Vitamin's and the Union Bikram Yoga Studio.
The contest began in January with an intensive, weeklong wellness program in San Antonio featuring experts from H-E-B, Methodist Healthcare and Cooper Aerobics. Contestants received a full medical screening to understand their current health status, met individually with nutrition and fitness experts and bonded with their fellow contestants.
Upon returning home, contestants logged their daily fitness activities and food intake using a mobile application, received weekly health coaching, and blogged about the experience at heb.com/slimdown.
The Slim Down Showdown and H-E-B Community Challenge are part of H-E-B Health & Wellness, a comprehensive, long-term commitment to improve the health of Texans. H-E-B aims to inspire Texans to adopt and stick to a healthy lifestyle through special offers on healthy food, nutrition labeling at the shelf, events, competitions and educational opportunities.
"We are always looking for innovative ways to support the health and wellness of the communities we serve both in and outside of our stores," said Kate Rogers, H-E-B's vice president of communications and engagement.