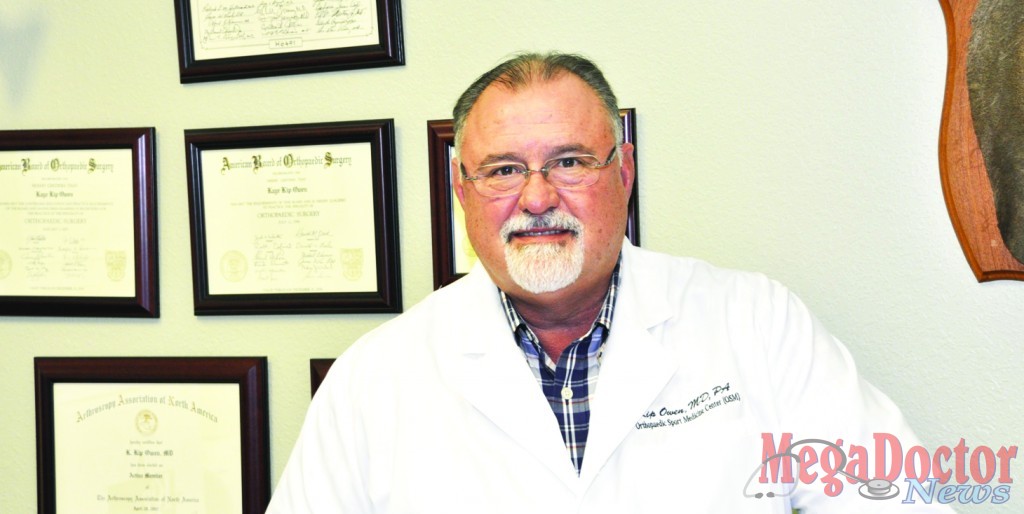 By Roberto Hugo Gonzalez
- Advertisement -

As originally published by Mega Doctor News newsprint edition
An authentic American and a passionate physician in his profession make Dr. Kip Owen, a unique professional in his field. Dr. Owen is an Orthopaedic Surgeon in McAllen Texas offering very important services to the residents; his practice has a special focus on sports medicine.
He told Mega Doctor News, "My practice focus is on sports medicine. I'm board certified in orthopedic surgery and my primary focus is on sports medicine, which includes orthopedic injuries that are common among athletes."
Dr. Owen is dual board certified in both Orthopaedic Surgery and Orthopaedic Sports Medicine by the American Board of Orthopaedic Surgery. Dr. Owen is the sports physician for the twenty-two high schools in the Rio Grande Valley and available to them during the games in case there are injuries.
He rotates and carries his cell phone all the time and on Saturdays he provides a clinic to accommodate the student athletes. He makes his services available for high school students and all athletes across the Valley.
"I still think it's a privilege to be a physician. For people to trust you with their medical care, to open up to you and share what's bothering them, what needs they have and to try to assist them to a good outcome with their injury or orthopedic problem. That's gratification for me," he said.
He is the son of a Baptist preacher Kip Owen, Sr. and Anne Weathersby Owen, a teacher. His family hailed from Oklahoma, New Mexico and Texas. "My grandparents resided in West Texas in Plainview. My mother's parents resided in Freer, Texas."
- Advertisement -

Dr. Owen said that his father instilled discipline and a desire to succeed and to try and reach your highest achievements in life, and to always be honest, and to not wilt under adversity.
Dr. Owen considers his father one of his heroes and best friends in life.
What about your mom? "She was a schoolteacher." Dr. Owen said that his mom took time off while the kids were growing up. "She was at home with us and when my two sisters and I became old enough to go to school, then she went back and taught. She has since retired from teaching in both Texas and Virginia states."
What did she instill in you when you were young? "Know when to keep your mouth shut."
What brought you to the Valley? "I was recruited to come here and initially I said no. The last time I had been at the valley was 1973. I didn't think this was a place where I wanted to be. " Dr. Owen also said, "When I came down and saw the vitality and the growth, I saw a lot of potential. The area is underserved I thought that it would be nice to be part of something that was growing and building. Instead of trying to come in and join something that already exists which is what happens in most metropolitan areas."
Dr. Owen decided to pursue a medical career and gave up flying fighter aircraft, which he did for eight years during the Cold war.
He used to fly fighter jets primarily on the West Coast. "We were stationed at Miramar California and deployed to the Western Pacific on the USS Enterprise where we actively intercepted armed Soviet aircraft, but we were also armed. I never had to fire on anybody in actual hostility," he said.
According to Dr. Owen, the Soviets used to come out to specifically try and identify the carrier and prove that they could do it. "It was our job to prove that we could get to them before they could get to the carrier. That's the way the cold war was fought," he said.
How many planes were coming and how many of yours went to meet them? "They would send out one bomber, a long-range bomber, like a bear or badger. That's about the only thing that has that kind of legs." He also said that while they were in the Pacific Ocean they would launch out of mother USSR and come out to prove that they could find a carrier.
"We would launch our fighters to prove that we could tell they were there and get to them before they got within the launch range. On one occasion I intercepted a badger, and as I rolled on to his wing, another airplane rolled in. It was the F-4 Phantom from the carrier Midway, as we were close enough to the Japanese mainland. We had three fighters on him at once," he said."
Dr. Owen graduated from the US Naval Academy in 1975 and graduated from Texas A&M College of Medicine in 1988. He is certified by the American Board of Orthopaedic Surgery, 1996, and in ABOS Sports Medicine, 2007.
For an appointment, call his office at: 956-994-8983 or visit Orthopaedic Sports Medicine Center located at 4865 N. McColl Rd. in McColl Business Park in McAllen, TX 78504. MDN