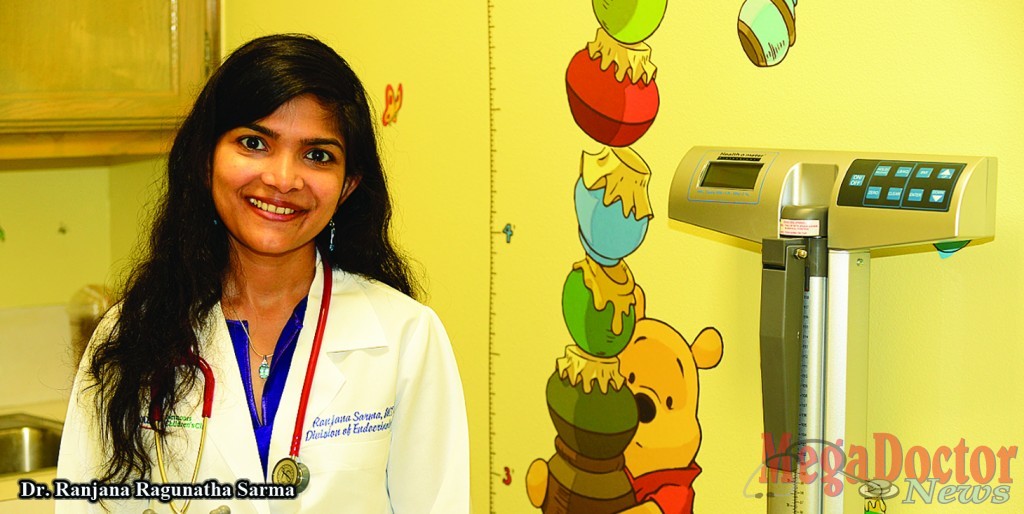 Mega Doctor News
- Advertisement -

By Roberto Hugo Gonzalez
A new physician comes to the Rio Grande Valley and brings with her unique medical specialties not available in the Rio Grande Valley. Dr. Ranjana Ragunatha Sarma spoke with Mega Doctor News just as she is opening her practice, Pediatric Endocrine and Diabetes Associates on 5505 South McColl Road in Edinburg, Texas.
She graduated in February of 2007 from Trivandrum, Medical College, University of Keralla, India and finished her pediatric endocrine fellowship in June 2014.
She did her fellowship at Nemours University of Florida in Jacksonville. "Since I finished medical school I did three years of residency and then three years of fellowship. I've completed med school and I've been in training for six years," she told Mega Doctor News in exclusivity.
Dr. Sarma is one of the most dedicated doctors now part of the medical community of the Rio Grande Valley, she did her residency at Driscoll Children's Hospital in Corpus Christi, Texas where she was awarded Best second year resident in 2009 and again in 2010.
She pointed out that since childhood she always wanted to help people.
"I wanted to do something to change the life of at least one person in the world and what better field than medicine to do that," Dr. Sarma said.
- Advertisement -

She takes pride in being up to date with all the excitement going on in the field of diabetes research for kids. She said that kids with Type 1 diabetes are insulin dependent from day 1. She continued to say, "There is a lot of studies in terms of transplantation, the artificial pancreas and some day I'm optimistic that we will find a cure."
She pointed out that Type 2 diabetes is preventable but it involves a lot of hard work, which includes changing diet and adding the exercise to the mix.
Problems seen by pediatric endocrinologists are often quite different from those commonly seen by endocrinologists who care for adults. Special training in pediatric conditions as they relate to growth and development is important. Hormonal problems are often present for life. Pediatric endocrinologists deal with hormone disorders at all stages of childhood and the teen years.
Dr. Serma as a Pediatric endocrinologists diagnose, treat, and manage hormonal disorders including the following: Growth problems, such as short stature, Early or delayed puberty, Enlarged thyroid gland (goiter), Underactive or overactive thyroid gland, Pituitary gland hypo/hyper function, Adrenal gland hypo/hyper function, Ambiguous genitals/intersex, Ovarian and testicular dysfunction, Diabetes, Low blood sugar (hypoglycemia), Obesity and Problems with Vitamin D (rickets, hypocalcemia).
One of her challenges as she said is the compliance with medication just like any other physician field; diabetes particularly among the other endocrine disorders is a chronic condition. She said, "It involves a lot of close care. Kids have to check their blood sugars eight to ten times a day, give four to five shots a day. They tend to forget. Obviously, you can't expect eight or nine-year-olds to keep in mind brushing or showering let alone take four of five injections a day."Dr. Sarma also said that it's a battle that she always faces.
The other big challenge her is obesity in children that involves a lot of patience sitting down with them, talking to them and helping them implement their treatment. "Just like any other treatment in the beginning you can face a lot of resistance. I think that's the biggest challenge that I would face, but I'm ready and I'm eager to work with them," she finalized. MDN