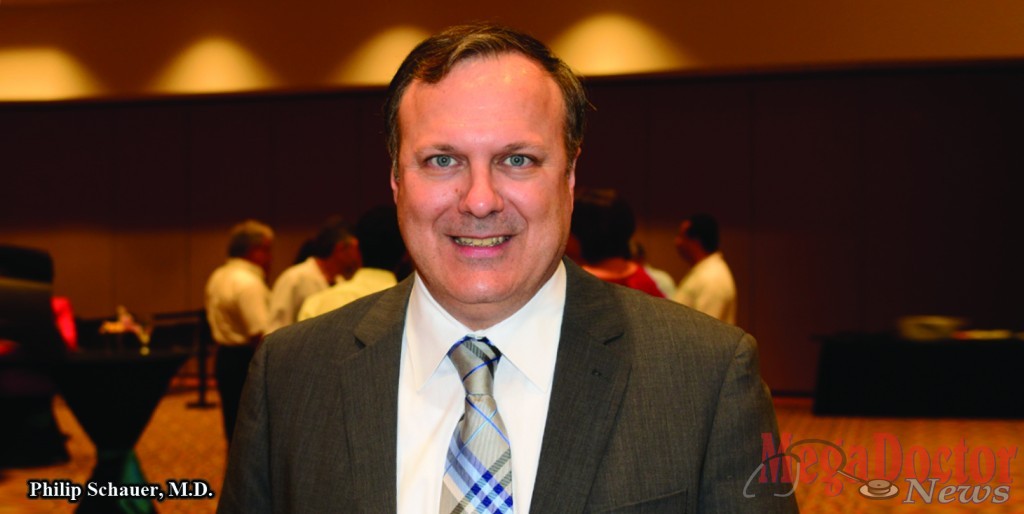 As originally first published by Mega Doctor News newsprint edition
- Advertisement -

Exclusive Interview with Dr. Philip Schauer from the Cleveland Clinic
By Roberto Hugo Gonzalez
Philip Schauer, M.D., the Director of Cleveland Clinic's Bariatric and Metabolic Institute spoke to Mega Doctor News during their important partnership with Doctors Hospital at Renaissance (DHR).
During this conversation he said that the strategy was education, bringing awareness to patients and doctors in this region about the problem of obesity, treatment, and preventive strategies.
Dr. Schauer also said that this has been a relationship that has developed for the past two years. "Our bariatric and metabolic institute has been present for about ten years and we have been quite successful in many aspects in terms of treatment and research in this area." Dr. Schauer stated, "We were approached by leadership in DHR to begin dialogue about a working relationship. It also was quite convenient and coincidental that one of the trainees, our surgical fellow, Dr. Singh happened to get a position with DHR about two years ago. So that was certainly very helpful in bringing this relationship together." Dr. Singh is the Medical Director of the Doctors Hospital at Renaissance Bariatric and Metabolic Institute.
He also pointed out that in order to improve the treatment these institutes will use a multidisciplinary approach. For those who have the most severe obesity, surgery is the most effective approach but it's not just the surgeon it involves psychological support, dieticians, medical doctors all working together both to prepare patients for surgery and help manage them afterwards.
He mentioned that by bringing new treatments in combination of drug therapy the program is aiming to be successful. "In the next few years we may see drugs that are more helpful for weight loss." Dr. Schauer also said, "Concerning research, there's huge opportunity with this population of patients to do some very cutting edge research." He said that a lot of the research studies published in medical journals don't have much diversity in terms of including patients of Hispanic origins. "By being able to conduct research here in the Rio Grande Valley we're going to learn more about how patients in the Hispanic community respond to treatment which may be different than Caucasian and other ethnic groups."
- Advertisement -

Dr. Schauer said that obesity and diabetic issues is a problem affecting every city and state in the country. "There are some communities and states that are more severely affected, particularly Texas and other southern states like Mississippi, Alabama, and West Virginia are having extreme problems. It just so happens that I believe McAllen has one of the highest rates of diabetes and obesity in the nation, very severe and very complex because there is no simple reason and obviously there is a genetic predisposition for people of Hispanic origin coupled with the environmental issues as well."
He also pointed out that at the Cleveland Clinic they have been very successful with these partnerships like the one with DHR. "We have partnerships in other specialties, Cardiology and Cancer, we are also involved in other states." He also said, "We have a Cleveland Clinic in Florida, a center in Las Vegas, NV and we're building a hospital in Abu Dhabi, the capital and the second most populous city in the United Arab Emirates."
According to him in that region of the world, the Middle East has also a tremendously big problem with diabetes and obesity.  "So, these relationships have been very mutually beneficial and we are very excited about bringing our knowledge and expertise and working with the doctors at DHR."
Dr. Schauer did his medical training in Texas in Houston and San Antonio and then he went on to the East Coast and ended up in Cleveland for the last ten years.
Were you familiar with the Rio Grande Valley? "Well, I do have some relatives. My wife is from Laredo, Texas and some of her siblings live here in McAllen, which is quite a coincidence."
Dr. Schauer said that the partnership's goal is to really make a big impact, make a difference, and enhance the quality of care particularly for obesity and diabetes here in the valley. MDN