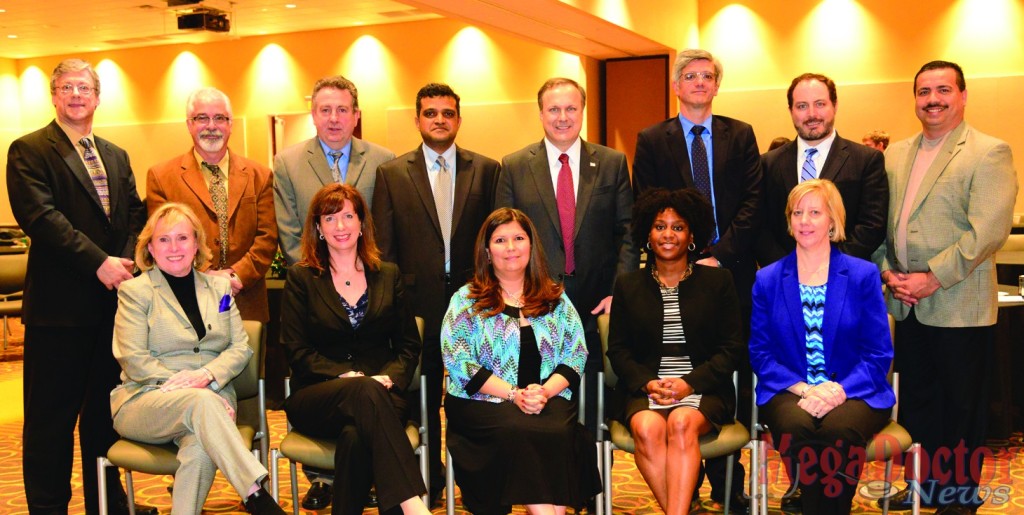 Brings Crucial Awareness to a Region Ranked Among the First for Obesity
Mega Doctor News – 
By Roberto Hugo Gonzalez
It couldn't come at a better time; the First Obesity Summit brought awareness to a region that has been ranked among the most obese in the nation. Even though the problem is already out of hand, a least there is someone doing important work and bringing attention to the dangers of obesity, a disease that acts as the platform for multiple illnesses. That is why it is not just necessary; it is crucial to act now.
Being obese is not something to be proud of, to live in the metropolitan area that is in the first and second place of obesity in the nation is something to be worried about.
Doctors Hospital at Renaissance and Cleveland Clinic put together this special summit that took place on February 21, 2015. The one day symposium was highlighted by multidisciplinary didactic presentations and engaged with healthcare practitioners who discussed their main interest; causes of obesity, effects of co-morbidities, current and preventive strategies, and therapeutic management.
The symposium featured interactive workshops, a meet-the-professor luncheon, clinical case presentations with open panel discussion, and a question and answer session.
Dr. Jose E. Igoa, Medical Director of the Adult and Geriatric Units of Renaissance Behavioral Center acting as one of the masters of ceremony said, "We have been fortunate to gather an outstanding faculty who are luminaries in the field of obesity medicine to bring to you today some of the more modern concepts on managing this very, very challenging disease." He continued, "I think everyone in the audience is quite well aware of how prevalent this problem is throughout our country and throughout Texas, and particularly in this part of Texas."
It was Dr. Robert Kushner FACS, first speaker of the morning that presented 'The Disease of Obesity and Its Co-morbidities'. Dr. Kushner is Professor of Medicine, Clinical Director Northwestern University Feinberg School of Medicine, Chicago, Illinois; Clinical Director Northwestern Comprehensive on Obesity, Medical Director, Center of Lifestyle Medicine, Chicago Illinois.
Dr. Kushner said that in June 2013 the American Medical Association (AMA) officially recognized obesity as a disease. He said, "It's not like a day before it wasn't and the next day it is but and they also weren't the first society to recognize obesity as a disease but certainly the prevalent and the most well-known organization increased awareness in obesity as a disease. I think that brought a lot of light, and probably a lot of technicians and practitioners as well to take a second look at how we are actually treating this problem."
It was Bartolome Burguera, MD Ph.D. that presented 'Lifestyle Intervention Strategies and Results'. Dr. Burguera is the Director of Obesity Programs at Cleveland Clinic's Bariatric and Metabolic Institute in Cleveland, Ohio.
Dr. Burguera asked, "Are people genetically predisposed to gain weight or is it all related to food consumption."
He said, "I think obviously genetics probably play an important role but our genetics are the same at the beginning of the century and we didn't have this prevalence of obesity so in the context of a genetic background that is not helping you, you are now having an environment that is very obesogenic (promoting excessive weight gain, producing obesity), increasing your intake and becoming much less physically active." He continued, "You can have a very fine enjoyable life without moving, as every major discovery in science or in life goes to make your life easier. The car, the TV, the microwave, the automatic car washing, and I mean everything is trying to make you burn fewer calories. That's a problem."
Dr. Donna Ryan brought an interesting presentation as well titled 'Old ways of thinking… Same old results.' She is a Professor Emeritus Pennington Biomedical Research in Baton Rouge, Louisiana.
"My talk is going to be about Old ways of Thinking… Same Old Results." She continued, "When I started out in internal medicine I would see patients who needed to lose weight to improve their health and I would send them to the dietician for a 1,200 calorie diet, and they wouldn't lose weight. I would think, "Why aren't you losing weight? You've got the diet"."
Then she started working at the Pennington Center and over the years she changed her thinking about these patients. "I think my frustration with not getting results was the wrong way of thinking."
Dr. Ryan started discussing interesting topics around what causes obesity, the genetics of obesity, and the physiology of body weight regulation and why patients struggle. You really need to approach patients with treatment strategy based upon those two things.
"Yes, I was in the camp that I didn't think obesity was a disease. I thought it could be… associated with diseases, but it wasn't really a disease itself. But, if you define a disease as an impaired functioning of an organ or body system, then you would recognize that obesity is impaired functioning of the system that regulates body weight and reduces morbidity.
During the same session of the morning Dr. Philip R. Schauer, Professor of Surgery at the Cleveland Clinic Lerner College of Medicine and President of the American Society for Bariatric Surgery conducted a presentation of a bariatric surgery video streamed live from the Doctors Hospital at Renaissance surgical suites to the Edinburg Conference Center at Renaissance.
It was Dr. Manish Singh, Medical Director Advanced Laparoscopic and Bariatric Surgery at DHR that was on the other end performing the surgery along with the expert hand of Dr. Stacey A. Brethauer, staff physician at the Cleveland Clinic and Director of the Bariatric Surgery at Fairview Hospital, and Associate Program Director Advanced Laparoscopic and Bariatric Surgery Fellowship in Cleveland Ohio.
'Perioperative Psychological Management of the Bariatric Patient' was the topic presented by Leslie J. Heinberg, Ph.D., MA.
Dr. Heinberg is the Director of Behavioral Sciences, Bariatric and Metabolic Institute at Cleveland Clinic and Professor of Medicine Cleveland Clinic Learner College of Medicine.
At the end of the Obesity Summit, it was announced that there are plans to make the summit even bigger next year. Health care professionals who attended this event were able to claim 8 contact hours for successful completion of the educational activity.
It is important to mention that Doctors Hospital at Renaissance is accredited through the Texas Medical Association to provide continuing medical education for physicians.  MDN