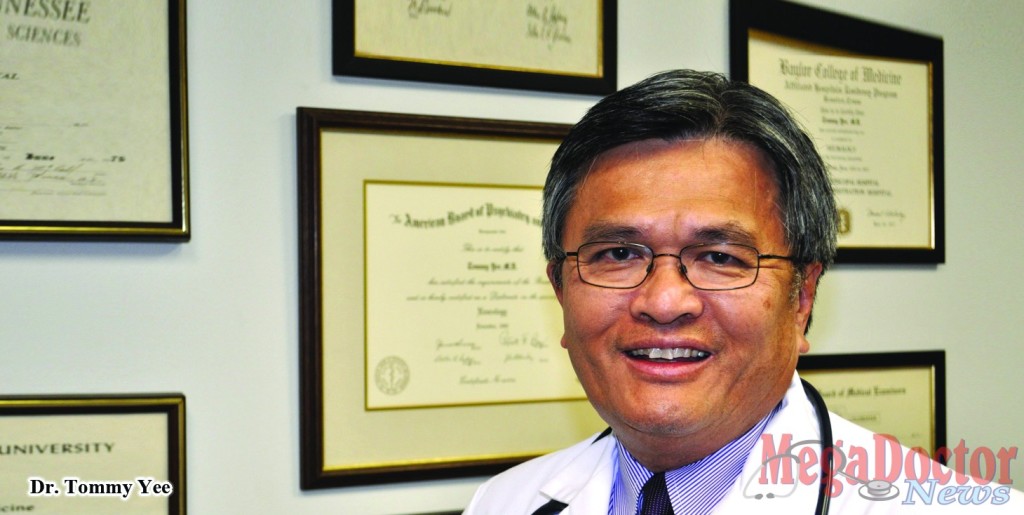 The nervous system is a complex, sophisticated system that regulates and coordinates body activities
Mega Doctor News – 
By Roberto Hugo Gonzalez
Dr. Tommy Yee is an experienced McAllen neurologist that has been treating patients in South Texas for decades. He deals with very delicate matters of our nervous system, which is divided into two categories: the brain, and the spinal cord.
He told Mega Doctor News that he was born in Tallulah, a small town in northeast Louisiana. "It's a small agricultural community with about 10,000 in population. So when I originally moved to McAllen, this area was a very big town in comparison." He is a U.S. citizen, however his parents came from Mainland China. "My mother Gim came to the U.S. in 1948, just before the communists took over the country. Park, my father had been in the United States since a few years earlier," he said. His father owned a neighborhood grocery store.
According to him, his parents were always two very strong individuals. He said, "They instilled in me the value of honesty, a hard work ethic, a good education, and above all to always be kind to other people."
Dr. Yee graduated from Louisiana State University School of Medicine in New Orleans, in May of 1975 with doctor of medicine degree. He said, "I went to do a year of internship at the University of Tennessee in Memphis, Tennessee." He continued, "Then I did my first year of neurology residency at Baylor College of Medicine in Houston at the Texas Medical Center. I finished my last two years of training for the second and third year of neurology residency back at Louisiana State University School of Medicine in New Orleans."
He is board certified in neurology and has been solo practicing in McAllen since 1979. He said, "That's about going on 36 years."
Dr. Yee treats disorders that affect the brain, spinal cord, and nerves, such as: Cerebrovascular disease, stroke, Demyelinating diseases of the central nervous system, multiple sclerosis, headache disorders, infections of the brain, and peripheral nervous system.
He also deals with movement disorders, such as Parkinson's disease, Neurodegenerative disorders, Alzheimer's disease, and Amyotrophic Lateral Sclerosis (Lou Gehrig's disease). His expertise also deals with seizure disorders, epilepsy, spinal cord disorders, speech and language disorders.
Dr. Yee was excited to announce that the field of neurology has had an incredible evolution for the benefit of the patient. Treatments that were nonexistent 15 years ago are a reality today. He said, "I would like to let the public know that the field of neurology has become very exciting." He continued, "There are new therapies and treatments for various diseases and we are learning more about certain challenging diseases like Alzheimer's."
He pointed out that now there is therapy for acute strokes. He was specific to say that if the patient comes in through the medical care with the proper time frame, there are various options for treatment of acute strokes.
There are more treatments for people that suffer with epilepsy, Parkinson's disease, and multiple sclerosis. "Alzheimer's which is becoming more and more prevalent as we live longer; there is a lot of research going on and it is exciting that somewhere down the road there will be some effective treatment."
Dr. Yee is very active with his community and participates by being part of various boards of non-profit organizations. He said that for him, there is great satisfaction in giving back to his community.
"I feel that it is very important as a physician to be in good standing with the community. We help take care of the patient but it is important to help and give back in other ways besides professionally."
You can visit with Dr. Tommy Yee by calling (956) 686-2393 to set up an appointment at 1913 South 1st Street in McAllen, Texas. MDN