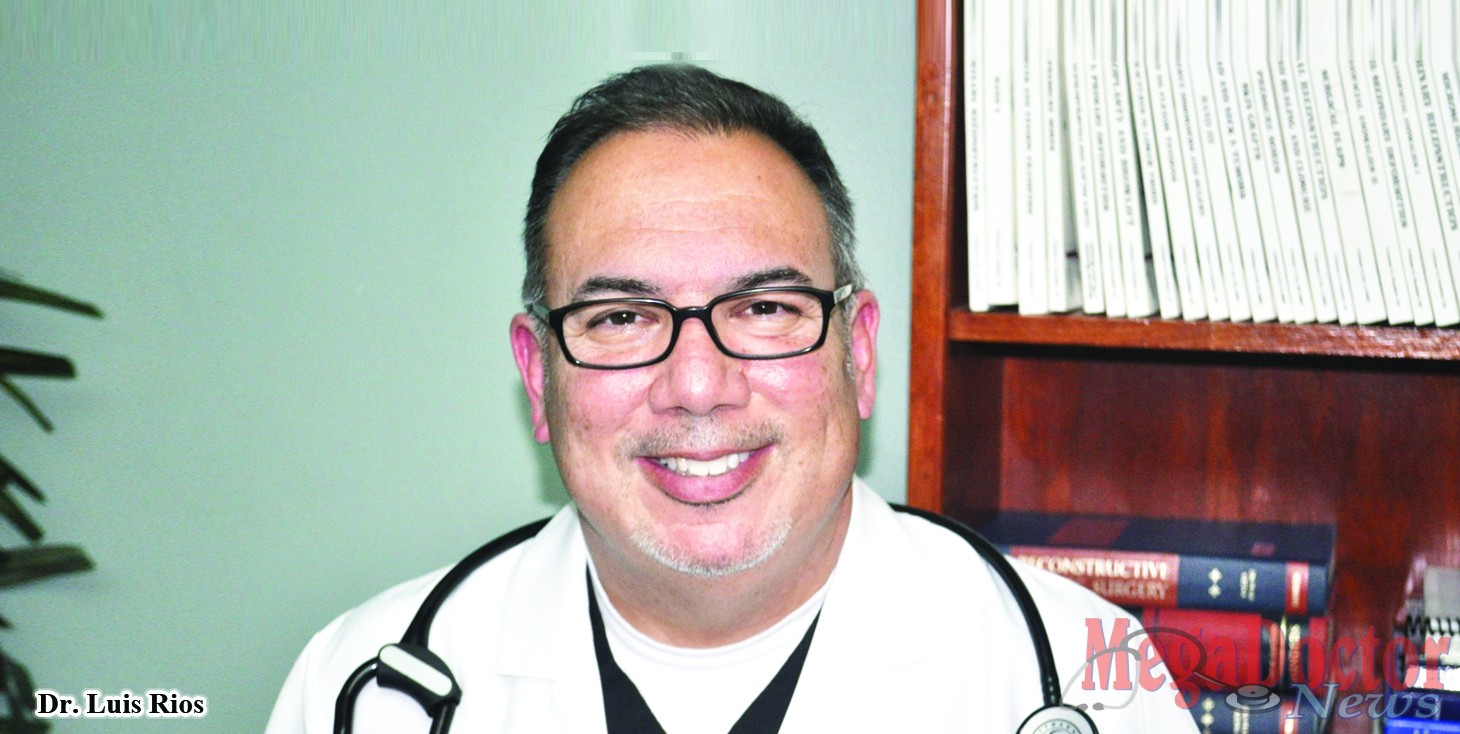 - Advertisement -

Mega Doctor News – 
By Roberto Hugo Gonzalez,
Being in the medical profession is not an easy thing. The studies, preparation, and training are consuming and if the candidate is not in parallel with dedication, love, and passion then everything crumbles.
Dr. Rios is one of those great individuals that studied and trained with one goal in mind, to be the best at his profession. Just to give you an idea about his dedication at an early age, he graduated in 1982 from Edinburg High School as valedictorian. In 1986 with a BA in Biology from Harvard University, Cambridge, MA, and his medical degree from Southwestern Medical School in Dallas, Texas in 1990.  Dr. Rios completed his fellowship in 1998; he has 16 years practicing in the field of plastic surgery.
He was born in Omaha, Nebraska to the late Dr. Luis Rios, Sr. and Mary Ann Rios. At that time, his father was doing his general surgery residency at Creighton University School of Medicine, Omaha Nebraska that opened in 1892.  They both have the same name and his father was the first plastic surgeon in the Rio Grande Valley.
From there, when Dr. Rios was about three-years of age, the family moved to Mexico City. His father wanted to start his general surgery practice but because it was so socialized he was not able to get into the ranks and rise above. So the family moved back to the states but this time to San Antonio where his father, Dr. Rios, Sr. did his plastic surgery residency.
Then in 1972, the family moved once more, this time to the Rio Grande Valley.
- Advertisement -

Who inspired you to become a surgeon? "That one was pretty easy because my father was the first plastic surgeon here in the Valley."
Both parents were very active in this community and have a respected standing in South Texas. His parents instilled in Dr. Rios to be the best, be humble, and treat everyone the same. "I think those values have really helped me throughout my career," he said.
Concerning his patients, Dr. Rios is most focused on making sure that they are medically able to withstand the procedures. He said, "I think from a cosmetic surgery point of view we want to make sure that they have realistic expectations. It is important that patients clearly understand what benefits they are getting from a procedure and the limitations." He said it is important to have a clear communication between the doctor and the patient.
He says that surgery is a good profession but it comes with its challenges because the surgeon is responsible for reconstructive surgery and for cosmetic surgery. He said, "The challenges in reconstructive surgery are just the same challenges that every other specialty is going to have."
Other challenges are reimbursement, trying to keep a small business afloat when Medicare and Medicaid cuts are coming. He said, "You have to continue to practice, and float your practice, provide benefits for your employees, and be a businessman when the reimbursement is getting cut."
He pointed out that being close to Mexico also represents another challenge, because patients go across to seek plastic surgery services.
He said, "Our specialty has to deal with doctors across the border but now we are actually even having to deal with doctors on our side of the border who aren't trained in cosmetic surgery who are trying to do cosmetic surgery." He added, "That definitely is a challenge and I think one of the reasons is because we only graduate 180 or 200 plastic surgeons a year, that are authentic plastic surgeons. When you look at how many plastic surgeons there are versus how many other types of doctors, we have a very small voice because we are a small group."
Dr. Rios keeps up to date with the advances of technology in his field. He said, "There is promise of a new laser machine to help us do our procedures, then we have future stem cell research that will take over."
His civic activities are very important to him, aside from participating with the Boys Scouts and Cub Scouts he also teaches medical students. He said, "I love to teach them. I won a teaching award just two years ago for teaching them, that is my passion." He pointed out, "Since I went to Harvard, I'm in charge of setting up interviews and interviewing the high school students from the Valley. I coordinate other alumni in the area and interface with Harvard at that level."
He was excited to tell Mega Doctor News that they are on the verge of forming the Harvard Club of the Rio Grande Valley. "They just gave me an okay to do that. I'm coordinating and reaching out to all other alumni from Harvard. We will be able to have a presence here to help recruit students and have a community for the students to relate to so they can go up to Harvard," he finalized.
You can visit Dr. Luis Rios, Jr. at 2101 Cornerstone Blvd., in Edinburg, Texas or call 956-682-3147 to set up an appointment.  MDN