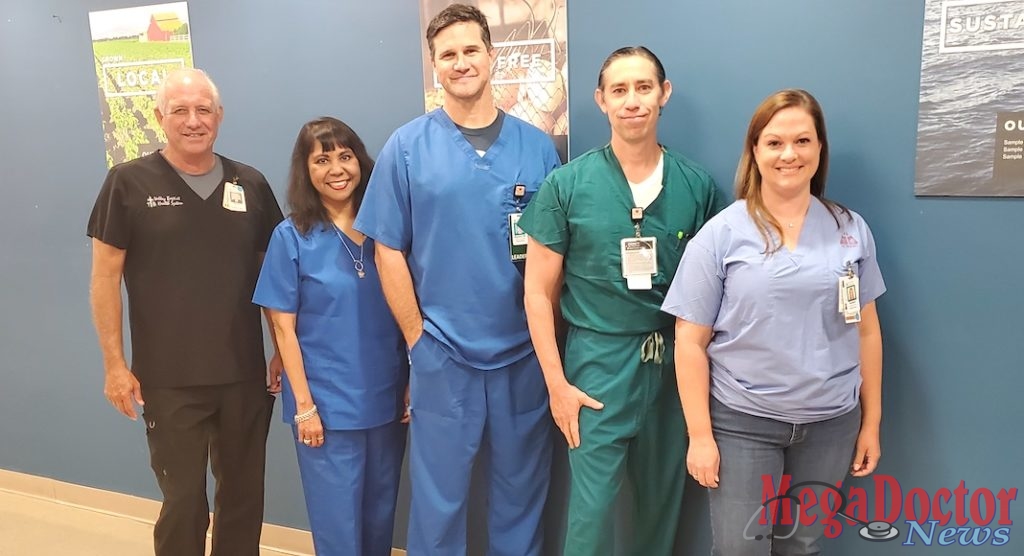 Mega Doctor NEWS
HARLINGEN – It is often said that imitation is the sincerest form of flattery.
If that's the case, then Stephen Hill should consider himself flattered. On most days, Hill, who serves as Chief Nursing Officer at Valley Baptist Medical Center-Harlingen, can be seen walking the halls of the hospital in his customary uniform of scrubs complete with cowboy boots.
As part of Hospital Week 2019, Valley Baptist-Harlingen employees from administration to assistants took the opportunity Thursday to don Hill's signature look of scrubs and boots in an effort to show admiration for their favorite CNO.
"Stephen is a vital part of Valley Baptist's efforts to provide high-quality healthcare to our community," said Manny Vela, Chief Operating Officer for Valley Baptist Medical Center-Harlingen and Valley Baptist Health System. "But perhaps more importantly, Stephen is someone who leads by example and someone who works tirelessly to bring our Valley Baptist family together. This is a way to honor that hard work and the hard work of all of our employees, and have a little fun for Hospital Week at the same time."
National Hospital Week, which started as National Hospital Day and was first recognized in 1921 on May 12 in honor of famous nurse and public health champion Florence Nightingale, is "an opportunity to thank all of the dedicated individuals – physicians, nurses, therapists, engineers, food service workers, volunteers, administrators and so many more – for their contributions," according to information from the American Hospital Association.
Hill, who started his career at Valley Baptist-Harlingen as a cardiovascular intensive care unit nurse 19 years ago, said he's truly blessed to work in an environment where physicians, nurses and ancillary staff serve the community every day.
"While Hospital Week activities are fun and light-hearted, the reason we're celebrating our Valley Baptist family is very serious," Hill said. "Our teams work tirelessly caring for the sick and injured of the Rio Grande Valley. Healthcare is challenging, requiring both dedication and sacrifice, and we cannot thank and recognize them enough for their tireless efforts."