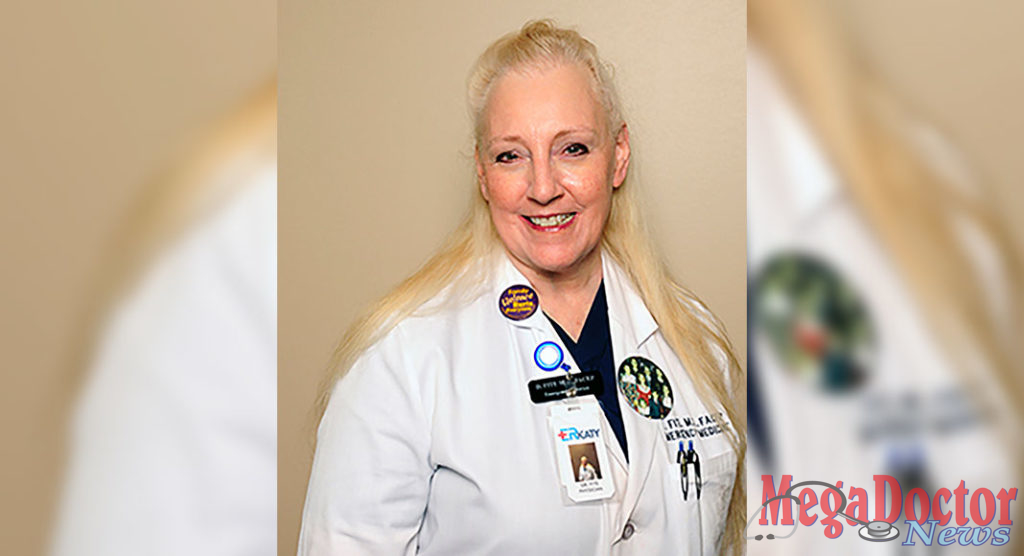 Mega Doctor NEWS
Houston emergency physician Diana L. Fite, MD, is elected the new president-elect of the Texas Medical Association (TMA). The TMA House of Delegates policymaking body today elected Dr. Fite to serve in this leadership role for one year, before she assumes the presidency. Delegates elected her during TexMed, the association's annual conference.

"It is my honor to serve as president-elect of TMA, the largest state medical association in the nation," she said. "I feel like God has given me the opportunity to be in the position of president-elect and then president for a reason, and I accept the challenge to work to make a positive difference to help physicians take care of our patients as we were trained to do." She hopes to draw on the power of TMA's nearly 53,000 members to effect positive changes in medicine.

Dr. Fite points to outside interferences getting in the way of physicians' time caring for patients, a common refrain among doctors.

"Most physicians are used to working long hard hours and just want to take care of patients and be left alone from wasteful bureaucracy and excessive paperwork," she said. Government, private health insurance companies, and even hospitals have added layers of bureaucratic demands to physicians' routines. Rarely do those demands benefit patients, Dr. Fite and her colleagues believe, but they often interfere with the precious patient-physician relationship.

"How did authorizations for medications and for procedures and for radiology studies get out of control? This has become a nightmare for a physician's office to adhere to," she said, referring to health plans' common practice of demanding to approve a procedure or medication the doctor prescribes, before they will authorize it for that patient. "If a physician states that his or her patient needs the medicine or the procedure or the study done, then that should not require any authorization at all. This practice needs to be stopped immediately," she said. Doctors often say such practices delay their patients' necessary care. (Legislation to rein in prior authorization limits is winding through the Texas Legislature this session.)

The drive to whittle away at these external distractions motivate Dr. Fite to lead in organized medicine. "One of my associates early on, Dr. Leo Criep, made me understand that it was my duty to be involved in organized medicine to protect physicians and our patients from this outside interference." (Leo H. Criep, Jr., MD, retired from practicing internal medicine and emergency medicine in Houston.)

For 40 years, Dr. Fite has been an active member of TMA and the Harris County Medical Society (HCMS). She has served on 17 different boards, councils, or committees. She most recently chaired the TMA Board of Trustees, the association's governing body. She also served as its secretary, and as liaison to the International Medical Graduate section, chair of the Educational Scholarship and Loan Committee, and member of the TMA Task Force on Balance Billing.

Dr. Fite also has represented HCMS as a delegate at every meeting of TMA's House of Delegates policymaking body since 1986, including through the arrival of seven of her eight children. In addition, she has represented doctors from her home state in the Texas Delegation to the American Medical Association since 2003.

Dr. Fite has attended many TMA First Tuesdays at the Capitol lobby days each legislative session since the program began in 2003, to advocate for health care legislation to improve patient care. She also supports TMA's political action committee, TEXPAC, as a Capitol Club member and charter Patron member.

Dr. Fite also has served as president of HCMS, the Houston Society of Emergency Medicine, Texas College of Emergency Physicians, and the American Association of Women Emergency Physicians.

Having chaired multiple hospital committees and served on medical executive committees at three different hospitals, Dr. Fite is board certified in emergency medicine. She has practiced in Houston for 39 years.

The emergency physician also has received great recognition for her work, including the 2013 James D. Mills Outstanding Contribution to Emergency Medicine Award from the American College of Emergency Physicians, and the 1996 Toby Myers State Leadership Award from the Texas Council on Family Violence.

Dr. Fite is the mother of eight children, and has more than a dozen grandchildren.