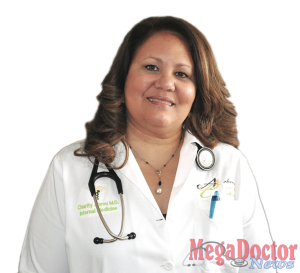 Mega Doctor News – 
By Roberto Hugo Gonzalez
Just recently, Mega Doctor News met with Dr. Charity V. Abreu-Lawrence; she is an Internal Medicine and Board Certified medical doctor practicing medicine in Mission, Texas.
Dr. Abreu told Mega Doctor News that she wanted to be a medical doctor since the time she was in elementary school. For her, it took only a school field trip to decide the rest of her life.
"When I was in third grade, I visited a children's hospital and there I decided to become a doctor," she told Mega Doctor News.  Dr. Abreu pointed out that she had an uncle who was a physician and she always looked up to him, so the desire to become a medical doctor was awakened at a very early age.
Now she practices Internal medicine or general medicine which is the medical specialty dealing with the prevention, diagnosis, and treatment of adult diseases. Today, she says, "I have been living my dream and I feel blessed being able to pursue this path."
Dr. Abreu attended school at the Pontificia Universidad Católica Madre y Maestra (Mother and Teacher Pontifical Catholic University) in the Dominican Republic.  She graduated in 1986 and traveled to New York City for her residency at St. Barnabas Hospital.
She was born in the Dominican Republic to Bienvenido and Elsa Abreu. Her father had been an independent businessman and her mother a bank officer.  Dr. Abreu recognizes the influence her parents had in her. "They taught me to work hard, to be honest and true to myself, and to be dedicated in everything I do."
Mega Doctor News asked what brought her to the Rio Grande Valley.  "I came to visit friends and fell in love with the area and decided to stay," Dr. Abreu said that was 18 years ago.
"I first worked with another physician for one year, eventually I moved to my own practice which I have been doing since then.  The biggest concern that we are now facing is the big changes in the medical field." Adding that, "All these new insurance changes and managed Medicare are becoming very challenging to get procedures approved and done which is a little bit draining sometimes." She also pointed out that when she faces the unknown it becomes more of a challenge nowadays.
Dr. Abreu says that her practice is part of an ACO, which is a new Medicare business model that includes about 10 different independent practices, and she has no plans of branching out.
The ACO means Accountable Care Organizations, and they are groups of doctors, hospitals, and other healthcare providers, who come together voluntarily to give coordinated high quality care to their Medicare patients.
The goal of coordinated care is to ensure that patients, especially the chronically ill, get the right care at the right time, while avoiding unnecessary duplication of services and preventing medical errors.
When an ACO succeeds in both delivering high-quality care and spending health care dollars more wisely, it will share in the savings it achieves for the Medicare program.
The satisfaction she gets out of her profession is to see the transformation when she helps her patients achieve their good health. "We like to think we are a big family and treat our patients with the upmost respect and compassion," this is what she feels is unique about her practice. She would like to be remembered as a compassionate physician, a good wife and mother.
Dr. Abreu has been married to Lucas Compres for 25 years; he is an agricultural engineer, however he now manages her practice.  They have two children, Ruben and Elsy; both are in college and about to finish.  "Our daughter Elsy wants to be a doctor and is in the process of trying to get into a medical school, and our son is attending college." She says the most important thing in the world to her is, "Besides believing and having faith in God, my family."
Dr. Abreu's hobby is growing orchids, "I enjoy plants quite a bit, but growing orchids relaxes me. I have about 70 different orchid species at my home."
To set up an appointment, you can contact Dr. Abreu by calling (956) 581-0539 or visiting her office at the Abreu Adult Clinic at 910 South Bryan Road, Suite 105 in Mission, Texas.
Dr. Abreu says if she had the chance to do it again, she wouldn't change anything, "I am living my dream."