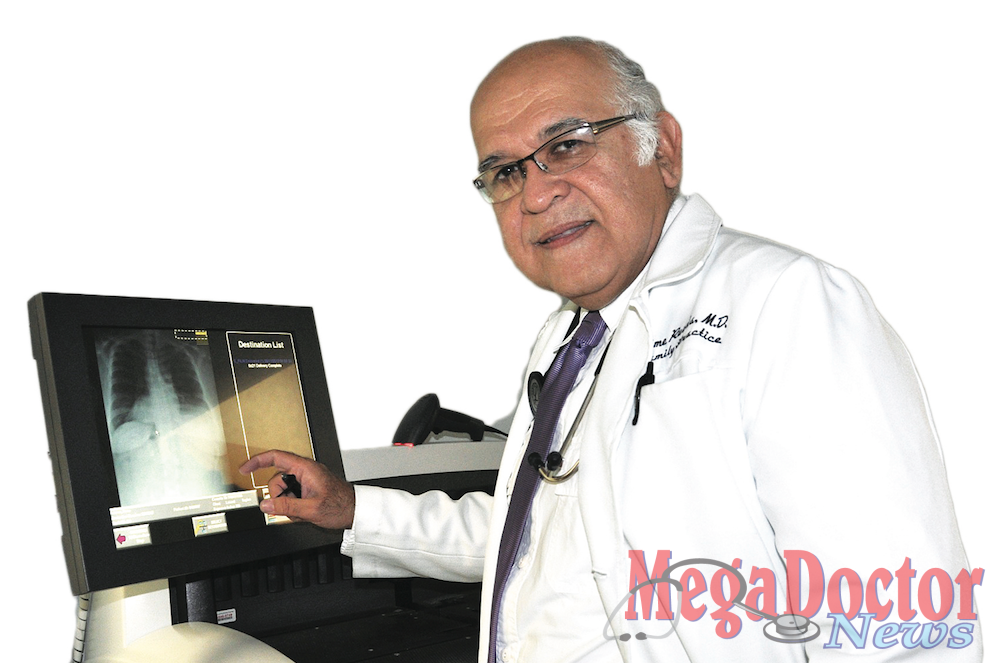 Mega Doctor News – 
By Roy Martinez,
In 1954, polio was wreaking havoc on young and old around world.  The previous two years the United States had experienced an epidemic with an outbreak of 58,000 and 35,000 cases in each year.  In the summer of 1954, a four-year-old boy in the tiny town of San Gil, Columbia falls victim to the paralyzing and often deadly disease.  His pediatrician decides to treat him by putting him in a full body cast for four months.  During the treatment his doctor gives him a book on medicine.  He emerges from the treatment a healthy and wide-eyed boy inspired by his doctor to become a physician.
Fast-forward almost sixty years and you will find Jaime Rueda, MD a board certified family practice doctor, who leads one of the oldest medical practices in McAllen, Valley Medical Arts Clinic.
Dr. J. Forrest Fitch originally established the practice in 1951; he practiced for over 40 years retiring in 1994.  At that point Dr. Rueda took over the practice working hard to maintain a philosophy of "the old family doctor practicing with the up to date medicine."
Dr. Rueda came to the Valley fresh out of medical school, he was accepted to the McAllen Family Medicine Residency Program.  When he arrived here he knew very little English but he studied hard to excel. "I just had to postpone many temporary gratifications," he says.  It was there where the director of the program, Dr. Fitch first noticed him.  Dr. Fitch was so impressed with Rueda as a doctor, that he made him an offer. Dr. Fitch said, 'Jaime I would like for you to work with me'.  "I said fine, I was honored because this was the best practice in McAllen."
Today, Dr. Rueda and his long time associate John Worrell, MD anchor Valley Medical Arts Clinic along with three other physicians Samuel Ramirez Jr., MD, Joel Solis, MD, and Diana Cortinas, MD, and they are joined by a nurse practitioner and a physician assistant.  Dr. Rueda says the practice of medicine has changed quite a bit since he started, he pointed out that the government has painful restrictions with which they have to comply.  "We have lost our freedom," laments Rueda. "We are subject to what the insurance companies allow us to do, which medicines to prescribe and what specialist to refer to."
Still Valley Medical Arts Clinic is one of the medical clinics in South Texas, which is on the electronic cutting edge.  It was one of the first medical practices to implement an "EMR" electronic medical records system.  Every year they have met all the requirements by the government for what is called "meaningful use.  This includes complete electronic medical health records, medical history, and providing prescriptions electronically.
Recently the practice has invested in a digital x-ray machine, and will soon provide its patients an Internet portal so patients can communicate with their physicians.
When asked about what he attributes the growth and success of his practice, Dr. Rueda quickly responds in the way only he can do, "I mean loving the patients as if they were your brother, your sister, or your mother, with that kind of love, and the patients allow you to become part of their family."
What's in the future?  Rueda responds, "I want to start working a little bit less, spend more time with the family since I now have a grandchild." the son of his oldest son Jaime who he proudly says is a physician in New Mexico. He also is quick to point out how proud he is of his daughter Laura, a professor at University of Texas at Austin about to complete her PhD in Latin American History, and his youngest son Gabriel about to complete his studies as a Manufacturing Engineer.  His wife Laura, a Registered Nurse, helps him manage the practice.  No question, "the love of my family" is most important for Dr. Rueda.
Beside family and his practice, Rueda's other passion is birds. His hobby is taking pictures of rare and beautiful birds.  When the stress of work gets to him, you can find him bird watching along the river.  Retirement is nowhere in the horizon for Dr. Rueda, he is quick to respond to the question, "Never, I love what I do."
You may contact Dr. Jaime Rueda for an appointment at 956-631-5411 at Valley Medical Arts Clinic located at 5201 N. 10th Street in McAllen.