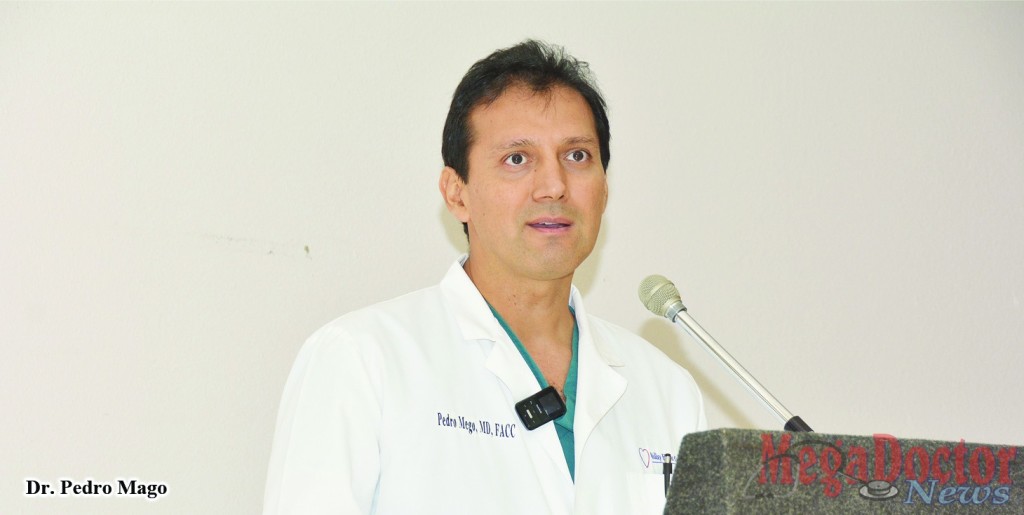 - Advertisement -

Hidalgo County Metropolitan Area with Highest Number of Amputations
Mega Doctor News
By Roberto Hugo Gonzalez
Dr. Pedro A. Mego, FACC, FSCAI is an Interventional Cardiologist at Valley Heart Consultants in McAllen, Texas. He recently participated in a workshop hosted by Solara Hospitals of McAllen and Edinburg.
His main topic was "Peripheral Artery Disease", a very interesting topic that had tons of educational qualities for more than three hundred attendees.
Peripheral artery disease (PAD, also called peripheral arterial disease) is a very common medical problem in which narrowed arteries reduce blood flow to the limbs. Most of the population knows it as "poor circulation" of their legs.
When Dr. Mego came to the Rio Grande Valley in 2005 after graduating from the University of Arkansas for Medical Sciences, he immediately noticed that the population of South Texas has one of the highest incidences of obesity, metabolic syndrome, and diabetes. He recognized those medical conditions and knew right at the beginning that the population was already at a high risk for stroke and high risk for heart attack. "But what I was even more surprised to see, was the very high rates of amputation," he said.
- Advertisement -

He pointed out that since he arrived at the Valley, he has been dedicating his focus to peripheral artery disease and lately, even more than to cardiac disease. He said that originally peripheral artery procedures were only 10-20 percent of the procedures and 80-90 percent were cardiac in my practice. He said, "Now it is approximately about 60 percent peripheral arteries and 40 percent cardiac. This means we are now dealing with a highly prevalent problem. Several of those patients that had heart revascularization about 5-10 years ago, are now coming back with leg problems. You probably already know, it is a problem across the state and the nation."
"If a person already has blockages in one of the coronary arteries, then the person has significant risk to have blocked arteries in the legs or blocked arteries in other parts of the body." He continued, "This is more frequent in the lower extremities and unfortunately it is often underdiagnosed and consequently will be under treated."
He went on to explain that when you develop peripheral artery disease (PAD), usually your legs don't receive enough blood flow to keep up with the demand. This causes symptoms, most notable is claudication (leg pain caused by too little blood flow, usually during walking, according to the Mayo Clinic). If this problem continues without treatment, the patient will progress with symptoms at rest, non-healing ulcers, or gangrenous toes.
Peripheral artery disease is as a result of the widespread accumulation of fatty deposits in the arteries (atherosclerosis). This condition may be reducing blood flow to your heart and brain, as well as your legs.
Dr. Mego said that there is a high incidence of persons affected between the United States and Europe.  Based on recent statistics: there are about 27 million affected individuals, and in the United States there are 413 thousand hospitalizations, and approximately 88 thousand had revascularization procedures. "This was a couple of years ago, then it was published that between 1988 and 1996 there were more than 130,000 amputations; that is a big number for the United States. That's a very big number," he stressed. He also said that today there is better technology and better treatments; in 2003-2005 he noticed a decrease in the process of amputation. "That means the medication and the procedures have already showed some benefit."
He pointed out that based on Medicare statistics in 2009, Provo, Utah had only 0.33% amputations. "Do you want to guess which area of the United States had more amputations? The McAllen-Edinburg-Mission metropolitan area was ranked with the highest rate in amputations in the whole country," he said.
"You as a nurse, you are the first line to diagnose this problem." Dr. Mego knows that his message was getting across, because nurses are the first medical professionals who can be in contact with the patient and the first who is going to see the ulcer.
Ever since Dr. Mego arrived here, he has implemented his message of awareness because in his point of view something needs to be done in favor of this population that is at risk. "But who is at risk?" he asked. "Basically any person that is older than 70 years old, any person from 50 to 60 with diabetes or a smoking history, and any person who is 40-50 with diabetes. There are other risk factors for coronary artery disease, they could be hypertension, hyperlipidemia, and a smoker is also at high risk for this problem.
He continued to say that any person that already has suggestive of intermittent claudication, or physical signs of poor circulation or anyone who is already known to have coronary artery disease in other parts of the body such as: history of open heart surgery or percutaneous revascularization, history of blockage in the carotid arteries, the kidneys, or somewhere else, then already have more than a 33 percent chance of having significant peripheral artery disease. "Now we recognize peripheral arteries disease also in patients who are asymptomatic (without symptoms), which before was diagnosed as a patient with clinical complaints of claudication." Today that is different because an asymptomatic person can also have significantly high risk for complications with peripheral artery disease.
He said, "Prevention is much better than treatment and early diagnosis and early treatment is much better than late treatment". You have to know the limits; you need to know when to refer the patient to his physician; it is especially important when you see an ulcer that is not healing in the first two weeks."
Treating peripheral artery disease could be a challenge; initially lifestyle modifications are reinforced: quitting tobacco, exercising, and eating a healthy diet. Antiplatelet therapy, and treating diabetes, dyslipidemia and other conditions is highly recommended. Dyslipidemia is when a person has an abnormal amount of fat and/or cholesterol, known as lipids, in their blood. However, a considerable number of patients will benefit from percutaneous revascularization, a minimally invasive procedure usually from the groin or the feet to improve circulation in the legs reducing or resolving the symptoms and very frequently avoiding or reducing the level of amputation (in more advanced stages such as gangrenous toes, chronic ulcers, etc.).
In selected cases, lower extremity bypasses are indicated especially for above the knee complete occlusions that due not allow percutaneous revascularization. "Amputation should be only the last recourse in the treatment of a non-healing ulcer. I think that we should provide a better service than that for our patients," he emphasized.
At the end of his presentation, he reminded the audience that they are the first medical professional that can diagnose peripheral artery disease. Their active participation will make a big difference in the treatment and prognosis of the patient. In essence, he said, "You are the the first alert." MDN