- Advertisement -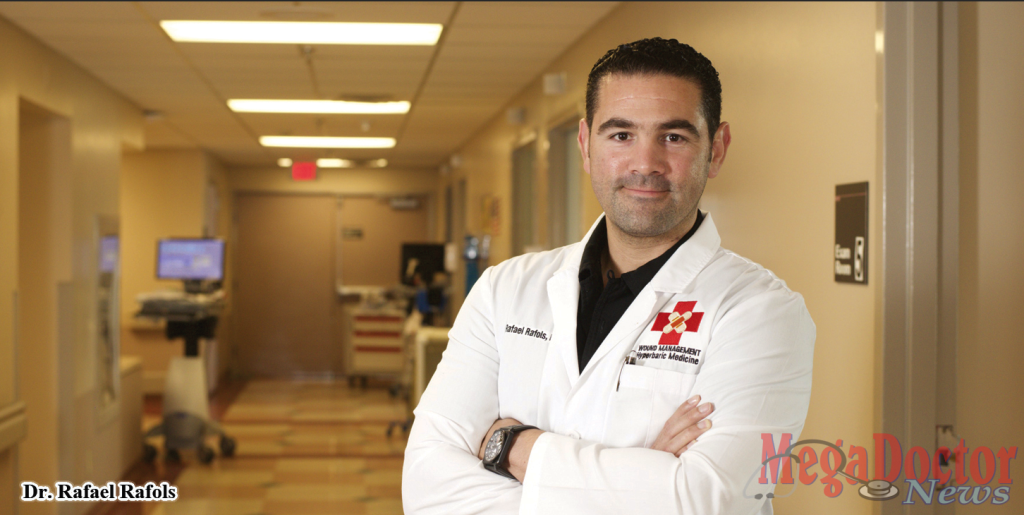 Mega Doctor News
This month has brought us a wealth of opportunities to gain awareness about the health issues that are of great concern to the people of South Texas and the Rio Grande Valley.
Dr. Rafael Rafols, a wound specialist physician in non-healing wounds, is one physician that has seen the devastation of diabetes. He operates his own practice by the name of Wound Care Management and oversees wound patients. He is also the medical director for Solara Hospital in McAllen, Texas.
Dr. Rafols recently participated as the one of the main speakers at a workshop hosted by CHG Cornerstone "Solara". The event celebrated it's 2nd Wound Care Workshop in the Rio Grande Valley.
The workshop was a success with over three hundred attendees, among them were nursing students, nurses, healthcare professionals, physicians, and others.
Dr. Rafols presentation was entirely dedicated to wound care and his topic was "Hyperbaric Oxygen (HBO) and Difficult Wounds". Through his presentation, he was able to convey a clear message on hyperbaric oxygenation therapies.
At the end of the presentation, he opened a session of questions and answers which provided the opportunity for many to learn more from him.
- Advertisement -

It is no secret, that the Rio Grande Valley's population is at a high risk of having problems with diabetic wounds. Dr. Rafols knows first hand the severity of the situation and continues to put forth an extra effort to educate and disseminate important information related to prevention.
He told the crowd, "HBO is not Cinemax. It is exposure to oxygen under pressure greater than normal atmospheric pressure as a treatment given to patients who for various reasons need more oxygen." He said that it was also called high pressure oxygenation.
Dr. Rafols pointed out that the main purpose behind his presentation is to deliver information based on his experience to prevent amputations. Read more inside this issue.
Dr. Oscar Corral, D.P.M. also was part of this powerful workshop event. He spoke about "Evaluation of High Risk Ulcers", This is another hot topic for the Rio Grande Valley. He is board certified by the American Board of Podiatric Medicine and the American Board of Foot and Ankle Surgery.
Dr. Pedro A. Mego, FACC, FSCAI, an Interventional cardiologist at Valley Heart Consultants in McAllen, Texas presented another topic of extreme relevance for the area. He spoke about "Peripheral Artery Disease", which is a common circulatory problem in which narrowed arteries reduce blood flow to the limbs.
Dr. Mego's presentation has raised the red flag alerting everyone of the dangers that peripheral artery disease could present for anyone 70 years or older, any person from 50 to 60 years old with diabetes or a smoking history, and any person who is 40 to 50 years of age with diabetes. Other risk factors for coronary artery disease could be hypertension or hyperlipidemia. He emphasized that a smoker is among the very highest risk for this problem. This article is also a must read.
Jesse Cantu, a registered nurse with more than three decades of experience, also presented a topic about the "Legal Implication in Wound Care". This also is a must read to learn more on how important it is to have complete documentation.
I also had the opportunity to talk to Israel Rocha, CEO of Doctors Hospital at Renaissance about their commitment to this commitment. On top of that, I spoke to three medical graduates now in training at Doctors Renaissance Hospital Graduate Medical Education in Affiliation with the University of Texas Rio Grande Valley.
The articles about each one of them will give you a glance into the quality of professionals being trained at the newly created residency program with the University of Texas.
All I can tell you is that in this issue there is more, more and more! MDN