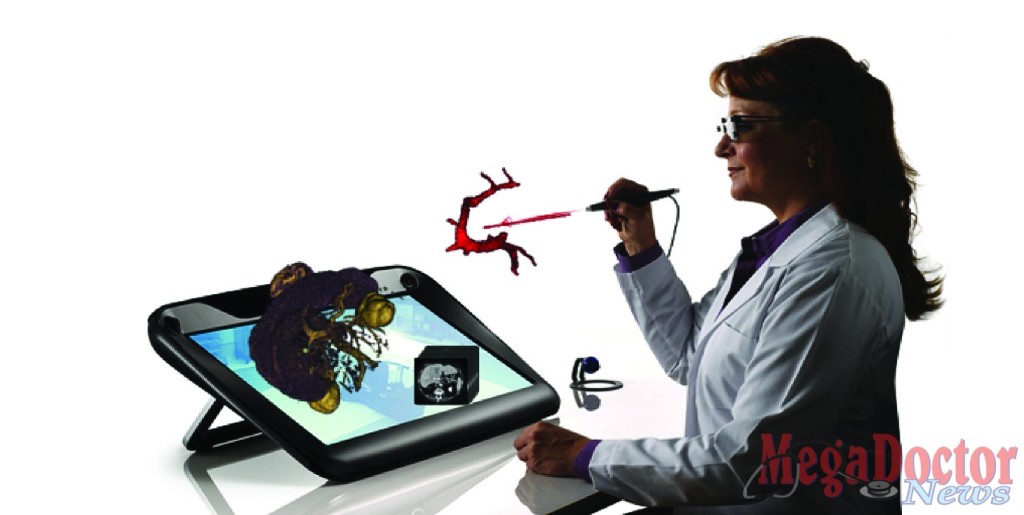 For Doctors, Medical Students, and Patients
- Advertisement -

Mega Doctor News
Mountain View, Ca– EchoPixel launched a new generation of medical visualization solutions that will transform the practice and study of healthcare. The company announced 510(k) FDA clearance of its True3D Viewer, the first platform to convert anatomical data from patients into fully interactive, three-dimensional virtual reality images.
Working hand-in-hand with top surgeons and radiologists across the country, EchoPixel has created a pioneering technology with clinically relevant applications.
True3D enables a new world of patient care, allowing medical professionals and students to interact with patient-specific body parts in an open 3D space emanating from a desktop display.
EchoPixel's True3D Viewer brings data from MRI scans, CT scans, and all DICOM imaging to life, letting doctors examine and interact with anatomical structures in an intuitive and non-invasive way. By presenting patient data in lifelike 3D, EchoPixel's technology has been shown to dramatically improve both speed and efficacy across a broad range of medical operations.
"Since CT scans were invented in the 1970s, doctors have learned about patient anatomy by mentally piecing together multiple images from flat screens," said Ron Schilling, CEO of EchoPixel. "That's not what the inside of a patient looks like. When working with doctors, we found they were wasting energy trying to solve imaging problems instead of clinical ones. Using virtual reality, we can provide an interactive, three-dimensional view of patient data that is far clearer and more realistic."
"We're taking virtual reality technology, the kind that's previously been restricted to entertainment, and applying it to medicine," said Sergio Aguirre, founder and CTO of EchoPixel. "This gives doctors a fully immersive, accurate representation of patient anatomy. The results we're seeing, from trials with real patient data, have confirmed the urgent need for this kind of imaging in medicine."
- Advertisement -

Early clinical trials with True3D have shown extraordinary results, with immediate impact. Across a range of procedures in surgery and radiology, preliminary results show that EchoPixel's technology can change the ways doctors work and dramatically improve patient outcomes.
Dr. Frandics Chan, an associate professor of radiology at Stanford, has used EchoPixel in preliminary clinical surgical planning trials for children with pulmonary atresia (PA) with major aortopulmonary collateral arteries. Using True3D, detection sensitivity has increased, even as interpretation time has decreased. "Every patient is unique. I would previously have to verbally describe the path to the surgeon, but that's not adequate," said Dr. Chan. "EchoPixel presents an opportunity to see the world, and the pathology of the patient, as it is."
Beyond its immediate clinical impact, True3D technology promises a completely new standard for sharing medical data and expertise in the 21st century. With proprietary protocols, EchoPixel can formulate and distribute expert-derived methodologies for surgical and radiological procedures, in a richly annotated 3D format.
This allows medical professionals to share information, collaborate, and leverage best practices for particular procedures. Moving forward, patients themselves will gain access to these images, and obtain a clearer and more realistic understanding of their own anatomy. MDN
Scan this QR which will take you directly to a video presentation.