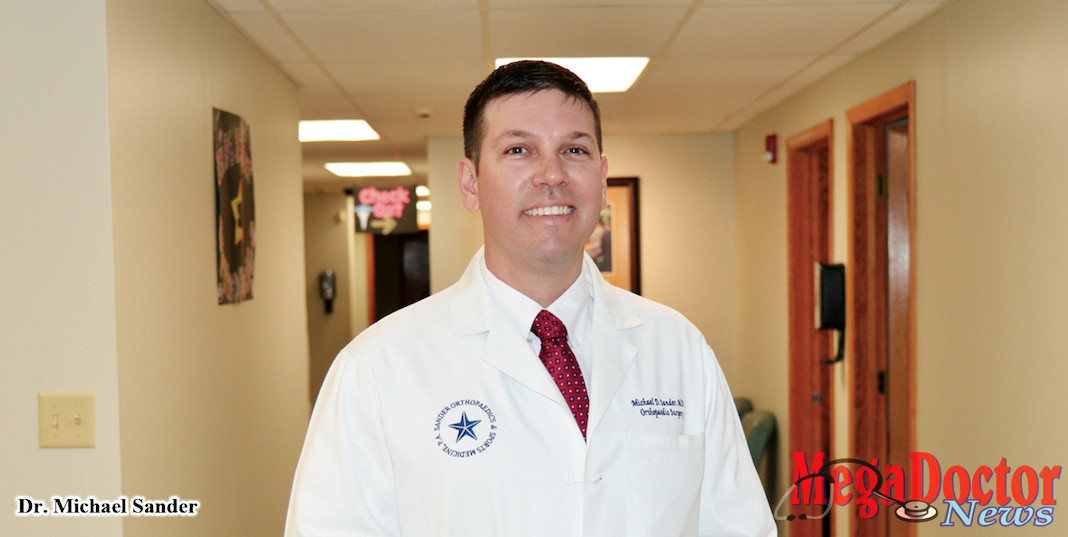 By Roberto Hugo Gonzalez,
As originally published by Mega Doctor News in its newsprint edition January 2017.
For many in the Rio Grande Valley, the name Sander is recognizable. The Sander family has been in the Valley since the late 40s. All of them have made great contributions to Valley communities, beginning with Wesley R. Sander, the first Sander to set foot in the Magic Valley. He opened his business, Sander Pharmacy and became the mayor of Edcouch, Texas. He planted the seed.
Today, Mega Doctor News talks to Dr. Michael Sander, Wesley's grandson. He is an orthopedic surgeon in Weslaco. We bring you two articles about him and his family. Also, learn about his grandfather Desi Rios, an entrepreneur educator who made a big difference for students in multiple fields. Get to know Dr. Sander and why he is our Mega Doctor of this issue.
Good News: Certified as a therapeutic optometrist and an optometric glaucoma specialist, Dr. Fred Farias, CEO of 20/20 Vision Care in McAllen, Texas, was presented with the American Optometric Association (AOA) national Optometrist of the Year Award. The award was presented to Dr. Farias during the Opening General Session at Optometry's Meeting® in Boston, Massachusetts, on June 29 by AOA president Steven A. Loomis, O.D.
More good News: Texas Organ Sharing Alliance (TOSA), the organ procurement organization that provides organ donation and recovery services for families in Central and South Texas, announced a record-breaking 501 organs were transplanted in 2016 thanks to the actions of heroic registered organ donors and families who supported the cause of organ donation.
Super Great News! The Renaissance Cancer Foundation hosted its annual holiday Gala in December, 2016. The non-profit raised $344,000 for the Renaissance Cancer Foundation—funds which will stay here in the Rio Grande Valley to provide services for patients directly.
On another matter, The South Texas Border Chapter Texas Master Naturalists proudly launched a unique and native landscaping project at the Vannie E. Cook Jr. Children's Cancer & Hematology Clinic. The PSJA School District also volunteered staff to guide the Master Naturalists in creating a healing butterfly garden in the chemotherapy area atrium, the first phase of the project.  More in this issue.
Mayor Jim Darling will be on hand to kick off the third annual SayWhat! Action Summit at the McAllen Convention Center on Saturday, February 18th from 8:00 am to 5:00 pm. This event aims to promote tobacco prevention by partnering with the Tobacco Prevention & Control Coalition and engaging youth in the community. What an honor: Becker's Hospital Review recently included the Women's Health programs of Valley Baptist Health System among 100 of the "great Women's Health programs" in the United States for providing "award-winning" care to women in the Rio Grande Valley.
Mega Doctor News is welcoming Joseph Nespral, M.D.  Texas Organ Sharing Alliance (TOSA), an organization providing organ donation services for families in Central and South Texas, has announced that Joseph Nespral, M.D., CPTC, has been named the agency's new Chief Executive Officer.
I know that you'll enjoy this issue! MDN
Related articles:
Fred Farias, O.D., Named American Optometric Association 2016 National Optometrist of the Year
Record 501 Lives Saved Thanks to Central and South Texas Organ Donors
Renaissance Cancer Foundation Raises $344,000 for Patients in the Rio Grande Valley at its Annual Gala
The Vannie E. Cook Jr. Children's Cancer & Hematology Clinic Gets a Native Landscaping Project