According to Dr. Garza, children come in good health conditions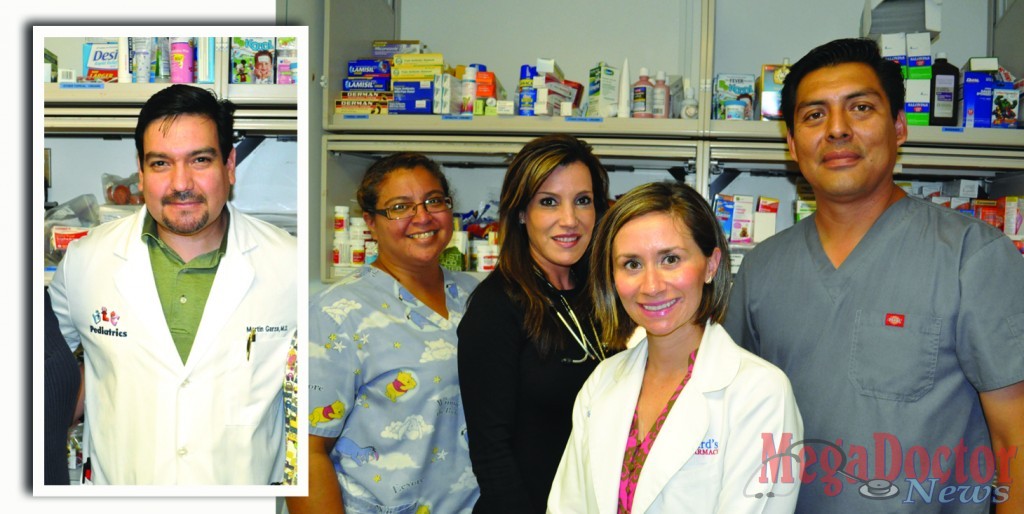 Mega Doctor News – 
- Advertisement -

By Roberto Hugo Gonzalez
MCALLEN, TX – McAllen Mayor Jim Darling held a news conference at 11 a.m. on Thursday, July 10, 2014 at the McAllen Convention Center. It was important for him to announce a humanitarian effort due to a delicate situation that involved the influx of thousands of immigrant families and unaccompanied youth into the country this year and how the City of McAllen ended up with many of them at the McAllen Bus Station.
Not even two months have passed since the press conference and nearly 63,000 children have been caught crossing the United States border alone since October of last year.
Since Jan. 1, 2014 more than 30,000 unaccompanied minors have been placed with sponsors, usually parents or relatives. They remain there while their cases are being processed. The majority of the children are in states where immigrants have traditionally settled, like Texas, New York, California, and Florida. A large number have also been sent to Maryland, Virginia, Georgia, and Louisiana.
But the story here started about six weeks prior to the July 10, 2014 press conference when McAllen City Manager Roy Rodriguez emailed Mayor Jim Darling and others saying, "We are getting ready to close our bus station and we have about 40 people still here. There are women and children and they've been using our facilities all day. We are ready to close our bus station and they don't have a place to go. They are going to wait for the bus the next day. What should we do?"
Mayor Darling's answer was, "Don't make it a story." So the bus station was kept open that night and then the Catholic Charities came to the rescue about a day later and provided facilities still at Sacred Heart Church on 15th street.
From the beginning, Mayor Darling was talking about the generosity of our community and he said that the story of the dedication of the Catholic Charities, the Red Cross, the Salvation Army, numerous local people, independent pharmacies and local doctors turned out to be a story of humanitarianism from this city to the people in need.
- Advertisement -

Dr. Martin Garza, a pediatric medical doctor and owner of DLC Pediatrics in Edinburg has been a very important person for the humanitarian effort that helps hundreds of children arriving to McAllen.
He and about thirty other physicians of the area have worked at Catholic Charities of the Rio Grande Valley at the Sacred Heart Church Refugee Center in downtown McAllen. Dr. Garza said, "Doctors have come through and spent time in either a shift or multiple shifts in the mobile unit that we have there. It has been approximately 15 to 20 nursing practitioners as well and/or physician assistants that have come through."
According to the information that this reporter has, independent pharmacies like Lee's Pharmacy, Saenz Pharmacy, and Richard's Pharmacy have been instrumental in providing medicines free of charge during this emergency.
In what health conditions are these people coming here? "They are coming in very good health conditions. Sometimes they'll have some upper respiratory tract infections; sometimes they'll have some problems with their bowel movements like constipation. On rare occasions they'll have some loose stools, diarrhea, those kinds of things but from an overall general health condition I think they are coming over very well," Dr. Garza said.
What age is the range of these kids? "The youngest I've seen is probably about a one-month old and all the way through to about 14 or 15 years old; they all come with a parent at this point. The folks that we are seeing at Sacred Heart are the family units that are allowed to proceed across. They are not the unaccompanied minors and so they all have a parent unit with them. Most of the time it'll be a mother."
Have you encountered any sicknesses that can be significant? "I would have to say no, because significant is a big word. We have not seen active tuberculosis at all. We have not seen any illnesses that would pose a major risk for the community. We have seen some of the non-problematic things, more nuances. We have seen some of the skin infections like scabies or head lice. We have seen some others that are sort of like something called impetigo. That's an outer skin infection where they get a little yellow, crustiness to them."
What can you say about impetigo? "That's an outer skin condition. It usually comes from cuts or scratches that get infected. They turn oozy and yellow and it can become more of an itchy, scratching problem that can be transmitted but most of the time it can be treated very easily with antibiotic.
Are they coming dehydrated? "We don't see them right from coming off of their trip. They have had at least five days worth of time at the Border Patrol but otherwise we have seen a mild dehydration. It just needs a little bit more oral rehydration but not very much at all."
Can we share what you are prescribing to these kids and moms? "Most of the time it'll be over-the-counter type medicine, antibiotic cream like hydrocortisone. Other over-the-counter medicines like cough and cold type medicines. On occasion especially with things like the impetigo I prescribe an antibiotic ointment, and oral antibiotic."
What age range are the parents? "Most of them are in their early 20s and most of them are women. On a rare occasion, I'll see a father that's accompanying the children but for the most part it would be a female in their early to mid 20s."
What female or mother have you seen with the most kids? "I think the most … typically is going to be a parent and one child. I have seen a parent and three children once but for the most part it's going to be a parent and one child.
Vanessa Rawls, owner of Richard's Pharmacy in Mission was delivering boxes of medicines during one of the times that Mega Doctor News visited the refugee camp. She has also been instrumental during this humanitarian effort started by the City of McAllen.
Michelle Sanders, Medical Assistant and Alda Martinez, Physician Assistant have also been part of the effort to help.
Doctor Garza why do you volunteer to help these families? "It's my duty and what we have been called to do… "The King will reply, 'Truly I tell you, whatever you did for one of the least of these brothers and sisters of mine, you did for me', Dr. Garza replied." MDN