- Advertisement -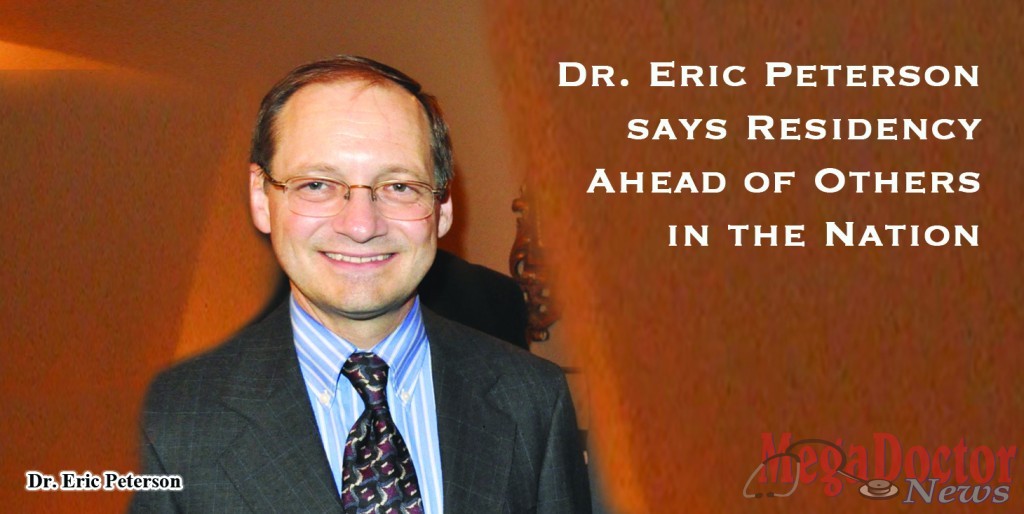 Mega Doctor News – 
By Roberto Hugo Gonzalez
Just recently, Mega Doctor News spoke to Dr. Eric Peterson a family medicine doctor who is originally from Anchorage, Alaska.
While Dr. Peterson was a faculty member at Texas Tech's Family Medicine Residency in Odessa where he served as the Associate Program Director for two years, he was recognized for his commitment to teaching residents evidence-based medicine in the hospital, clinic, and classroom
Dr. Eric Peterson was recruited and named new Director of the McAllen Family Medicine Residency Program in McAllen Medical Center. Dr. Peterson has a petroleum engineering degree. He started out as an engineer. Dr. Eric is a graduate of the University of Texas Southwestern Medical School in Dallas.  He completed his residency in Family Medicine in Spokane, Washington.
During a reception celebrated in his honor and other colleagues, he told Mega Doctor News that the residency was very important for South Texas. "Most of you in this ring know better than I how important our residency is to this area. It's produced close to 200 physicians and many of them still practice here." He also said, "Texas is ranked 47th in the country in terms of primary care physician availability. That's Texas overall, it's 47th in the country and this area is 20 percent below the Texas the average."
According to him, primary care physician access is a huge problem and this residency has been involved in that for 37 years now and there's more work to do.
- Advertisement -

He pointed out that professionals in this field knew the importance of this program and that he was very pleased to be part of it.
"We are way ahead on most residencies, if you look across country, family medicine residencies struggle."
In October 2013, McAllen Medical Center, Valley Care Clinics and The University of Texas Health Science Center at San Antonio announced an affiliation to operate the residency program.
Through the affiliation, McAllen Medical Center serves as a teaching hospital and assumed the operation of the outpatient clinic. At the same time, residents enrolled in the McAllen Family Medicine Residency Program became employees of Valley Care Clinics. Faculty members that oversee the program remained employees of UT Health Science Center. The affiliation helps minimize fragmentation of care, strengthens the graduate medical education training and clinically based research activities and offers high quality healthcare to patients from all over the Valley. MDN