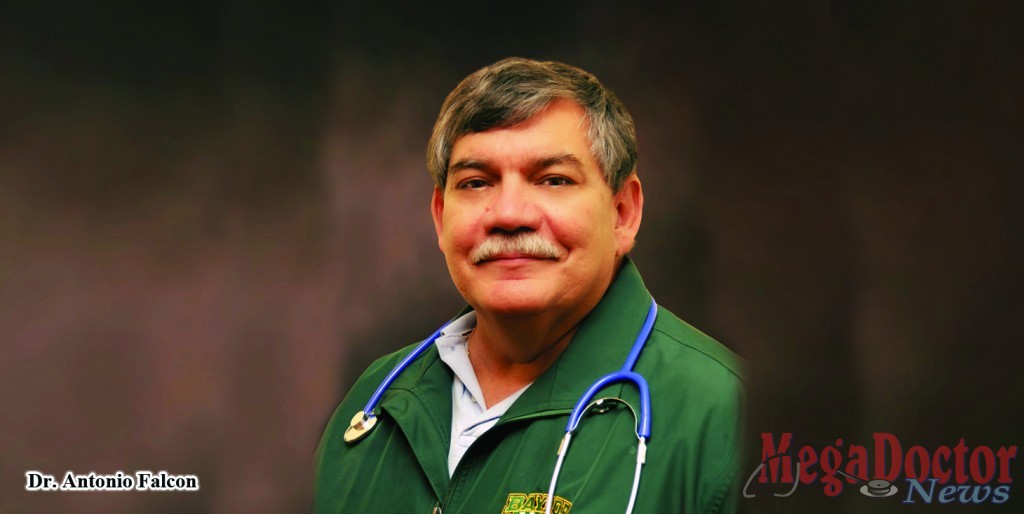 Mega Doctor News –
By Roberto Hugo Gonzalez
For many of you the name Falcon is a recognizable last name, Dr. Antonio Falcon's family has been in South Texas for several generations. Dr. Falcon is one of the descents of the distinguished family and he has been practicing family medicine for approximately 34 years.
He was born in Edinburgh, Texas to Eugenio and Emma Falcon however at an early age, Antonio was moved to Rio Grande City, and was raised there.
He is proud of what he has done during this long and busy medical career, but just recently the Governor of Texas Rick Perry appointed him as a member of the Health and Human Services Commission Council where he intends to make a difference.
During his first council meeting in Austin on February 28, 2014 Dr. Falcon was welcomed by Dr. Ben Raimer, HHSC Council Chair, who called the meeting to order and welcomed the new council members.
Dr. Falcon is eager to take part in these meetings because he wants to tell the story of the Rio Grande Valley in order to bring the necessary services to the area.
The Health and Human Services Commission Council upholds the principle of inclusiveness and develops an environment that fosters strong consumer and constituent input.
He told Mega Doctor News that the council serves as a group of people that help with role making, policy making and problem solving for the commissioner of Health and Human Services. "It's an advisory council to the commissioner." He continued to say, "Right now since my appointment to Health and Human Services I'm determined to try to get the commissioner of Health and Human Services in Austin to better understand what the valley is truly like."
On his first meeting in Austin, the executive commissioner's final status update to the council members was regarding the governor's remarks related to the Affordable Care Act (ACA) and the Medicaid Reform Waiver.
He reminded the Council that on January 1, 2014, the Affordable Care Act became effective and Texas, along with other states, opted-out of the expansion of the state's Medicaid program to serve a larger population. 114,000 applications are backed up on healthcare.gov and the federal website has directed 12,000 to HHSC, but the applications have screening issues, as a small percentage meet the criteria for Medicaid and CHIP eligibility. Dr. Janek mentioned that HHSC continues to seek flexibility with their federal partners to implement a state-based Medicaid program to address the healthcare needs of Texas population. Updates on progress will continue to be shared with the council and the public.
At that point, Dr. Falcon appreciated Dr. Janek's efforts with CMS and commented that he recognizes the challenge for federal government to see why and how Texas' needs are unique, especially along the U.S./Mexico border. MDN