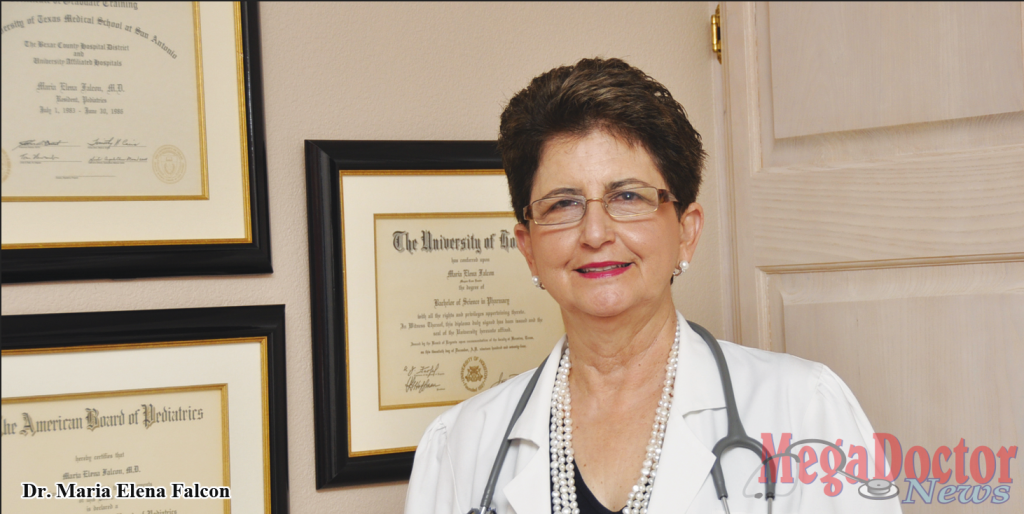 By Roberto Hugo Gonzalez
- Advertisement -

As originally published by Mega Doctor News newsprint Edition
You might not know it, but asthma often begins during childhood or the teen years and may last throughout your child's life.
At times, the inflammation found in asthma causes your child's airways to narrow and produce mucus resulting in asthma symptoms such as shortness of breath.
It is important to know some of the symptoms related to asthma and when it is necessary to call or visit with a doctor as Dr. Maria Elena Falcon always tells her patients. Dr. Falcon is a pediatrician specializing in Allergy & Immunology diseases and has been practicing since she earned her degree in allergy and immunology in 1989.
She graduated with honors as Valedictorian from McAllen High School in 1970; she had the highest ranking academically in her graduating class. Shortly afterward she enrolled at Pan American University. "My cousin Elvia Saenz from Saenz Pharmacies and I used to do everything together. With a group of students from Pan Am we talked about going to pharmacy school," Dr. Falcon said.
"After two years at Pan American, both transferred to the University of Houston and attended the College of Pharmacy. We finished the three-year program in 2 1/2 years," Dr. Falcon said.
"I graduated from Pharmacy School in 1974 and came back to the Valley to start working." She indicated that she and Elvia were anxious to work and start making some money to help their parents. "I worked at the Hidalgo Health Care Clinic in Mercedes, a migrant clinic from 1975-77."
- Advertisement -

Next, Dr. Falcon worked for a chain of pharmacies in the Rio Grande Valley but at age 25-26 she was not able to envision herself working for a chain of pharmacies for the next 20 years so she decided to apply to the medical school and was accepted at the University of Texas Health Sciences Center at San Antonio.
"When I finished my medical school training in 1983, I decided to do my residency in pediatrics with the intention of coming to the Valley to work, but in my third year in pediatrics I made a change that made me what I am today," she said. "I feel that God had a plan and his plan for me was different." In 1985, Dr. Falcon met Dr. Anjuli Nayak from Bloomington Illinois who was doing a fellowship in allergy and immunology; Dr. Nayak influenced Dr. Falcon to move into the allergy field.
Dr. Falcon was accepted into the fellowship in San Antonio and from 1987-89.  She finished a fellowship in allergy/immunology and became board certified in 1989 and proceeded to start her practice in 1990 in McAllen, Texas.
At that time, McAllen had no full time allergist. She said that Dr. William McKenna used to come once a week from Harlingen as well as Dr. Robert Lekach from Brownsville. The need for a doctor with her expertise was great and that is why she decided to hurry to set up her practice in McAllen.
In order to become a medical doctor, it takes years of preparation and then years of residency. In her case, in order to be an allergist/immunologist, you have to be a pediatrician or an internal medicine doctor and once the fellowship is accomplished, the physician is able to see patients, both children and adults as Dr. Falcon has been doing for many years.
Dr. Falcon originally started her practice on Sixth Street behind Shoney's restaurant. "Even though I am from here and I knew doctors it took me a while to get established," she said. "Many times we see patients from physician referrals but also from self-referrals."  She managed her practice on 6th street until 1996 and moved to a new location on north 10th street where she has been ever since.
The services that Dr. Falcon provides are delicate in nature.  She deals with patients' airways that sometimes narrow and overreact to certain substances. These are known as asthma triggers and may include: Substances your child is allergic to (allergens, such as dust mites or animal dander). Allergens cause long-term (chronic) inflammation and may cause asthma symptoms.
Environmental factors, such as smoke or cold air factors, which may lead to a tightening of the muscles that line the bronchial tubes (bronchospasm), can trigger asthma symptoms. What triggers asthma symptoms varies from child to child. When asthma is triggered by an allergen, it is known as allergic asthma. When asthma symptoms suddenly occur, it is known as an asthma attack (also called an acute episode, flare-up, or exacerbation). Asthma attacks can occur rarely or frequently and be mild to severe.
Dr. Falcon's profession is in high demand. According to statistical information she shared with Mega Doctor News, among the different ethnic groups in the United States, asthma and allergies are predominant among Hispanics.
Dr. Falcon comes from humble beginnings; her parents were Raul Falcon and Ercilia Guerra both born in 1925. "My Dad was from a little community near Camargo called 'Los Martinez'," she said.  Her Mom was from another small community close to Miguel Aleman called 'Guardado de Arriba'.
"My Dad also worked locally for many years particularly with the Griffin and Brand Company," she stated. Her parents at one point were undocumented and legalized their immigration status in 1950 and thereafter Dr. Falcon was born in Falfurrias. Soon after, her younger brother Juan Raul Falcon was born; he is a pharmacist and part owner of Saenz Medical Pharmacy North.
Dr. Maria Elena Falcon is married to the love of her life, Antonio Villeda and with him she has two wonderful stepchildren: Gabriel and Sarah Villeda. Her husband is an attorney/CPA. He specializes in business law, tax law, IRS problems, and bankruptcy.
"Both my parents were migrant farm workers before and after I was born," Dr. Falcon recounts. Just as her parents, she also worked the grape vines in California. "My parents also kept a small house at a ranch in Los Martinez in Tamaulipas, México where she attended up to the 3rd grade in the elementary school provided by the ranch community.
Since then things have changed 180 degrees, now Dr. Falcon's concerns are that people are losing some of their benefits especially the children. "I see asthmatic children and Medicaid insures them.  If they lose some of the medication, they suffer.  It will be detrimental to what I do here in my practice," she said.
With so many changes in the health industry, the uncertainty of what is going to happen creates an unpleasant atmosphere for physicians all over the nation, particularly in south Texas where per capita income is very low.
Dr. Falcon's job requires also educating her patients with asthmatic problems; this education is important for her patient's wellbeing. For this reason she keeps up-to-date with new advances in her field. She recently attended a conference at Texas A&M to learn more from the Asthma Coalition on Asthma.
"The bottom line for me is that I want to be available to the community and to make sure that local physicians know that we provide a service for the asthmatics that is better than any other specialty."  She pointed out that she does not see big volumes of patients, because she spends more time with her patients to educate them. This is a service that she is willing to give.
One activity that is very close to her heart is the time she provides as a volunteer at Hope Clinic. Once a month, for one half day she sees asthmatic patients who lack insurance and cannot pay a doctor. As a matter of fact she said that her plans are to keep working as a physician for at least another ten years and thereafter become more involved with clinics like Hope, as a volunteer.
For her selfless dedication to treating her patients with the best possible care and for giving of her medical services to the community, Dr. Maria Elena Falcon has been selected to become our Mega Doctor for the month of August. You can visit her at The Allergy and Asthma Center, 6900 N. 10th Street, Suite 11, in McAllen, Texas or you may call her office at 956-686-2288. MDN
Written by Roberto Hugo Gonzalez the 2009 SBA Journalist of the Year Award Winner & The 2009 and 2012 Paul Harris Award recipient.