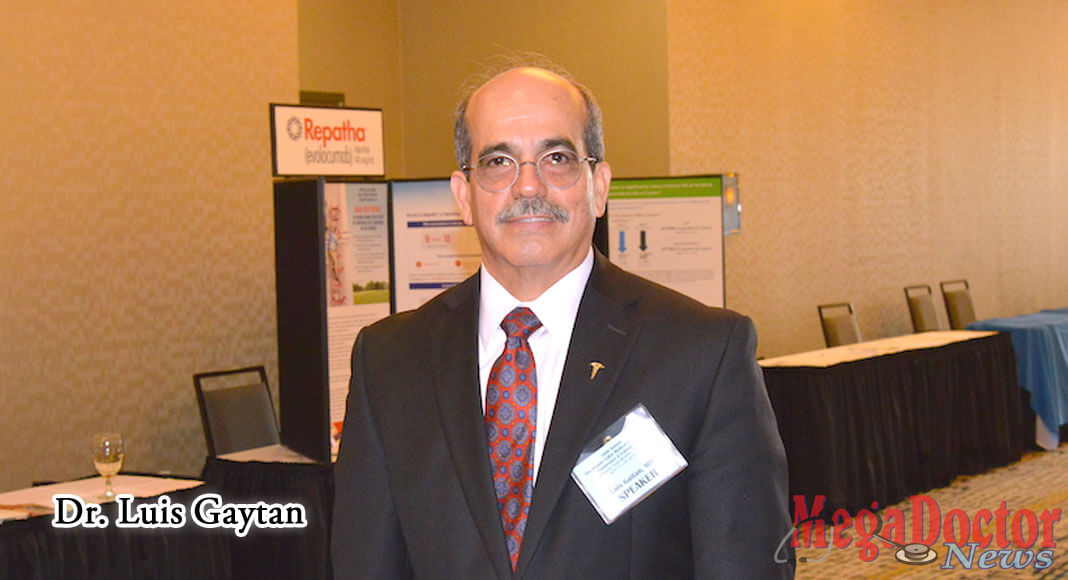 By Roberto Hugo Gonzalez 
As originally published by Mega Doctor News in its newsprint edition May 2018
Dr. Luis Gaytan is a neurologist. He came here in 1997, directly from Emory University and since then, his practice has been in Brownsville.
His dedication to the medical profession is unique, he built the two-stroke program a Baptist Medical Center in 2007 and in 2013 at Valley Regional Hospital; both hospitals are rated Gold Elite Plus. Dr. Gaytan is the medical director of the two hospitals in Brownsville.
Dr. Gaytan told Mega Doctor News that Gold Elite Plus means a stroke center that delivers TPA. "TPA is a powerful private analytic medication you have to deliver in 75 percent of all the strokes in less than 60 minutes and 50 percent in less than 45 minutes."
His profession as a neurologist is among the most important in the Rio Grande Valley, the number of strokes in the region has added a significant level of concern.  He said that when a stroke happens, the patient is subject to losing two million neurons every minute. Dr. Gaytan repeated to Mega Doctor News the slogan used to convey the importance of quick action, that is:"Time is Brain."
In the Rio Grande Valley, he says that what is the most troubling is the level of education about strokes. "Many people don't recognize the symptoms of a stroke," he said.
He emphasized that by educating the population about the symptoms of a stroke, it is essential to call 911. "A stroke is an emergency, it's like if you have chest pain,you immediately go to the hospital by calling 911 or you will die. He said, "Stroke is the same principle, it's an emergency. This is an infarct in the brain, not in the heart but in the brain."
The difference here, he explains, that the brain doesn't produce pain. Therefore, people neglect it.The other factor is that people are afraid of going to a hospital because it's expensive. But, as he says, if a call is made to 911, they are connected with us, they call ahead of arrival and they prepare a pathway for immediate attention to the patient.
"When a patient arrives at the ER, we are prepared. We give the medication to the patient as soon as possible," Dr. Gaytan said.
How can people avoid a stroke? "Number one, you need a physical exam performedevery year by your doctor. If he finds out that you have hypertension or diabetes, then the first thing is to have a proper diet." He said, "Also, being active by walking and doing exercise, you probably don't need to take medication for hypertension. But if despite using a healthy diet and doing exercise, you are still having hypertension and diabetes or high cholesterol. Then you need to take daily medication."
He also mentioned that if you have an Ischemic Stroke then you need to be on a blood thinner and the most effective and economicalis the aspirin. He said, "There are otherfancy blood thinners that are more expensive, if you have a warning sign of a stroke or a stroke, you need to take those medications."
Dr. Gaytan, participated as a faculty member for the 26th Annual Rio Grande Valley Medical Education Conference & Exposition with its theme, "Reaching New Horizons."
The educational event was created exclusively for the continuing education of primary care physicians, also for medical practitioners in the following specialties: internal medicine, family medicine, OB-GYN, pediatrics, infectious diseases, surgery, and emergency medicine. The format was also appropriate for Advanced Practice Registered Nurses (APRN), Physician Assistants, Pharmacists, and advanced nurse practitioners enrolled in advanced nurse practice programs.