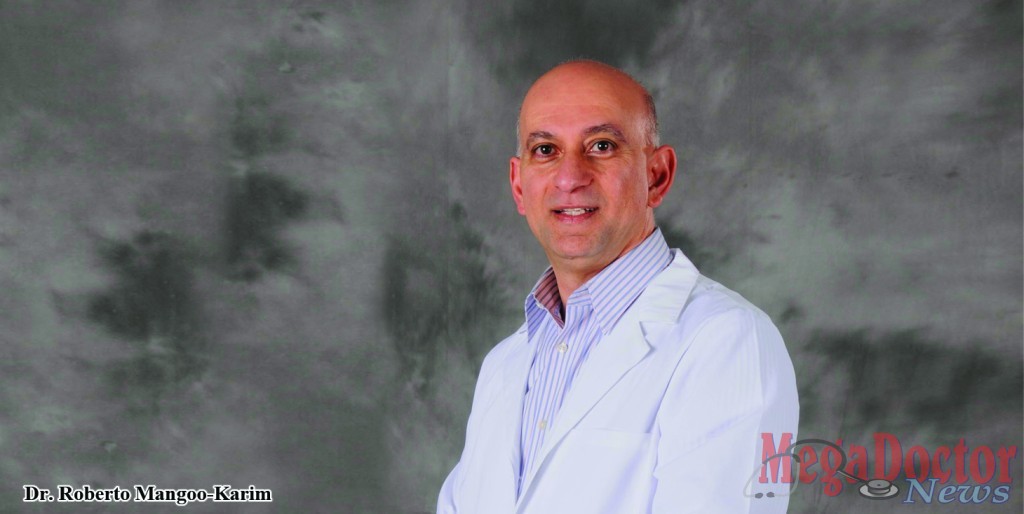 Mega Doctor News
- Advertisement -

As originally published by Mega Doctor News newsprint Edition
EDINBURG — Dr. Roberto Mangoo-Karim and his team of researchers have discovered differences in Vitamin D levels between ethnic groups in response to ergocalciferol ("D2") therapy. Through their study, entitled Ethnic differences in 25-hydroxyvitamin D levels and response to treatment in CKD (Sanchez, Mangoo-Karim, Stubbs, Yanev, Wetmore, 2012), the researchers found the increase of vitamin D levels seen in Caucasians was significantly greater than in Hispanics following vitamin D2 therapy.
Vitamin D is not really a vitamin, but one of the oldest prohormones having been produced by life forms for over 750 million years. Phytoplankton, zooplankton, and most animals that are exposed to sunlight have the capacity to make vitamin D. In humans, vitamin D is critically important for the development, growth, and maintenance of a healthy body beginning with gestation in the womb and continuing throughout the lifespan.
The major biologic function of vitamin D is to maintain normal blood levels of calcium and phosphorus. Vitamin D aids in the absorption of calcium, helping to form and maintain strong bones. It is used, alone or in combination with calcium, to increase bone mineral density and decrease fractures. Recently, research also suggests that vitamin D may provide protection from osteoporosis, hypertension (high blood pressure), cancer, obesity, and several autoimmune diseases.
According to Dr. Roberto Mangoo-Karim, approximately 9 out of 10 individuals in the Rio Grande Valley suffer from vitamin D deficiency. Vitamin D deficiency is linked to chronic kidney disease, metabolic syndrome, congestive heart failure, cardiovascular disease, and many other pathophysiologic processes. There are only two ways to receive vitamin D in the amounts necessary for proper health: Ultraviolet B (UVB) exposure and vitamin D supplementation.
The factors that affect UV radiation exposure and research to date on the amount of sun exposure needed to maintain adequate vitamin D levels make it difficult to provide general guidelines, though as little as 10-15 minutes of daily sun exposure is generally thought to be enough to prevent deficiencies.
Despite the importance of the sun for vitamin D synthesis, it is prudent to limit exposure of skin to sunlight and UV radiation from tanning beds. UV radiation is a carcinogen responsible for most of the estimated 1.5 million skin cancers and the 8,000 deaths due to metastatic melanoma that occur annually in the United States [18]. As such, assessment of vitamin D requirements cannot address the level of sun exposure because of these public health concerns about skin cancer, and there are no studies to determine whether UVB-induced synthesis of vitamin D can occur without increased risk of skin cancer.
- Advertisement -

To combat vitamin D deficiency, two forms of supplemental treatment are available: Vitamin D3 cholecalciferol (pronounced koh·luh·kal·SIF·uh·rawl) and vitamin D2 ergocalciferol (pronounced er·goe·kal·SIF·e·role). Vitamin D3 is real vitamin D, for it is the same substance as what is produced in human skin in response to sun exposure. Supplemental vitamin D3 is derived from either lanolin or cod liver oil extract and is the form that most effectively treats vitamin D deficiency in humans.
Vitamin D2 is derived from fungal sources by activating ergosterol with ultraviolet light. It is not naturally present in the human body and may have actions within the body different to those of vitamin D3. Although many doctors are still prescribing vitamin D2, vitamin D3 is the preferred form for treating deficiency and is what is recommended by the majority of the experts and the Vitamin D Council.
Vitamin D deficiency is a world-wide epidemic; recent estimates indicate greater than 50% of the global population is at risk, even those who are otherwise healthy are not immune to deficiency. Nutrient deficiencies are usually the result of dietary inadequacy, impaired absorption and use, increased requirement, or increased excretion.
Vitamin D deficiency can occur when usual intake is lower than recommended levels over time, exposure to sunlight is limited, the kidneys cannot convert 25(OH)D to its active form, or absorption of vitamin D from the digestive tract is inadequate. For instance, Individuals residing in the solar-rich South Texas environment show a high occurrence of vitamin D deficiency. As such, physicians should not expect sunlight exposure to "yield clinically important benefits on 25(OH)D levels in non-Caucasians, or potentially in any patient with advanced [chronic kidney disease]".
In addition, patients with diabetes mellitus, especially those with diabetes mellitus affecting the kidneys, are more susceptible to develop Vitamin D deficiency and become more resistance to Vitamin D therapy. As noted above, when combined with compromised kidneys, Vitamin D deficiency is a potential contributor to several other adverse outcomes such as metabolic syndrome, congestive heart failure, cardiovascular disease, and a host of other pathophysiologic processes.
Examination of study participants found that Caucasians as a whole had a better response to vitamin D2 replacement therapy as compared to Hispanics (Sanchez et al., 2012). As such, the researchers suggest that Kidney Disease Outcomes Quality Initiative (KDOQI) protocols provide inadequate vitamin D repletion in patients suffering from chronic kidney disease and alternative approaches may therefore be necessary to treat vitamin D deficiency in Hispanic patients.
"Our findings are a sobering warning to physicians not to have unrealistic expectations about the effectiveness of [vitamin D] repletion. Given both the implications of 25(OH)D insufficiency on cardiovascular, immune, and bone health, more efforts should focus on defining a successful repletion strategy and further risk factors for repletion failure".MDN