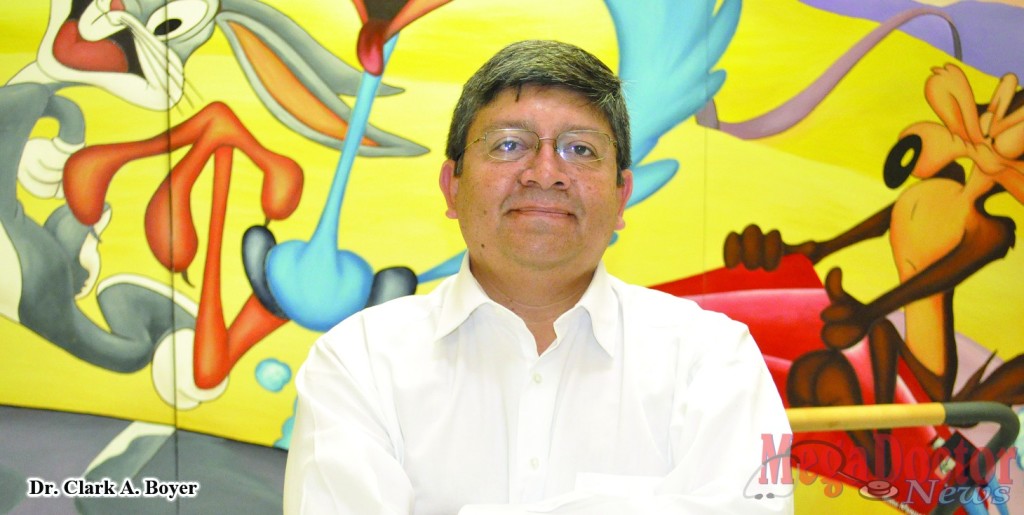 Mega Doctor News – 
By Roberto Hugo Gonzalez,
Dr. Clark A. Boyer is a Board Certified Pediatrician Cardiologist with three practice locations in Hidalgo County. He operates under the professional name of Valley Pediatric Cardiology. His focus is in dedicating his full time to attending to young children, adolescents, and young adults, since he is a non-invasive pediatrician cardiologist.
He has become a popular physician in the metropolitan area, due to his success with kids. He said, "I work with kids – pediatric patients from newborn to 21 years of age with cardiac problems."
Dr. Boyer was fortunate during his upbringing, at ten years of age, he had a chance to see firsthand his Dad work. He then had the opportunity to help his father in his practice of family medicine in his home in Peru.
His father, Abilio Boyer had his practice on the first floor of the family home. The arrangement, with such proximity to family and home was a chance for him to learn more. "I started liking medicine," he told Mega Doctor News.
He continued, "I went to the same medical school, the Universidad Peruana Cayetano Heredia in Lima, Peru where my father attended, and I chose pediatrics and cardiology as my specialties because I love to take care of and listen to little hearts."
After graduating in Peru, he came to the United Stares and attended the State University of New York in Brooklyn where he did his residency and his training in pediatric cardiology at Long Island Jewish Hospital in Long Island, New York.
So aside from his professional preparation in Lima, Peru he holds two board certifications in the United States. He said, "I am a Board Certified Pediatrician and a Board Certified Pediatric Cardiologist."  Dr. Boyer has been a solo practitioner since 2008.
What brought you to the Valley? "The culture, when I came for an interview back in 2004, my former boss introduced me to wonderful people, and wonderful doctors. I saw the same culture as I had back home in Peru. I like the people, I liked how I was treated and I like the area, the weather, and the beach is close. That is something you cannot change," he said.
What concerns you about your future in the field of medicine? Well, as long it is an honest profession with no politics involved; I think the future shouldn't be dark, that's how I feel." He continued, "If you do an honest job you shouldn't be concerned about getting paid late or the government coming and watching you. If you don't do a honest job, then you are the one to be concerned."
Dr. Boyer said that he has been developing his practice to grow it and is always striving to improve it. He is investing more time and resources in order to take care of his patients. He said, I am trying to keep up with technology, information, and education about my field of medicine."
He is married to Blanca Boyer; she is also a medical doctor and manages the three practices in conjunction with Dr. Boyer. They have offices in Donna, Mission, and the newest one in Edinburg.
Dr. Boyer specializes in the following services: heart murmur, congenital heart defects, chest pain, abnormal blood pressure, palpitations, syncope, arrhythmia, obesity and lipid disorders, fetal cardiology, fetal echocardiogram, adult with congenital heart defect, and sports clearance.
You can reach Dr. Clark A. Boyer to make an appointment at: 956-464-8600.  MDN