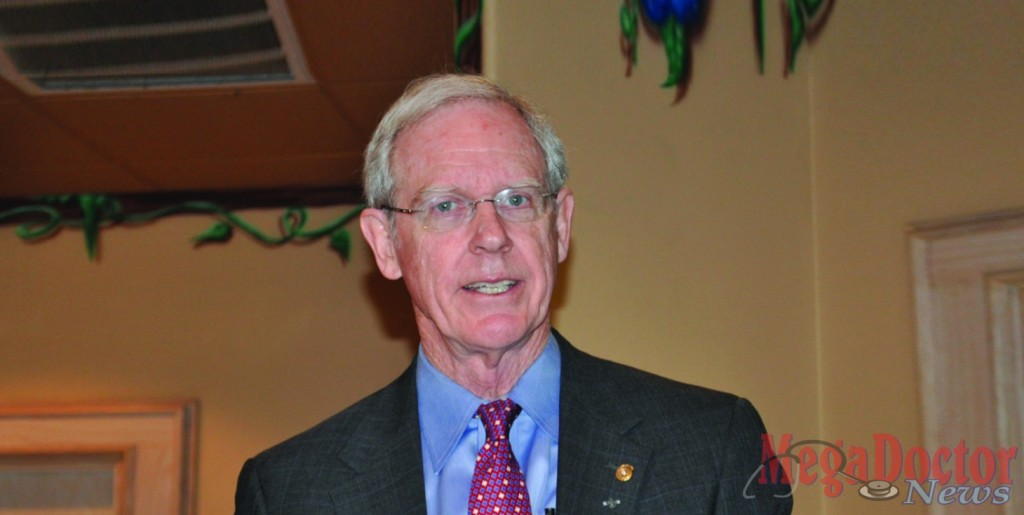 Mega Doctor News – 
By Roberto Hugo Gonzalez,
Dr. Austin I. King, the current president of the Texas Medical Association (TMA), which is the largest state medical society in the nation, representing more than 47,000 physician and medical student members visited the Valley.
Mega Doctor had an opportunity to talk to him about his specialty but also a s well about the motive of his visit to the Rio Grande Valley.
To have such a professional in the Valley it's a great honor and more because he came to recognize several individuals that landed their abilities as healthcare professionals to aid and assist thousands of children coming across our borders. Most of the children were coming from Latin America, mainly from Central America.
Dr. King is an Abilene Texas otolaryngologist — an ear, nose, and throat specialist as he is the 149th president for the association. He has been in practice since 1979 and he told Mega Doctor News. "I do just primary neck and tumor surgery."
Dr. King's message to the medical community of the Rio Grande is of hope, "My message is that of hope. That we are in a period of transition and change in medicine as we are in a lot of society but with change comes challenges and those challenges can turn out good, and they can turn out bad. It's up to us."
Last year, Mega Doctor News covered extensively the refugee children crossing to the United States and posed a question to Dr. King about the impact for Texas of so many children migrating here?  "This is a different situation." He said, "We weren't dealing with people in my mind that were illegal immigrants. This was a true refugee problem, the outpouring of love and support from the communities along the valley made the rest of Texas finally understand that these were refugees and other cities followed suit to support."
He said that media and people general talked about the refugees, the children coming over our side carrying diseases. He said, "But when we began to investigate things a lot of these refugees had a higher proportion immunizations than American children and adults. We sometimes have to look at ourselves."
What are the main illnesses that affect the Rio Grande Valley residents in your opinion? "Any type of communicable disease we can possibly see in the valley whether it's tuberculosis, or other transmittable diseases but actually the main illnesses we see are what's endemic in our society and that's illnesses associated with obesity, with poor intake as far as eating." He continued to say, "You see diabetes, chronic heart disease, kidney disease, and unfortunately the valley has always been a bell weather for the rest of Texas. What happens in the valley eventually happens to the rest of us, and I'm afraid this epidemic is spreading across Texas."
The reason of Dr. King visiting the Rio Grande Valley was to bring recognition for an important humanitarian effort. He said, "This is great because it's often times we don't take the time or have the opportunity to just celebrate what's good in medicine, and what's good in the community."
He said that when he came here during the refugee crisis first was to see firsthand what was going on. He said, "Dr. Martin Garza, pediatrician was enthusiastic about his community, about being a doctor but especially about taking care of patients, which is why we are here."
Dr. King said, "I have to personally thank Dr. Garza because he reminds of why we were called to be physicians, and he is a great, great example of what's good, and what's great about being a physician in the practice of medicine."
After these comments, Dr. King proceeded to deliver an award that has never been given before. This award recognition was born because of Dr. Garza's efforts to serve children in need.
"It's a very special award called the President's Award from the Texas Medical Association, and we are going to be giving it four times today, which is remarkable for our community. On behalf of the president of Texas Medical Association I'd like to give this award to Dr. Martin Garza. It reads in recognition of dedicated service, and commitment to your patients, your community, and your profession, for steady devotion to the Central American Refugees demonstrates your loyalty to the Hippocratic Oath."
This event took place on January 20, 2015. MDN